Everyone has those mornings when you wake up to find you've slept through your alarm. The first thought running through my head is usually "Oh no, my hair is going to look terrible." If it's day two and you don't have time to shower, never fear! There are six quick and easy ways to get your hair looking good before you rush out the door.
To get rid of excess oil and keep your hair from looking greasy, sprinkle some baby powder on your roots. I was a little skeptical at first when my friend told me to try it, but it works! Just shake out and fix your hair however you'd like.
(Getty Images)

If your bangs aren't looking their best down, try a poof. Just take your bangs and tease them a little with a comb. Then, secure them with two bobby pins in an X.
(www.sedustyles.beauty-hair-styles.com)
Another way to hide unruly hair is by wearing a headband. Slip one on with your hair down, or put your hair into a ponytail or bun.
(www.mypromstyle.com)
The ponytail is the most common get-up-and-go look. Take a twist on the original ponytail. Scrunch hair slightly for a slightly wavy look. Leave a small strand out (1/2-1 inch) then pull hair into a low ponytail. Wrap the strand you left out around the elastic and pin with a bobby pin.
One of the quickest fixes is the messy bun. All you need to do is gather your hair at the top of your head, wrap and elastic around it. Then, shape it with bobby pins. The best thing about this look is it's very versatile. You can pair it with a headband or French braid your hair back into a bun.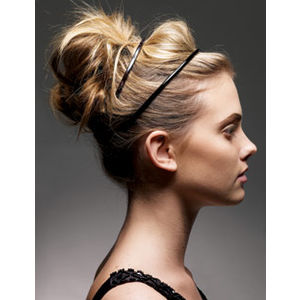 (styletips101.com)
(Getty Images)
Last, but not least, is the braid. Braids are very "in" right now, and they're an easy hairstyle that can be used many ways and in combination with other hairstyles. Try a French braid, side braid, or simply braid a strand of hair by your face and pin it towards the back of your hair.
( hairfinder.com)

(fashionfeen.files.wordpress.com)
Next time you find yourself waking up forty five minutes late, try one of these quick hair fixes and spend less time worrying about your hair and more time getting where you need to go.
-Amanda