By Wilson & Kesmine Hickman
Is writing your passion? Do you enjoy creativity? Are you interested in publishing a story, but not sure how? As teen sibling authors, we would like to share advice on penning and publishing your works. Our books, The Adventures of Detective Luke series (by Wilson Hickman) and the Luna: Puppy Detective series (by Kesmine Hickman) resulted from our immense love for creative writing. This passion originated in our younger years, when we frequently and avidly read as well as crafted stories revolving around other authors' characters. Eventually, we began molding our own characters and plots.
When engaged in creative writing, the first important element to consider is inspiration. As a matter of fact, inspiration can spring from anyone or anything. Writing about ideas that excite you can significantly boost the quality of the story. For example, the individual personalities of our Shih Tzu dogs influenced the animal detective characters in our series. Likewise, it is essential to focus solely on creativity when initially developing a story. Do not worry about editing. Do not worry about publishing. Just write the story down. Inspiration and imagination come first; the business side of writing comes later.
The p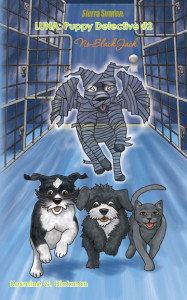 ublishing process, notably more difficult than the writing process, is nevertheless worth the work. For The Adventures of Detective Luke series and the Luna: Puppy Detective series, we decided to use self-publishing. This enables authors to have full control over their projects. As a result, the book turns out exactly as envisioned. For instance, during the editing process, writers have the freedom to accept or reject changes suggested by the editor. Similarly, the author has the ability to design both the interior and exterior of the book. Although publishing requires a large amount of time and effort, the end product will ultimately bring great satisfaction.
In short, fictional writing starts with an imaginative idea that blossoms into an impassioned story. Once the story is written, self-publishing allows you the benefit of controlling each step of the process. So if you enjoy creative writing, do not be afraid to use your talents and follow your passion. What are you waiting for? Pick up your pen and get started!
Kesmine and Wilson Hickman are high school students who love reading, writing, being active in their church youth group and playing with their Shih Tzu dogs. Both of their books have earned awards from the 2013 Purple Dragonfly Book Awards. To learn more, please visit our websites: www.wilsonhickman.com or www.kesminehickman.com