Who says you can't start young? Alexa Nisenson made her feature film debut in Middle School: The Worst Years of My Life when she was only nine years old. Now, you'll be seeing this talented young actress again in the upcoming comedy Fist Fight, starring Ice Cube and Charlie Day. The movie is set to release February 17, so don't miss it!
R: Tell us a little about yourself.
A: OK, so I am ten years old, but getting closer to eleven (my birthday is in June, so not too far away!). I am an only child and live in LA with my parents and our dog. I am an actress, but I also love to sing and dance! I love hanging out with my friends, being with my family, and spending time at the beach. I know I am young, but I am a total beauty product junkie! I think from being in hair and make-up trailers a lot, I have learned to love beauty products, makeup, and fashion. I want to keep acting, and also one day direct and produce films.
R: How long have you been acting? When did you realize it was something you wanted to seriously pursue?
C: I think I have always known in some way that performing was something that was in my blood. People are surprised sometimes to learn that I was, and even still can be at times, a pretty shy person, but somehow, when I was singing or dancing or putting on shows for my family, I felt the most comfortable and happy, and definitely not shy! I didn't first start auditioning for TV or film until I was eight years old, so it's pretty new to me. I landed my first job when I was eight on a TV show called Constantine on NBC.
R: Tell us about your film debut Middle School: The Worst Years of My Life. 
C: Middle School: The Worst Years of My Life is a movie based on the best-selling book series written by the amazing James Patterson. Middle School is a family movie – it's really something everyone can enjoy, appreciate, and relate to in some way. I play Georgia, the little sister of Rafe. Rafe is starting middle school. He is a pretty creative and artistic kid who sometimes finds himself in trouble with authority. In the movie, you learn about him and his family and why he struggles with these middle school years. It's funny, but it's also emotional – it really is an amazing movie. I worked with some of the most talented, kind, and loving actors in the business. Griffin Gluck and Thomas Barbusca as Rafe and Leo have become like big brothers to me. Lauren Graham plays the mom, Jules, and it was a dream come true working with her. She's insanely talented and so sweet! Rob Riggle plays Bear and is honestly one of the nicest and funniest guys I have ever met.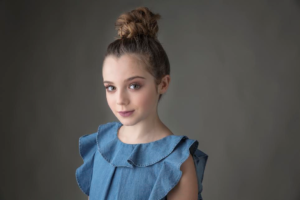 R: Can you tell us about the movie Fist Fight?
C: Of course! Well, unlike Middle School, Fist Fight is not quite a family film! It is a rated R comedy starring Ice Cube, Charlie Day, Tracy Morgan, and Jillian Bell. I play Ally Campbell, the daughter of Charlie Day's character. The movie is about two teachers who are very different and end up in an after-school fist fight to settle their differences after one of them gets fired at the hand of the other! It's a hilarious movie, but it also has some really cool messages about schools, education, and how hard teachers of today have it. Ally, my character, is experiencing some bullying of her own and she and her dad both end up confronting their bullies and making peace!
R: What do you like to do besides acting?
C: I love to dance! I used to compete, but I don't anymore because I chose to really focus on my acting. I loved competing, though, and I've had the chance to dance with some amazing dance studios. I also just started taking singing lessons — I love to sing and want to get better at that! I love fashion and makeup, and someday I want to design a line of clothing for girls!
R: Where can fans find you on social media?
C: Follow me on Instagram and Twitter. I don't have Facebook or an official website yet, but hopefully one day soon! I am also on musical.ly at @alexanisenson.
R: Is there anything you'd like to say to your fans?
C: Yes! Thank you for your support and interest in my journey. I see all your messages and likes and tweets and it means the world to me! I know there are so many amazing and talented people in this world and the fact that you choose to support and follow me is a dream come true. And if I could just say one thing in general – be kind! Kindness is cool and kindness can save a life. Everyone out there is doing their best to do good in this world, and it's hard as kids growing up with social media, cyber-bullying, and competition everywhere you turn. So let's raise each other up and offer support to the people around us, because it can really go a long way! Let's be kind to ourselves and to each other because even though we are young, we have the power to bring positive change to the world!
Written by Anna Tallarico
Photo credits: Alexa Nisenson press