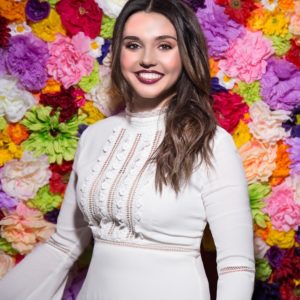 Recently, I interviewed Belmont University senior Kaylee Rutland about her budding career in country music. Keep reading to find out what inspires her to write as well as her plans for the future.
R: Tell us a little about yourself.
K: I'm Kaylee Rutland, a singer, songwriter, and student living in Nashville, Tennessee. I am driven by my faith and am very close to my family. I'm currently a senior at Belmont University majoring in Music Business. I like to write and sing about positive messages with an encouraging vibe even if it's about a tough subject.
R: Who are your biggest inspirations?
K: My biggest musical inspiration is Reba McEntire. Her vocals are incredible and her energy is contagious. She's the queen of country in my books and I've always admired her talents, even when I was really young. I'm also inspired by my mom and my grandparents. They've been a huge part of my journey with endless encouragement and I can go to them about anything.
R: Do you have an album or EP out?
K: Over the last few months, I've been writing a lot of new material with the plan to release a more extensive body of work, whether that's an album or EP, in the future. Both of my latest releases, "Pick Me Up" and "More Of That," will be included on the full-length project. But for now, they are available as singles on iTunes.
R: What is your single "Pick Me Up" about?
K: "Pick Me Up" is about breaking through the everyday routine and enjoying the day that the week ends. It's fun and upbeat and almost a weekend anthem. It serves as a reminder that whatever your week might have been like, it's never a bad day to plan a good time!
R: What are some of your plans for the future?
K: The first plan is to graduate from Belmont University. I will also continue to make and share new music with y'all this year. Then, I plan to work as hard as I can to achieve my dreams, one of which is to play at the Grand Ole Opry one day.
R: What advice would you give to other young singers?
K: Perseverance — if it's something you aspire to do and it's the love of your life, you have to keep doing everything you can. Nothing can stop you. 
Check out Kaylee's official website and her YouTube channel, and go follow her on Instagram, Twitter, and Facebook!
By Anna Tallarico
Photo credits: Kaylee Rutland press photos