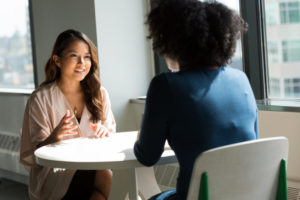 When we think about the future we often think about the job we'll be doing. Let's face it, a working week is made up of at least seven hours work for five days. This is a huge amount of time in our weeks, months, years, in our lives even. When we spend so much of our time at our job it makes sense to do something we love. Of course, to get there you will have to work hard. The reward for all that hard work? Your dream job to wake up to every day.
Step 1: Pinpointing Your Potential Career
The first step to landing your dream job is to find out what it is. This sounds fairly obvious but some people find it more difficult than others. You don't have to rush this step, but it's something to keep in the back of your mind. As you learn about new subjects, cultures, sports, you'll find out what you're passionate about and love doing.
It's also worth keeping in mind that pretty much any hobby can be turned into a career. Painters, sports players, writers, there are even video game testers! So don't worry if your passion isn't educational. It could still be a viable source of income in the future. Take massage therapists, for instance. This career involves a passion for the body, how it works, and for doing a practical hands-on job. You can even work remotely from your own home. Massage SOAP Notes has also meant that therapists can now go paperless. This means more time spent doing what you love and less time filing! However obscure your interests, cherish and nurture them.
Step 2: Figuring Out A Career Path
The best way to do this is to speak to someone who is doing your dream job. Failing that, do some research online to see if there's any advice. You'll need to find out what skills or qualifications you'll need to land your dream job. A careers advisor at school may also be able to give you some helpful pointers. Remember, you won't land your dream job overnight. Work out how long it will take you to gain the necessary experience and qualifications you'll need. Then you can map out a plan for your career path.
Step 3: Getting Some Experience
It goes without saying that you'll need certain qualifications to do your dream job, but real world experience is important too. When it comes to looking for a job, there's fierce competition. Whilst lots of people may have qualifications, it takes a determined and motivated person to seek real experience. So if you love makeup, why don't you arrange to shadow a makeup artist for a week in the holidays? That way you can determine whether or not the career is for you, and pick up some tips. Similarly, if you love writing, why not see if your local newspaper has any work experience opportunities. These kinds of experiences are valued highly by employers.
Step 4: Persevere
Go to as many interviews as you can and don't give up. Most successful people don't land their dream job at the first interview. Learn from any rejections or knockbacks you may have, and use it to fuel your ambition.