Written by Jill Sheets
The first time I saw the brilliant actress Holly Earl, she was on the hilarious show Cuckoo, where she played the character Zoe Chance. Cuckoo was one of the shows that I would try to binge-watch whenever I had the chance. So, when I found out that she was going to be in the movie Once Upon a Time in London, I was very excited! I can't wait to see it. Read on and learn more about her new film, her other upcoming projects, and what her favorite part of filming this movie was.
R: Tell us a little bit about yourself and how you got your start in acting.
H: I started out as a child actor at the tiny age of three alongside my sister. At twelve, I took some time out to finish my schooling and be a regular teenager before deciding to return to acting at eighteen. I haven't stopped since!
R: Tell us about Loving Vincent and about your character La Mousmé.
H: Loving Vincent was a fantastic experience. The film is about the life of Vincent Van Gogh, and the majority of characters are based on actual people he painted. It was captured in live action with actors, and then later hand-painted over by more than a hundred real artists in his distinctive style. Dorotea Kobiela and Hugh Welshman, who directed the film, were really clever about how they gave character and life to these portraits. I play La Mousme, who was an actual girl who sat for Van Gogh and, in the film, is a boisterous and nosey courtesan. I'm so grateful that I got asked to do this cameo in such a unique and inspiring project.
R: Tell our listeners about Once Upon a Time in London and about your character Aggie Vaux.
H: Once Upon a Time in London is the true story of notorious criminals Jack Spot and Bill Hill, who were the kings of the organized crime world from the 1930s to the 1950s. I play Aggie Vaux, an innocent but headstrong young woman who finds herself getting wrapped up with Billy and his antics. She was interesting to play, as she not only had to have the strength to stand with these men, but she also had to be vulnerable at the same time. She was a real person that lived this life and not much is known about her, so I wanted to do justice to the character.
R: How did you prepare for this character?
H: I started by researching into the real-life woman and finding out whatever I could about her. As I said, there's not much to be found, as women didn't have a lot of say at that time. Also, as a woman associated with criminals, you'd most likely want to keep some anonymity. What I did find out, however, is that she apparently had something very special about her. Other research I did was into the era, especially how women held and conducted themselves, which helped me get into the body and mind-set of a woman from that time.
R: What was your favorite part about filming this movie?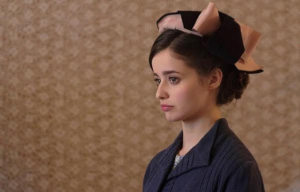 H: As someone who is slightly obsessed with the glamour of the 1940s and 50s, one my favourite things about filming was definitely the costumes. Every day was a new, stunning outfit. Michelle May, the costume designer, did a fabulous job of finding unique and authentic pieces from that time. There were a lot of outfits I wish I could've kept!
R: You got to work with an amazing cast. What was it like to work with Geoff Bell, Dominic Keating, Andy Beckwith, and the rest of the cast?
H: Unfortunately, I didn't get to work with everyone in the cast, as in the film they're all off being gangsters and getting up to no good. I did, however, work closely with Leo Gregory, who plays Billy Hill. He is a fantastic actor and a real gentleman. We were lucky to get some rehearsal, which is quite a luxury when working on a film, and that allowed us to really develop our characters and their relationship.
R: Speaking about working with a wonderful cast, tell us about the show Cuckoo and about your character Zoe. What is your favorite episode from this show?
H: Cuckoo is perhaps one of my favourite shows to have worked on. It's like one big family. Zoe's fun, as she's the complete opposite to me as a person. She's stony-faced and a real tease to Tyger Drew-Honey's character, Dylan. My favourite episode is Potato Party in the second series. When I read the script I laughed out loud! Let's just say there are a lot of shenanigans going on, involving some questionable jacket potatoes and a bath…
R: Who has been your biggest influence and why?
H: My mum. She got me into acting when I was younger, and if it wasn't for her I probably wouldn't be doing what I love so much today. She's my rock.
R: I know you like to draw. Tell us about it!
H: Art (drawing and painting) is my second passion after acting. They're not dissimilar, as I love how I can create vibrant and different characters within a portrait. At the moment, it's still a hobby, but I hope that one day I can share it more with the world.
R: Do you have any charities or causes that are close to your heart? If so, tell us about them.
H: The charity that is closest to my heart is Mind. I feel that mental health issues, whether mild or not, is something that everyone goes through at some point or another. It's just not talked about enough, which makes people feel like they're the only ones going through these things. There needs to be more open discussions about it that take the fear out of opening up. It shouldn't be a taboo topic.
R: It is not easy being a teenager. What advice would you give them in?
H: Be easy on yourself. Being a teenager is hard. You're figuring out about yourself and dealing with a lot of things for the first time. Just know that things get easier and, if you're going through a hard time, it won't last forever. It all works towards making you a stronger adult on the other side.
R: What are five things people may not know about you?
H: My first crush was Marlon Brando, I have two gorgeous cats, I make a mean Mexican fajita, I adore baby elephants, and I'd love to go to Japan one day.
R: Other than this one, what is the strangest question you have ever been asked?
H: It's not really a strange question, but I get mistaken for Emilia Clarke quite a lot. People ask me what it's like to be Khaleesi and ride dragons. I wish I knew!
R: Are you on any social networking sites? If so, which ones and what are their addresses? Do you have an official website and/or YouTube page?
H: I only use Twitter and Instagram, both under my name.
R: Anything else you would like to add or say to your fans?
H: I'm grateful for everyone who is and has supported me so far. Thank you. it means a lot!
Picture credit: Jo Mclintok, Julie Edwards