Written by: Jill Sheets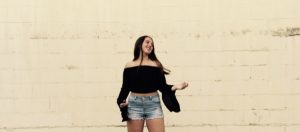 Up and coming 16-year-old Ali B started her singing career in school talent shows and after-school programs. She was 13 years old when she decided that she wanted to start recording. A couple of songs that she has recorded are "Kiss Me Goodbye" and "Strangers In Love." Keep reading and learn about her, those songs, and what it was like recording for the first time.
R: Tell us about yourself and how you got your start in the music business.
A: I am 16 years old and currently a senior in high school who is living the double life of quiet school girl by day and singer/songwriter by night. I have always had a passion for music and I am so thankful that I am on my journey to conquering my dreams. I've always sang growing up, but nothing big, just school talent shows and after-school programs. It wasn't until I was around thirteen that I decided that I wanted to start recording music. I began searching online for local recording studios and I came across The Loft Sound Studio. I had my dad call up and we began going in there. The loft sound studio is one of the studios I go to all of the time and I am so proud of all the progression I have made over the past three years. After recording cover songs for a while, I started working on original music and now I have so many exciting projects I'm working on that I can't wait to share with everyone.
R: What was it like being in the recording studio for the first time?
A: Being in the recording studio for the first time was kind of a shell shock to me. It was so professional and was a little intimidating at first. I remember I would go in and not say a word but then as soon as I got in front of that microphone I was like a whole other person. It was a big difference from just singing in my room to a big professional recording studio. Over the years I have discovered that the recording studio is like my second home. I feel happiest there–it's somewhere where I can really just let go, be myself, and show who I am and what I'm feeling through music. In my opinion, there is no better feeling than that.
R: Tell our readers about your songs "Kiss Me Goodbye" and "Strangers In Love."
A: "Kiss Me Goodbye" and "Strangers In Love" are my latest two singles out right now, and I am so excited about them. "Kiss Me Goodbye" was my first original single that we shot a music video for, which you can find on Indimusic.tv right now! Both of these songs I wrote at a time in my life where I was very much in love and at a time where my heart was broken. Everybody always asks me "who do you write your songs about?" I don't really have an answer to that question because when I write songs, I write from my heart and about what I'm going through at that time.
R: What have been some of your favorite covers to sing?
A: This is definitely a challenging question. Any song I cover I usually wind up building some sort of connection to. If I had to narrow it down, it would be the song "Camouflage" by Selena Gomez. I chose this one because at the time that I recorded this song I was going through something that was exactly what the song was explaining. It was a song where when I sang it I felt like I was telling my own story. Music has always been an outlet for me whether I am sad, happy or just having a bad day. As hard as it was for me to build up the strength to sing the song at the time, it was almost a feeling of relief when I would sing it because I felt like all of my emotions were coming out through the song.
R: If you could go back in time, what singers would you want to tour with?
A: There are so many incredible artists that I look up to and would love to tour with. If it was a band probably either One Direction or Fifth Harmony, just because I feel like both of these bands have grown together so much and started out as just contestants on a show to now some of the most successful groups ever. Some others would be Selena Gomez, Ariana Grande, Halsey, and Michael Jackson. Not only would it be an incredible honor to share the stage with them, but I feel like they are all so incredibly talented and worked so hard for where they are now.
R: Not only do you sing, but you are also a songwriter. What is your writing process? How do you come up with the ideas for the songs?
A: The process of my songwriting is different all of the time. Sometimes I will come up with a song lyric in my head and think, "oh, that would be a great chorus or hook" and then base the song around that. Other times I will be in a mood and just write out all of my feelings and try to come up with sentences and phrases that can bounce off one another. Being a songwriter is one of my favorite parts of being a singer because it allows me to express myself through my music.
R: What has been your favorite song that you have written?
A: I write all of my songs, which makes me have such a special connection to them. I would have to say my favorite one that I have written is an unreleased one which I can't spill too much about yet! I can promise that it will be out within the next few months and I cannot wait to share it with everyone. This was a song that I wrote when I felt broken inside and didn't know what to do, or who to even talk to. With that being said I came home one day, sat on my bed and wrote this song in about 10 minutes. This song is a question as to why something ended the way that it did. This song has always been a challenge for me to sing because of how emotionally involved I am in it. I think that this song is something that everyone can relate to, and I want people to know that they are not alone when they feel this way.
R: I read that you wanted to visit Greece. Why and are there any other places you would like to visit?
A: Yes! The world is such a beautiful place and there are so many places that I want to visit. Greece is somewhere I have always dreamed of going because I am fascinated by the culture and way of life. I think it would be really cool to go and explore another part of the world that is so different than where I am from. I also want to visit Bora Bora and Fiji.
R: What has been your first "starstruck" moment? Who was it and what happened?
A: I am thankful to be able to say that I have had multiple "starstruck" moments, but my first one was probably when I met Hannah Montana/ Miley Cyrus. She is someone that I absolutely thought the world of growing up. She was and still is one of my inspirations. I remember I was in line at one of her book signings to meet her and I was so nervous to even look at her. It almost didn't feel real. She was super nice and we took a picture that I still have to this day!
R: Do you have any charities or causes that are close to your heart?
A: I can tell you that I am in the process of partnering up with some charities that I am so excited to start to be a part of!
R: What are five things people may not know about you?
A:   1. I have an obsession with junk food and sweets. I could literally eat ice cream, candy, and cookies every single day.
2. I really want a dog.
3. My dream car is a Range Rover.
4. I have an obsession with Disney.
5. I write all my songs myself.
R: What advice would you give teenager girls these days?
A: If there is anything I could say, it would be to never listen to what other people think of you. Growing up I've had an endless amount of people make fun of me or tell me I'm not good enough, but I never and will never let that stop me. It's up to you to make the life that you want and will make you happy.
R: Other than this one, what is the strangest question you have ever been asked?
A: To be honest I don't think I've been asked a "strange" question yet.
R: Are you on any social networking sites? Which ones and what are their addresses?  Do you have an official website and/or YouTube page?
A: Yes of course! You can follow my Instagram @alisonberke to see footage from some of my performances, newest pictures, and to keep up with where you might be able to find me next. My twitter is @alison_berke where you can also stay updated on my performances, where you can find me, my funny retweets and also just to see what I'm up to that day. My snapchat is @aliiberke1023 where you will discover I may or may not have an obsession with filters, what I'm up to, and maybe sometimes even some sneak peeks into what I'm working on! My official website is http://alisonberkemusic.com but you can also find my music on my Soundcloud, Facebook, and YouTube, which is Alison Berke Music! My three singles are available for download on iTunes & Spotify now!
R: Is there anything else you would like to add or say to your fans?
A: I just want to say a huge thank you to everyone who supports me, listens to my music, tells their friends about me, takes time out of their day to listen to me, or to even like or comment under one of my posts. I appreciate everything more then you could imagine. I will continue being me and sharing my music with you all and I am excited what the future has in store for us. This is a long and hard journey, but if there is one thing I am certain, it is that I will never give up no matter who tries to stop me.
Picture credit: Donnie Klang and Matthew LaPorte at The Loft Sound Studio