Now is the perfect time to get a little selfish and make sure you are giving yourself the TLC you need! We are here to boost your self-esteem, get you through rough times, and just be a nice reminder that you ROCK! Chances are you don't hear it enough, so we want to fill that void. But, this is one blog you won't get sick of…
Interested in submitting your own faith blog content? Think you have what it takes to be a GREAT Relate blogger? Send your writing to mary@relatemag.com. We would LOVE to hear from you!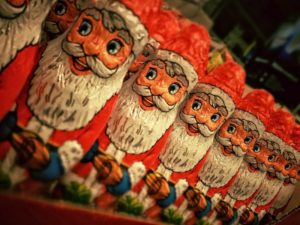 Life teaches us many things. One thing I've painfully learned is lies are usually too good to be true. Sometimes, there are lies told that are almost believable, especially at Christmas time.
How about this one: "Santa Claus is real"? Responsible sane adults tell it to little children, along with the lie "I'll never lie to you". Yep! I once fell for it hook, line, and sinker!  It was intentional and well-meaning deceit, but isn't that how Satan works too?
In the Bible, Satan is proven to be the first liar. Genesis recounts the Creation and the Fall of mankind through Adam and Eve. You see Eve believed a lie (Genesis 3:1). That belief ultimately caused her to lose her home in paradise and earned her pain in childbirth as punishment for disobeying God (Genesis 3:16). Her husband Adam also paid the price for her sin. He was condemned to struggle to survive for the ground was cursed (Genesis 3:17).
Here's what the serpent said and Eve's response:
"Now the serpent was more subtil than any beast of the field which the LORD God had made. And he said unto the woman, Yea, hath God said, Ye shall not eat of every tree of the garden? And the woman said unto the serpent, We may eat of the fruit of the trees of the garden:  But of the fruit of the tree which is in the midst of the garden, God hath said, Ye shall not eat of it, neither shall ye touch it, lest ye die." Genesis 3:1-3 (KJV)
Here's what God really said:
"And the LORD God commanded the man, saying, Of every tree of the garden thou mayest freely eat:  But of the tree of the knowledge of good and evil, thou shalt not eat of it:  for in the day that thou eatest thereof thou shalt surely die." Genesis 2:26-27
Sin creeps in because the heart is deceitful. Jeremiah records the truth in Jeremiah 17:9-10:  
"The heart is deceitful above all things, and desperately wicked:  who can know it? I the LORD search the heart, I try the reins, even to give every man according to his ways, and according to the fruit of his doings."  
These verses warn us about how easily we can be deceived and the consequences. It's not pretty, as Adam and Eve discovered.
The world at large continually tears down the true meaning of the Christian celebration of Christmas. Jesus has been replaced with Santa and Self. Much ado is made over Santa and gift giving. Character is revealed very clearly during the rush Christmas shopping.
Believers celebrate the birth of Jesus, God's own Son. His life on earth demonstrated God's goodness, love, and mercy for mankind. He came to offer Himself as a sacrifice for sin. God's law requires that sin be punished. Jesus took the punishment for our sins when He died on the cross. He satisfied God's requirements so that those who believe in Him can be forgiven and reconciled to God.
Trust is precious. Once lost, it's difficult to regain. Don't allow yourself to get into the habit of lying. Even "little white lies" are a problem because they seem okay, even harmless. If someone lies about something small, they will lie about something big when it suits the purpose.
Let's reject the lies about the reason we celebrate Christmas. Seek the truth. The Bible tells us Christmas is about a baby boy born in a stable who came to be the Savior of the world.
by Linda Hull
---
One sunny day in late November, my sister Emma and I sat in the cafeteria eating our lunch. "I've thinking about Pastor Jim's message yesterday at church. He told us Jesus taught we should help one another," I said, munching on a carrot."I wonder if we can help someone have a happy Christmas. Maybe it could be someone who doesn't expect a good Christmas Day."
I finished the last of my fruit salad and said, "I know someone in my math class, and you know her too, Emma. Her name is Lydia Koch. She and her family recently came here from Germany. She told me her family doesn't expect a happy Christmas Day because their father is away."
"Oh, yes," Emma said. " She has blonde hair and blue eyes.  She's shy and quiet, but she seems very nice. "
"Let's talk to Mother about doing something for her family today when we go home," I said, as we put our trays in the cafeteria return window.
"Let's do that," Emma agreed.
That afternoon we found Mother in the kitchen. It smelled of good things coming from the oven. "Mother, Emma and I have a good idea," I said. " We were thinking about Pastor Jim's message about how Jesus taught it was important to help others, especially when things aren't going well for them,  and we were thinking maybe we could help  Lydia Koch's family, have a good Christmas.  I could make some oatmeal cookies."
"And I could bake a chocolate cake," Emma chimed in. " Mother,  you told me,  I can make good chocolate cakes."
Mother smiled and nodded.  "Well, girls," she said, " I think that would be a very good Christian thing to do.  I talked with Sophie Koch after church last week. She told me she was not planning to have a Christmas dinner since her husband was away and couldn't be home with the family, and lately,  she has not been feeling well either."
"Mother, maybe we could prepare a turkey for her," I suggested.  "Then, she can put it in the oven and bake it. That would make it a lot easier for Mrs. Koch."
"Yes, it would, Alyssa. That's a good idea. With a turkey and some pastries we bake, they should all make a good Christmas Day for Sophie and her family."
"Let's let it be a surprise," I said.
A few days before Christmas, Mother, Emma, and I met the Koch family after church outside the entrance. While Mother  visited with Mrs. Koch, Ruth and I took Lydia to the gift basket we had prepared. "We have a surprise for you and your family," I said, showing her the food basket. When Lydia looked inside and saw all the pastries and the big fat turkey stuffed and ready for baking, tears came into her eyes.  She reached out and gave Emma and me a big hug.
"Thank you. Thank you," she said, smiling through her tears. "Now we can have a wonderful Christmas Day."
I'll never forget the look of happiness I saw on Lydia's face as she carried the basket to her mother. Both Mrs. Koch and Lydia hugged us. Mother put her arms around them and said, "It was Alyssa's and Emma's idea."
Mrs. Koch nodded happily through her tears "Thank you, girls," she said.
"Last week Pastor Jim reminded us that Jesus wants us to help one another," I said. "And today, that's what we are doing. Lydia told us you haven't been feeling well."  I gave Mrs. Koch a big hug once more. Emma  and I looked at one another with a bright smile. We both felt wonderful inside. We knew we were following the teachings of Jesus by helping our friend Lydia Koch and her family have a Happy Christmas Day.
Written by Evelyn Horan
---
The holidays are drawing near. Many may wonder if they will be alone yet again this year. Friends and family may be far away or busy with their own plans, but no matter the circumstance, there is one who knows your loneliness. No one has to go through life all alone.
I love Psalm 118:14 (KJV). It says, "The LORD is my strength and song and is become my salvation."

Who is this LORD? Jesus Christ, God's only begotten Son. The psalmist is rejoicing in the One who can get us through any crisis. He is our strength! When we feel alone, our LORD is with us. We can be joyful because we have a constant companion!
How does this work? Jesus came as a baby, then was crucified on a cross, and rose again. His death was God's way of dealing with sin in the world. Jesus paid the price God requires. Sin must be punished. Jesus took the punishment on behalf of all mankind. When He rose from the grave, He ascended into Heaven. Then the Holy Spirit came to reside in the hearts of all Believers. Consequently no one who has repented of their sin and called upon the name of Jesus for salvation from the punishment for sin is alone. The Holy Spirit comes to live in the heart of the Believer.
Therefore the LORD truly is with us, giving us strength to endure any situation. When life gets tough, I go to Psalm 118:24:  "This is the day which the LORD hath made; we will rejoice and be glad in it."
The LORD already knows what a day will bring, whether sorrow, hardship, or joy. He knows and understands our trials and fears. He is aware of our disappointments. Yet, despite all we face, He never leaves or forsakes us (Hebrews 13:5).
We expect to suffer trials and troubles, because we live in a sin filled world where the sin nature present in each of us has predominance. We must constantly strive to obey our LORD.  With the help of the Holy Spirit and guidance from the God's Word, the Bible, we can choose to live a life that is pleasing to God.
We can choose to embrace the life He gives us, rejoicing in each day. To enjoy the happiness we can find in each day, we must choose to rejoice and be glad despite our circumstances.  We may repeat that part "we will rejoice" with gritted teeth, but we can know with certainty that we are not alone in our anguish.
I will rejoice and be glad!
I choose to trust Him with each day of my life.
That trust in Him gives me peace because I know He is faithful to do what He promises. Without Him, I will fail and fall. With Him, I can overcome. I will rejoice with thanksgiving because He is faithful even when I am not.
This holiday season let us rejoice and give thanks!
*Let us give Him thanks for His many blessings!
*Let us praise Him with love and joy for His gift of redemption and forgiveness of sin.
*Let us give thanks for our hope for an eternity spent with Him.
*Let us thank Him for revealing Himself to us.
by Linda Hull
---