All we girls hear about is dieting and being thin. It gets a little old! How about some advice on just being healthy. It's not all diet and exercise and fitting into a mold…it's embracing your body and taking care of yourself so that you may live a long, healthy lifestyle!
We all have stressors in our lives. When the stress just gets to be a bit much, it can actually take a toll on our well-being and overall health. This is why stress relievers that are effective are critical when it comes to restoring your inner peace and your physical health. Here are a few different things that can assist you in feeling a little bit less affected by all those stressors in your life.
Spa Days
Have you ever been to the spa? There have been quite a few studies done that have shown that a massage can reduce the levels of cortisol – the stress hormone. Along with that, this can help to slow your pulse and bring your blood pressure to a lower level. One of the things that make for a comfortable and relaxing day at the spa is the actual spa equipment. From massage tables that will be used to massage your cares away and pedicure chairs that will give you another massage as you get your toes done, to loungers and other accessories for the spa, the right equipment can really help you relax and destress. Click here for more information.
Exercise
If you are looking for an inexpensive way to relieve stress, you really don't have too far to look. Exercise is one of the best ways to get natural stress relief. It doesn't matter what your fitness level is either. Physical exercise has been proven to provide relief from anxiety and stress. It does it without any chemicals and you don't even need to leave the comfort of your own home to do it. Getting a half hour of some form of exercise on a daily basis includes other benefits too such as more energy, improved mood, better sleep, and weight loss.   
Clean and Music
When you have a little bit of stress that you want to relieve, what better way to do it than to put on your favorite music and clean your house? This can actually be fun believe it or not. The music will lift your mood and give you energy (if you have the right kind on), and cleaning provides you with a physical activity that can take your mind off of what is stressing you for a while. Your home will get clean too which means that your environment will be more soothing to you. 
Aromatherapy
Wake up and get ready to smell the roses, grapefruit, lavender, or any of the other essential oils. Aromatherapy can be an amazing way to reduce anxiety and relax in an effort to improve your overall well being and health. There are all sorts of essential oils to choose from so you are sure to find just the right scents to send you on your way to relaxation bliss.
Stress Balls
You know you have seen them. The little balls you squeeze to relieve stress. Now, they make giant stress balls too. These are a must have for anyone who tends to get stressed a lot. It is just your standard foam ball used for stress. It is just bigger than the ones you might be used to. This means that it is great for squeezing as well as for pounding when you just get that urge to hit something. 
Visual Relaxation Anyone?
There is something called an Aduki ni Light. This has got to be one of the most relaxing things you can get… especially if you are into visual relaxation gadgets. When the light is not on, it appears to be a teardrop the size if your hand, and that is made from a material such as hematite or mercury. Then you turn it on and it will shine in a color that you choose or it will cycle through the color spectrum. This can be totally relaxing, especially if you are in a dark room.
---
Are you feeling conflicted at the moment? Like you don't understand yourself anymore?  One minute you seem to be happy and calm, the next you are blowing off in an angry rage?  Maybe you have fallen out with a friend recently and you aren't sure what you have done.  
Growing up is so tough.  When you become a parent you tend to get lost in how tough parenting is and forget what it was like to be going through so many hormonal changes, experiencing your first heart breaks, the pressure to work hard at school.  Adults can pretty quickly dismiss the issues you are going through and can make you feel that something which matters to you is really small.  
They don't mean it, it's just that they have so many issues going on that in their mind, having a friend who has fallen out with you, is really not a big deal.  Compared with having to pay for the house, or losing your job.  The problem is though is that it is all relative.  You don't have to deal with the problems your parents do, your time will come, so currently the problems you are experiencing matter as much to you, as the problems your parents face.  So don't feel guilty, or that your problems and worries don't matter.  Because they do.  Don't be angry at your parents either, they don't mean to forget what it was like being a teen.
So how can you help yourself through your teenage years?  Firstly there are some mind blowing self development books which you can read.  These could help you become more aware of who you are and help you to focus your mind on problem solving.  Which is going to help you a lot over the next few years.  Of course The Bible is the best self development book out there! There are other ways though, to get through your issues and help make peace with yourself.  So let's take a look at a few.
Firstly, the sisterhood is really important.  Your female friends understand exactly what you are going through on a day to day basis.  No matter how good the boys are, they just won't get the hormones.  Sorry girls.  The sisterhood is also important because you understand what it is like to feel most of the emotions other girls are going through.  You get that no matter what anyone says, you feel too fat or too skinny.  You know what it is like to stand in the dressing room and feel worried about getting changed.  You know how hard it is to walk past the confident girls, because even if you are seen as one of them, you aren't really.  Not all the time.  
Stand by your fellow females.  Don't judge them or make fun of them.  You need to build them up so if you see another girl struggling, go to her aid.  Don't bully other girls and if you see another girl being bullied, stand up.  Always.  Do not be afraid.  Too many girls turn the other way because they don't want to get involved.  Do get involved.  
Don't ignore the boys though, yes we need to stick together but that shouldn't mean standing up against men.  It means working with them.  We have a slightly easier time of it that boys because girls tend to talk their feelings over more.  So get with the boys and help them talk a little more too.  You will discover a lot more about yourself when you hear a boy talking about girls.  You might even realize what it is that matters to boys.  Because it certainly isn't the things you worry about.
Understand your parents and talk to them.  You want their respect and honesty, so give them yours.  Yes, ok parents can be pretty uncool when it comes to some matters but the truth is, they have been through almost every single emotion you are going through.  It might be tough to bring up your innermost thoughts with your mum, but trust us, she is going to drop everything to help you.  You might have to be a little persistent.  Sometimes parents need to be really stopped and told "this is important" before they really acknowledge it.  Parents have buzzwords which will get their attention.  Such as 'help' and 'I'm scared' or 'I really need you' these phrases are unignorable by most moms and dads.  So think of them like a computer that needs programming. Say the right words and they will listen.
Whatever you are feeling, talking is always the best way forward.  So do it.  Talk and keep talking.
---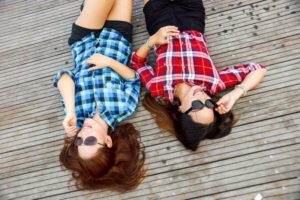 Life, whatever your age, is something that takes a lot of time and effort. It's not until we are able to retire, or snatch a few days on a holiday, that we can truly sit back and think "hey, we've got this". For those who are just getting to the end of their school career and are thinking about college, and even those who have done all of that and are trying to further their careers, there are things that can be done to both prepare you for and release you from the busyness of life.
Organize Your Schedule
Make sure that you know what you're doing on a daily basis, and try to stay a couple of days ahead of yourself. That way you won't burden yourself with taking on too much. Know your limits and try to understand what too much can be to you – whether this is an after-school club or volunteer work for example, if it is tiring you out too much to work effectively at anything else then you need to realise that this is something that needs cutting out. This is something that takes time and experience to master, so don't expect that you'll know exactly what you need and don't need in your life – just go with the flow and see what works best for you.
Organize Your Food
You can't get by on a busy lifestyle without the right sort of nutrition. If you aren't feeding your body the foods it requires to give out a great performance, then you will see yourself lagging in several areas – whether this is not being fit enough to do your daily walk to school or losing concentration on whatever project you're working on, your body needs a good nutritional diet, as explained on She Informed, to sustain a constant operating level. The best thing to do is compare yourself to a car and how much gas and maintenance it needs to keep itself going; it needs a lot more than just fuel and a service, it also needs water and oil and a whole host of other things to make sure it works to the best of its ability. Your body is completely the same.
Organize Your Fun
Don't be so busy that you forget to take time out to have some fun. Make sure that you organise yourself enough that you have the time available to you to be able to go out and give yourself some freedom, but don't feel like you have to hold back on doing anything other than work just because that's what your schedule tells you. Follow the mottos of 'work hard, play hard' and 'all work and no plays makes [insert name here] a dull person' – they're old but they really do hold a lot of powerful meaning. If you don't de-stress once in a while, you won't have the means and the focus to go on and keep doing as well as you're doing … to achieve your potential.
---