Sometimes we have to take the time to toot our own horns and praise ourselves. It's hard to stay confident and to remember to love who and what we are. It can be easier to tear ourselves apart and be critical of every little thing, so make a conscious effort to put your self-esteem first. Learn to love yourself–and keep it fresh in your mind every day.
Who says you need to be an adult to change the world? Hannah Richardson is only sixteen and already she is the face of a successful company and on the verge of releasing an album. Find out more about her music, her company and its inspiring mission, and how you can connect with her on social media.
(Psst! Go follow the company's Instagram page — it already has over 10,000 followers!)
R: Tell us about yourself. How long have you been singing? What made you fall in love with it?
H: Well, hey there! My name is Hannah Richardson, I'm sixteen years old, and I'm a singer and songwriter, as well as the face of an incredible girl power company called Gomee Girl. Looking back, I think I fell in love with music when my parents started playing it in the house! I was extremely blessed that my parents exposed me to all of these incredible artists at such a young age, such as Fleetwood Mac, Allison Krauss, Led Zeppelin, etc. I was definitely influenced by them when I started writing my own music years later. I officially started singing at six years old in my church choir, but got my first solo when I was seven. My pastor was nice enough to offer that the girl singing obnoxiously over all the other kids (that girl being me) get her own song. Quite frankly, I think that it was the solo in particular that really got me fascinated with being in front of people, as it was when I realized that I could force a group of adults to listen to me who otherwise wouldn't have. Ironically, that's kind of still true today.
R: I heard you are about to release an album. That's so exciting! What's your favorite song on it?
H: Totally! The album is called Chasing Rainbows and is set to be released on September 18th, 2017. It has a very pop and country feel with a lil' Irish flair, and showcases all of my favorite instruments, like mandolins, fiddles, and vintage guitars. My favorite songs on the album are generally the musically joyous ones that are tinged with darker lyrics. I'm really obsessed with having that awesome conflict of lyrics and music in my songs, just because it makes people second guess that whole concept of "oh, this is upbeat so it's obviously totally happy!" Spoiler alert, but that's why "Rich Kids" and "Just A Friend" were personally so wonderful for me to write, and why I think people will really connect with those. This probably sounds cliche, but picking your favorite song is liking picking your favorite child. All of the songs are so unique and come from such different places emotionally. However, I will say that "Chasing Rainbows" was definitely my most therapeutic song. What I mean by that is, after writing it, I realized I had finally unlocked this thing that had been hurting me for a long time, and could let all of my feelings out every time I sang the song. For me, that's the whole beauty of songwriting. It's taking incredibly complex emotions and situations that nobody but you understands and somehow translating them into something our actual language hasn't yet figured out how to communicate.
R: Tell us about Gomee Girl. How can we raise awareness?
H: Gomee Girl's main mission is to improve the self-esteem of young girls. Through positive social media campaigns, school assembly events, and their patches with positive images, the organization is focused on letting every woman know that she can love herself exactly the way she is. As the face of the company, some of my jobs include representing the company in a good light, designing exclusive products, and writing epic, girl-power music. However, the most important responsibility I have taken on is giving advice to girls who are followers of myself and/or the company. Despite the time commitment and rather emotional nature of the job, this has become one of the most rewarding experiences in my life. I mean, nothing is more fulfilling than a girl who at one point felt she was "useless," and now messages me pictures of herself at a school dance. Nothing can beat that! One way to raise awareness is simply by following Gomee Girl's social media sites (@gomeegirl). Another way is to let any girl who might need some help know that she can check out http://www.gommegirl.com/getinspiredwithhannah for advice on everything from basketball to boy trouble and also just to connect with other girls who've had similar struggles in life!
R: What do you like to do besides singing?
H: I'm a Music & Diversions division writer for Metiza Magazine, so I am super obsessed with interviewing artists. I also read a lot (shoutout to Harry Potter), and love watching TV shows like Stranger Things, Game of Thrones, and Gilmore Girls.
R: What advice do you have for young girls who want to pursue a career as a singer or anything in the music industry?
H: NEVER let people say that you can't pursue your dreams due to circumstances beyond your control. There will always be people who are more "gifted" than you, who have prettier hair than you, who have more money than you do, etc. That being said, it's the people who work day and night and totally dedicate themselves to their passion that actually make a mark on the world. No excuses. You can do this!
R: What are your social media addresses?
H: Website – http://www.hannahrichardson.com
Facebook – https://www.facebook.com/hannahrsings1
Twitter – https://www.twitter.com/hannahrsings1
Instagram – https://www.instagram.com/hannahrsings1
YouTube – https://www.youtube.com/user/mlpgrow123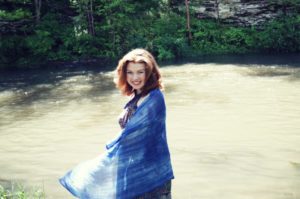 R: Is there anything else you would like to add?
H: This sounds a lot like an Academy Award speech, but I just have to thank my family, friends, and fans for helping me so much on this journey. I also want to personally thank all the people who have ever caused any conflict in my life: hey ya'll, you guys are the ones who inspire the best songs and are part of what motivate me to be better than I was yesterday, so thanks for being you…kind of.
Photo credits: Hannah Richardson
---
God tells us we are wonderfully and fearfully made, and to Him, you are beautiful and unique. He does not compare you to others, as you are the person He made you to be.

Unfortunately, we live in a society where we can feel judged. Despite what the Bible says, we can face pressure within ourselves, or from others, to conform to a false idea of beauty. In this article, we will try and get some perspective on the matter, and try to understand what true beauty means.

On the surface

When most people think of beauty, they think of face value. First impressions are made, wrongly, by the way somebody looks on the outside. The media doesn't help. From magazine models to movie stars, we wonder why we don't look like the people we see on the page and screen. There is also peer pressure at school to look and dress a certain way. If you are too fat or thin, or you are wearing the wrong fashions, you may struggle to fit in with the crowd.

For starters, don't be fooled by the false image the media portrays. The pictures you see in magazines and on the internet have often been photoshopped, with any blemishes removed before publication. Movie stars are as insecure as anybody else, spending a fortune on making themselves look beautiful for the screen. You can look after your skin, with advice from a website such as Exfoliate.com, but you don't need to compare yourself to others, as chances are, they will still look like you do first thing in the morning.

You don't want to neglect your body, and we have offered advice at Relatemag.com. Health is important, so while you don't need to feel ashamed about the way you look, there is still the need to be sensible and take care of yourself. Body shaming has become a trend, but there is no 'perfect' weight provided you are healthy and looking after yourself. There will always be bullies in life, but don't subject yourself to their torment and criticism.

On the inside

The Bible tells us we are made in God's image. We don't know what God looks like, but the verse refers to the qualities of God, rather than physical appearance. You have probably noticed some of these qualities in other people, including love, kindness, and grace. It is this writer's opinion that true beauty radiates from the inside. As you will know from movies such as "Mean Girls,' people can be beautiful on the outside, but very ugly on the inside.

Focus on your inner beauty. Be somebody that cares for others. There will be people in your life who may not be physically attractive, at least to society's standards, but you won't notice this when their beauty radiates from the inside. Think of the people you love, and ask yourself why you do. It will be who they are on the inside, and the way they care for you.

So, what is true beauty? You decide, but above all, love yourself, for who you are, and be good to others.

---
Talking to older adults is intimidating. They have been through so much and have a vastly different worldview from you. Yet, there are so many benefits that teens can experience when they spend time with elderly relatives, neighbors, or residents at a local senior care facility. Here are a few of these benefits and how to get past the initial awkwardness of spending time with those that are older than you.
What Are the Benefits of Hanging out with Older Adults?
By 2030, 20 percent of Americanswill be 65 years of age or older. Seniors are becoming a bigger part of our society. Here are some of the ways you can get more out of life by developing an intergenerational friendship:
Self-Identity– An older person can help you figure out who you are by giving you a well-rounded understanding of yourself that is aided by decades of experience.
Have Someone to Look up to– You don't make it to old age without perseverance and living through a hard situation or two. Many seniors are real-life heroes.
Engage in Mature Conversations– Talking to your friends is completely different from interacting with a golden ager. You will find that there is more depth to the conversation.
Feel Like You Belong– Both the elderly and teens tend to feel lonely at times. When you are friends with an older adult, you can help soothe any feelings of loneliness.
Learn a New Skill– Being able to talk to people of different backgrounds is an important life skill. It will serve you well throughout life as you apply for jobs and meet new people.
Accept Mortality– As a teen, it is hard to accept that you may get old someday. Perhaps, you are even afraid of the elderly. Once you spend a few hours with an older adult, you will gain a whole new perspective.
How Can You Develop an Intergenerational Friendship?
If you do not have any older adults in your life, there are plenty of places where you can visit them while lending a helping hand. Perhaps offer to visit an assisted living facility, alternatively, see if you can help the elderly at senior centers, or at the VA. If you don't know what to do with a golden ager, try asking them about what they are interested in.
Popular activities include gardening, scrapbooking, reading out loud, storytelling, and learning new skills, such as baking, weaving, fishing, using the Internet, or crochet. Both you and your senior friend are sure to learn a lot from each other.
---