Sometimes we have to take the time to toot our own horns and praise ourselves. It's hard to stay confident and to remember to love who and what we are. It can be easier to tear ourselves apart and be critical of every little thing, so make a conscious effort to put your self-esteem first. Learn to love yourself–and keep it fresh in your mind every day.
Sometimes it's pretty obvious when someone is born a star. When she was little, singer Kylie Hughes would belt out Disney tunes (her favorite was the Hercules soundtrack). Now, she has a number of musical accomplishments under her belt, including producing an EP when she was fourteen, performing at music festivals, and sharing the stage with several well-known artists such as the Beach Boys, Jesse McCartney, and Building 429. She's also opened for a John Mayer concert and performed a duet at Carnegie Hall with Michael W. Smith.
Kylie is a Cali girl at heart, and a lot of her music is inspired by California and the fun, upbeat, sunny lifestyle. When asked about her style of music, she said she dabbles in a little bit of everything, from pop to country. "I love how blurred the lines of music genres are these days. You can almost do anything." Her debut album features an array of beautiful, original songs such as "Heat," "Love Somebody Else," and her personal favorite, "Gotta Get Out." She says that it's very fun to perform live because there is a bit of call and response, and she feels really connected to the audience on that one.
Besides singing, she loves interior design and traveling. "I actually love living out of a bag from time to time. It keeps me spontaneous." When asked about what advice she has for other young singers, she said this: "Stick to your guns and don't be afraid to try and fail. You will gain invaluable lessons. But if you are going to take a risk, do it because YOU want to, not because you feel pressure from other people. Trust your gut."
Be sure to check out her website and follow all her socials (Twitter, Facebook, and Instagram) for updates, including information on when her new music video is coming out!
Written by Anna Tallarico
Photo credit: Shalon Goss
---
I was a fat kid.  I was teased relentlessly for it, and in sixth grade, I discovered this great thing called exercise, and I lost over twenty pounds.  It felt like a miracle!
The thing was, though, I was skinny fat.  I hated vegetables.  I didn't eat much fruit.  And I loved carbs almost as much as I loved fast food.  I discovered that I could eat what I wanted to, if I just did enough aerobic exercise.  And so I did that, for a really long time.  It didn't matter that I felt yucky as in always, always tired, and that I got headaches constantly.  All that seemed to matter to me was that I appeared healthy on the outside.
Even as I was destroying myself on the inside.
It caught up to me.  Autoimmune diseases are knocking on my door.  I'm not that dummy who says, "Huh, how did that happen?"  I've had a conscience about this for years.  For the last decade at least (told you I've been doing this for a while), I've been feeling guilty.  I felt like an addict:  after every cheeseburger and French fries from McDonald's that I consumed, I'd tell myself it was for the last time.  Next time I was hungry, I'd eat a carrot.  Except I didn't.
Joint pain, fatigue, and abnormal blood tests made me change my life around.  I eat healthy now.  Not that I didn't throw a million tantrums in the grocery store when I realized EVERYTHING I ate before had tons of sugar, gluten, or chemicals in it.  The first three months were the hardest, but I'd allow myself one cheat day a week, and I discovered after eating clean, I no longer liked the processed junk.  I no longer understand why I liked it to begin with.  And I feel amazing.  I feel young, even if the date on my license tells me that I'm not.
My eating habits have reflected my spiritual life more times than I'd like to admit.  I'd nurse that anger, focus on the negatives rather than the positives, focus on myself rather than consider anyone else's needs, and overall let myself slip into habits that I knew weren't necessarily practices I was proud of.  But I still went to church.  I still read my Bible.  I still prayed (if praying, "Please let this crazy annoying driver in front of me turn left while I turn right" counts).
Semi healthy on the outside.
While decaying on the inside.
If doing the wrong thing makes us feel so horrible, and doing the right thing makes us feel so amazing, why do we keep chasing the wrong choices?  For me, it was about habit.  And comfort.  Familiarity makes me feel safe.  And, to be brutally honest, because I am, you know, incredibly lazy.  So much so that it sometimes frightens me.
Creating my own illnesses scared me straight.  I realized I was poisoning myself by being so lazy that I wouldn't look up new recipes or buy unfamiliar produce or try something new.  And each time I go out of my comfort zone and smile at a stranger and ask them about their day or do something selfless, I understand that my spiritual life is the same type of thing.  While I may know what nourishes my body, it does no good until it is what I choose to consume.  And while I may know the difference between wrong and right, it doesn't do any good until I choose to engage in the better choices.
I don't want to be fake.  I want to be as real as I can be from my soul outward, and I want to shine a light that makes other lives better.  Religious practices mean nothing if you aren't communicating with the Savior and putting yourself out there as His vessel.  What is right isn't always easy.  But it is always worth it.
But the man who looks intently into the perfect law that gives freedom, and continues to do this, not forgetting what he has heard, but doing it-he will be blessed in what he does.  James 1:25 (NIV)
Written by Ellen Marie Hawkins
---
Who says you need to be an adult to change the world? Hannah Richardson is only sixteen and already she is the face of a successful company and on the verge of releasing an album. Find out more about her music, her company and its inspiring mission, and how you can connect with her on social media.
(Psst! Go follow the company's Instagram page — it already has over 10,000 followers!)
R: Tell us about yourself. How long have you been singing? What made you fall in love with it?
H: Well, hey there! My name is Hannah Richardson, I'm sixteen years old, and I'm a singer and songwriter, as well as the face of an incredible girl power company called Gomee Girl. Looking back, I think I fell in love with music when my parents started playing it in the house! I was extremely blessed that my parents exposed me to all of these incredible artists at such a young age, such as Fleetwood Mac, Allison Krauss, Led Zeppelin, etc. I was definitely influenced by them when I started writing my own music years later. I officially started singing at six years old in my church choir, but got my first solo when I was seven. My pastor was nice enough to offer that the girl singing obnoxiously over all the other kids (that girl being me) get her own song. Quite frankly, I think that it was the solo in particular that really got me fascinated with being in front of people, as it was when I realized that I could force a group of adults to listen to me who otherwise wouldn't have. Ironically, that's kind of still true today.
R: I heard you are about to release an album. That's so exciting! What's your favorite song on it?
H: Totally! The album is called Chasing Rainbows and is set to be released on September 18th, 2017. It has a very pop and country feel with a lil' Irish flair, and showcases all of my favorite instruments, like mandolins, fiddles, and vintage guitars. My favorite songs on the album are generally the musically joyous ones that are tinged with darker lyrics. I'm really obsessed with having that awesome conflict of lyrics and music in my songs, just because it makes people second guess that whole concept of "oh, this is upbeat so it's obviously totally happy!" Spoiler alert, but that's why "Rich Kids" and "Just A Friend" were personally so wonderful for me to write, and why I think people will really connect with those. This probably sounds cliche, but picking your favorite song is liking picking your favorite child. All of the songs are so unique and come from such different places emotionally. However, I will say that "Chasing Rainbows" was definitely my most therapeutic song. What I mean by that is, after writing it, I realized I had finally unlocked this thing that had been hurting me for a long time, and could let all of my feelings out every time I sang the song. For me, that's the whole beauty of songwriting. It's taking incredibly complex emotions and situations that nobody but you understands and somehow translating them into something our actual language hasn't yet figured out how to communicate.
R: Tell us about Gomee Girl. How can we raise awareness?
H: Gomee Girl's main mission is to improve the self-esteem of young girls. Through positive social media campaigns, school assembly events, and their patches with positive images, the organization is focused on letting every woman know that she can love herself exactly the way she is. As the face of the company, some of my jobs include representing the company in a good light, designing exclusive products, and writing epic, girl-power music. However, the most important responsibility I have taken on is giving advice to girls who are followers of myself and/or the company. Despite the time commitment and rather emotional nature of the job, this has become one of the most rewarding experiences in my life. I mean, nothing is more fulfilling than a girl who at one point felt she was "useless," and now messages me pictures of herself at a school dance. Nothing can beat that! One way to raise awareness is simply by following Gomee Girl's social media sites (@gomeegirl). Another way is to let any girl who might need some help know that she can check out http://www.gommegirl.com/getinspiredwithhannah for advice on everything from basketball to boy trouble and also just to connect with other girls who've had similar struggles in life!
R: What do you like to do besides singing?
H: I'm a Music & Diversions division writer for Metiza Magazine, so I am super obsessed with interviewing artists. I also read a lot (shoutout to Harry Potter), and love watching TV shows like Stranger Things, Game of Thrones, and Gilmore Girls.
R: What advice do you have for young girls who want to pursue a career as a singer or anything in the music industry?
H: NEVER let people say that you can't pursue your dreams due to circumstances beyond your control. There will always be people who are more "gifted" than you, who have prettier hair than you, who have more money than you do, etc. That being said, it's the people who work day and night and totally dedicate themselves to their passion that actually make a mark on the world. No excuses. You can do this!
R: What are your social media addresses?
H: Website – http://www.hannahrichardson.com
Facebook – https://www.facebook.com/hannahrsings1
Twitter – https://www.twitter.com/hannahrsings1
Instagram – https://www.instagram.com/hannahrsings1
YouTube – https://www.youtube.com/user/mlpgrow123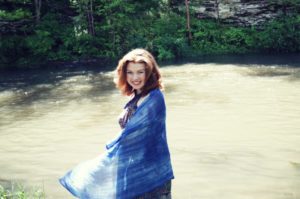 R: Is there anything else you would like to add?
H: This sounds a lot like an Academy Award speech, but I just have to thank my family, friends, and fans for helping me so much on this journey. I also want to personally thank all the people who have ever caused any conflict in my life: hey ya'll, you guys are the ones who inspire the best songs and are part of what motivate me to be better than I was yesterday, so thanks for being you…kind of.
Photo credits: Hannah Richardson
---