Sometimes we have to take the time to toot our own horns and praise ourselves. It's hard to stay confident and to remember to love who and what we are. It can be easier to tear ourselves apart and be critical of every little thing, so make a conscious effort to put your self-esteem first. Learn to love yourself–and keep it fresh in your mind every day.
"Diversify your interests, study anything and everything, and most importantly, never compare yourself to anyone else. There will always be someone more intelligent, more talented, more beautiful, more connected, etc., but that doesn't mean there's not a place for you at the table. You are enough; it's a matter of working hard for yourself, striving to become the best version of yourself, and believing that you have something that is worthy of contributing."
25-year-old actress, screenwriter, and film director Castille Landon is making history and paving the way for young women who are pursuing their dreams and careers. Born in Florida, she moved to Los Angeles when she was fifteen to pursue a career in acting. She graduated from Harvard University with a B.A. in English, and is currently a student at Oxford, working on her creative writing major as the only screenwriter accepted into the class. "I think it helps as a filmmaker to be exposed to as many subjects as possible so as to create work that more broadly reflects humanity. I'd rather tell the stories of humans (especially women) throughout time, or be inspired by big ideas in science and medicine or great minds than become insular and just tell stories I relate to personally, or make films about filmmakers or writers," said Landon, when asked why she decided to pursue a college education instead of only going straight to a career in the film industry.
She has appeared in numerous television shows and films such as Criminal Minds, Wind Walkers, Land of Leopold, and Among Ravens, and played a major supporting role in the comedy Sex Ed opposite Haley Joel Osment and Glen Powell. Now she writes, produces, and directs films such as Apple of My Eye, starring Burt Reynolds and Amy Smart, and I Believe in Unicorns, which premiered at SXSW and was screened in more than 40 film festivals worldwide. Her latest film, Albion: The Enchanted Stallion, was just released on Pay Per View on April 2, and will be available on DVD at Walmart on May 2.
The story follows a thirteen-year-old girl, tasked with the responsibility of caring for her disabled father, who is transported by a magical black stallion to the mystical world of Albion, where she discovers that she is the key to saving an entire race of people. It stars Oscar-nominee John Cleese (Monty Python), Jennifer Morrison (Once Upon A Time), and Debra Messing (Will and Grace). "The film was a blast to direct," said Landon. "I couldn't have asked for a better group of actors. Everyone really nailed their characters, and [the cast] and I became very close during the whole shooting process." The film earned a 93% audience approval rating when it was previewed at the Bentonville Film Festival, and received both the IFP Director's Lab Selection award and Grand Jury Award for Best Feature Film at the Equus Film Festival in New York.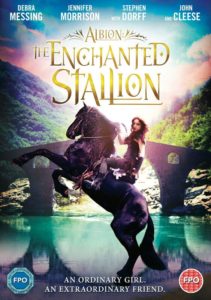 In her free time, Castille enjoys hot power yoga, horseback riding, and reading. She is also a very strong supporter of women in film, gender equality, inclusion of girls in STEM (science, technology, engineering, mathematics) fields, and de-stigmatizing mental illness. This is what she had to say on the subject:
"Gender equality is something that needs to happen, and that I'm constantly shocked to see is not even close to our present conditions. As far as STEM fields, I think it's important to empower girls through school and teach them that their contributions in those fields can be great. I personally really struggle with understanding detailed science and math, but I'm obsessed with learning about them in the general sense. I love learning about neurology, epigenetics, and cognitive and behavioral psychology— how the brain works, why we do what we do, etc. Perhaps my brain really doesn't grasp on to the intricacies of it, but it could also be that if I had been encouraged to study those subjects as a younger person, I might have been able to train my brain to function in those fields. Too often, young girls are told that they are meant to be studying subjects in the humanities, that we're the 'emotional' gender, and so we turn the logical, mathematical sides of our brains off. Do we really lack those talents, or are they muscles that we weren't encouraged to strengthen and have atrophied without use? Geena Davis's Institute is doing great work and putting forth the idea that young people need to see themselves reflected on screen, so we, as creatives, need to show women doing these things to inspire the younger generation to pursue them.
"All of that being said, de-stigmatizing mental illness and promoting mental wellness is one of my greatest passions in life. There's a long history of mental illness in my family, particularly in the women, up the maternal line for several generations. I was raised to understand that and so it didn't even occur to me that discussing one's struggles in that area was taboo until fairly recently. It dawned on me that many people turned to suicide not only because they were struggling with mental illness, but because they felt too ashamed of their condition to speak up and get help. That's unacceptable. No one would be ashamed to say they had asthma so they needed to take a break from exercise. Society doesn't judge those who get cancer. Why do we not regard mental illness in the same manner? It's really nonsensical to me. And furthermore, positive psychology should be taught alongside any other subject. We should promote positive thinking instead of perpetuating the culture of fear and anger that the media seems intent on spreading."
You can learn more about Geena Davis's Institute here: https://seejane.org/
Also, check out the trailer for Albion: The Enchanted Stallion, like the Facebook page, and go follow Castille on Instagram and Twitter to stay up to date on her upcoming projects!
By Anna Tallarico
---
You've probably been told at some point, "Follow your passion and don't give up." It may not sound like revolutionary advice, but it's truly some of the most important advice I've been given. It was my mom who first said these words to me, and if I hadn't taken them to heart, I wouldn't be where I am today.
At sixteen years old, I was passionate about upcycling tops, skirts, dresses, and even custom-embellished headbands. My intention wasn't originally to start my own company; designing was a creative outlet for me. But my friends and acquaintances showed so much interest in owning one of my unique creations that starting my own business seemed to be the next logical step. Dainty Jewell's was born, a company rooted in pursuing my passions that, after years of hard work, a few setbacks, and many successes, has become a provider of more than 80,000 pieces of clothing. It's so exciting to watch my dream come to life! If you have a dream you're passionate about, here is my advice to you:
Turn your passion into profit. In attempt to make extra money, I began designing headbands, shoe clips, and small accessories. Because my father was a traveling minister, I was able to sell my pieces all across the country. It wasn't until people began encouraging me and complimenting my work, however, that I toyed with the idea of launching a full-fledged business. I was frequently asked about doing retail, so I finally decided to introduce a new clothing line on Facebook. I started my business with ten pieces, and it grew from there. Whenever you're passionate about something or you just want to make a little extra money, try combining your passion with business savvy. It's scientifically proven that following your passion brings deep satisfaction.  
What matters to you now many times won't matter years from now. As I was starting my business at the age of sixteen, most people my age were totally engrossed in school activities, sports, dating, college applications, popularity, and adolescent drama. These things are huge when you're a teenager, but they're only a blip on the radar when you look at life on a large scale. While my peers were obsessed with matters of short-term significance, I was bootstrapping a business and learning how to manage my finances. I made sacrifices, such as choosing work over hanging out with friends, and I often chose to focus on my business when other things were calling for my attention. In the end, all the sacrifices were worth it. It's the best feeling in the world waking up each day knowing I'm exactly where God wants me to be, doing what makes me happy.
Go against the grain. Dainty Jewell's offers fashionably modest clothing for women and girls. The pieces have a classic elegance and vintage look (think Jackie Kennedy) with sleeves to the elbow and skirts to the knee. In a culture where dressing modestly isn't celebrated, Dainty Jewell's has still managed to be wildly successful. My pieces have been featured in USA Today, People StyleWatch, and BuzzFeed, and they've been worn by dozens of well-known fashion bloggers. I chose from the beginning to emphasize modesty, not so that Dainty Jewell's would stand out or be unique—although those things became positive consequences of my decision—but so that I could be true to my belief that women and girls can and should be able to dress modestly and still look fabulous. Going against the grain and what society deems as normal has served my business and me well.  
Rely heavily on your support system. I can't preach this last piece of advice enough! Surround yourself with positive, influential people who encourage, support, and love you. Your support system will be there when times are good and when times get tough: you need them for both. I would be nowhere without the encouragement and support of my parents, close family, and friends; without moral guidance from my pastor; and without the love and business advice of my husband. I've relied heavily on these people throughout the years. They've given wise counsel, lent an ear when I needed it, encouraged me, celebrated with me, and even rolled up their sleeves and helped me at times. My support system has been instrumental in the growth of my business and an asset to me personally.
Do you have a dream? A passion? A burning sense of purpose that sometimes keeps you up at night and energizes you in the day? Embrace that passion. Use it for good. Follow your passion, and never, ever give up.
About Charity Walter & Dainty Jewell's: Charity Walter, a modern southern belle who grew up in North Carolina, began designing at the age of sixteen with the intent of upcycling and creating unique pieces featuring custom embellishments, dainty details, and decorative confections. After inspiring friends and acquaintances with her unique creations, the idea of creating her own company was born. Dainty Jewell's remains dedicated to providing affordable and fashionably modest clothing to women of all ages because Charity believes dressing with ladylike class is a privilege all women should have access to. Combined with her intuitive business sense, Charity's ability and passion to design clothing for every body type and age group is a gift that has enabled Dainty Jewell's to soar in excellence for quality, customer service, and integrity. For more information, go to daintyjewells.com.
---
R: Tell us a little bit about yourself.
L: My name is Laila Lee Jackson and I'm a total dork. I couldn't survive without my family and, in my opinion, animals are better than people. I am sixteen years old and I started writing back when I was ten. I am very passionate about reading, which I have enjoyed since about third grade when I discovered the Harry Potter series. After finding Harry Potter I started reading more and more. I eventually stumbled across Percy Jackson and the Olympians and fell in love. With books and the stories that came to life with just a few words, I decided that I wanted to share my own stories with the world, so I started writing. It didn't start off well. I was a decent writer, but I couldn't give my stories any real substance. Finally, after basically moving across the state, I found not only my incredible friends, but an idea that came to life and after four years, I finally had the story I'd always dreamed of.
R: What is your book about?
L: I've never been good at summarizing a story, but I'll give it my best shot. My story is about a girl who discovers she isn't quite normal. Her soul is not her own, but rather shared with that of an ancient Greek goddess. One day, alongside Dakota Greene, Whitney Clarkson (the girl) stumbles across a magical clearing and awakens the goddess, as well as the souls of eleven other ancient deities from several different cultu
res. Whitney and eleven others are whisked away from the mortal world and sent on an outrageous quest that they can't expect to survive. Between running from monsters of myth and magical beings that deceive the eye, as well as trying to keep her friends alive, (even at the expense of her own life) she discovers that everyone wears a mask and the difficulty of seeing through it. While that is the basic plot, there is much, much more to the story. Hopefully everyone can discover the world of Whitney Clarkson as she attempts to beat the gods.
R: Who are your biggest inspirations?
L: When it comes to my writing, my greatest inspirations are Rick Riordan and J.K. Rowling. Rowling managed to give me an unquenchable thirst for reading. Riordan turned that thirst into a fiery passion and a craving to make my own own mark on the literary world. His works made me push myself and developed my dreams of sharing my own stories with the world some day. In life, some of my greatest inspirations and influences are my parents. My mom, whose mantra in life is probably "walk it off," is one of the strongest people I know. My dad, tough on the outside, but softer than your favorite blanket on the inside, pushes me to always be the best I can be. I love them and honestly, I probably wouldn't survive without them. My influences would also include my teachers and coaches. They are literally there everyday. They know when to praise and when to give constructive criticism. They help me to grow as a student and an athlete, but also as a person.
R: I heard that you are also into sports. What sports do you play?
L: I run cross country and play basketball, but my heart belongs to softball. Cross country constantly challenges my mental strength. I used to despise running. It was the absolute worst. However, my freshman year I succumbed to peer pressure and joined the cross country team, where my coach taught me how to love running. Basketball challenges my physical strength and sometimes leaves me worse for wear. I mean, a girl my age who is as athletic and healthy as I am shouldn't already have aches and pains that make her hobble around like an old lady. I played basketball for a few years when I was younger, but then stopped until my freshman year when I joined the high school team. I worked incredibly hard and pushed myself and I finally made split team, where I had the privilege to play with varsity. I have played softball for as long as I can remember. It was a game I fell head-over-heels in love with. Eventually, my family moved to a small town in northern Nevada at the end of my fifth grade year. I continued to play and then at the end of my eighth grade year, one of the other softball player's dad put together a travel team, the Wells Rage. Now, before that summer I was an average player. I wasn't incredibly good, but I wasn't the absolute worst. I understood the game better than most others, but my ability was lacking. After that summer I grew and I turned from average to above average. I had talent, but with good coaching and hard work I developed skill. Now I'm hoping to continue my softball through high school and at the next level.
R: Do you have an official website or any social media?
L: I do not have an official website or Facebook page, though we are looking into getting one. The Kingdom of Fire is available on Lulu, which is a self-publishing site. It is also available on Amazon and Barnes and Noble.
R: What advice would you give to other young writers?
L: All I can tell them is to just keep writing. Find a topic you're really passionate about and just write. I never brainstormed anything. I did research, but once I pulled up my book I just typed. I lost myself in the story and let myself become a part of it because I cared about it so much. The most important part is to not give up. I have given up on a lot of stories because I couldn't figure out how to start them or end them or transition to the next chapter. But I finally found a topic that I was so passionate about I couldn't ever imagine giving up on it. I would also advise that you don't look at any past work with regret that you didn't finish. Don't look at it and only see the mistakes. The more you write the better you get. Without my own failures in the past, I never would have grown into a writer. I never would have dreamed that one day I would have a published book. But because of perseverance and dedication, I do.
---