Sometimes we have to take the time to toot our own horns and praise ourselves. It's hard to stay confident and to remember to love who and what we are. It can be easier to tear ourselves apart and be critical of every little thing, so make a conscious effort to put your self-esteem first. Learn to love yourself–and keep it fresh in your mind every day.
Body image is a priority for all, but carries an even greater significance for young adults. Not only does looking good make us feel good. It additionally has a huge impact on the way others view us, which further influences self-confidence and other features.
There's no better time to start your positive body transformation. After all, it's easier to make those changes while you're still young. But before you do, it's imperative that you equip yourself with the necessary knowledge to gain great results. Here's everything you need to know.
Negative influences will take their toll. This is the stage of your life where you may be more likely to fall into the traps of alcohol consumption. There's nothing wrong with a night out on the town, however, trading some of those beverages for mocktails can bring huge rewards. They are still fun in social settings but don't come with the consequences of alcohol.
Your body can use a boost during those early stages. If you want to gain a better body, there's a strong chance that you have made past mistakes. An organic detox tea can aid your general well being to leave you feeling healthier than ever. This is the perfect foundation for building a successful workout and healthy eating plan too. Apart from anything else, those two breaks for a cuppa give you a great chance to reflect and plan things.
Motivation is everything. If working out feels like a chore, you will not keep it up for the long haul. Therefore, finding ways to stay motivated throughout your workouts is key. Whether it's in the gym or on the track, this will have a telling impact on the efficiency of those activities. Most importantly, though, you need to ensure that skipped sessions don't become a regular feature. When this happens, progress will be slowed. Consequently, that will send the likelihood of giving up through the roof.
The human body changes with age. Puberty affects everyone differently. Therefore, you may just need to accept that the body you had during your early teens simply isn't possible. Learn to love the skin you're in by focusing on achieving the best possible version of you. Ultimately, if you can achieve this goal, then the opinions of anybody else become redundant. If that doesn't allow you to become the happy and healthy person, what will?
It's not all about your body. In truth, your facial features will always be the key to feeling your best. While girls will want to perfect their makeup rituals, boys just need to focus on good grooming. Clothing is an equally important element as your fashion choices are what bring the style and look to life. Whether you create your own personal appearance or borrow ideas from celebs doesn't matter. Whatever you do, though, ensuring that those outfits fit is crucial.
---
My name is Lecy Lau, I am 19 years young, and I live in the Netherlands. For four years straight now I been running my own brand called LECY LAU. I hope other young girls get inspired by reading my story.
My whole life I have always been into fashion, but to actually start my own fashion brand…I never thought about that. It just happened! Even when I was young, I always liked to design my own clothes and turn a basic piece into something unique. When I was 15 years old, I designed a pair of denim jeans by myself. I received many compliments on the jeans and people really wanted to buy them from me, so I asked myself, why not? I made the jeans for a couple of people and sold them. Then even more people wanted to buy them, and before I knew it I had so many orders that even my mother needed to help me to make them because it was just too much to do it all by myself! Then I received the question from different people, asking if I had more clothes to sell. I really liked the feeling of seeing other people happy with something I made for them. From that moment I knew what I wanted to do. I was fifteen years old when I made my brand official and started spreading my clothes all over social media.
Even after four years, every day I'm learning new things and getting so much joy out of designing. There have been ups and down, both personally and professionally, but every difficult situation makes me a stronger person. I challenge myself to be the best version of me. There is one thing I really don't like to do, and that is competing and judging others, because we all try to do our best and I just don't think you will get any better by making conclusions about somebody because of what you see from the outside. I know a lot of people do this to each other, and most of the time it makes them bitter, jealous, and unfocused. I just like to mind my own business, really, and do what feels and is best for me. I just want to tell all girls, as long as you work hard and don't give up, you will get where you want to be.
"You learn as you live, you only lose when you give up everything.'' That is the quote that keeps me focused. I love to see and read motivational quotes and stories from other people; I learn from them and get inspired. I just think you can't have enough of them!
I am thankful for getting up every single morning, and going to my own office to work on something that I love to do. I enjoy my work every day, and I hope that every single girl will one day get her dream job, too. It doesn't matter if it is for yourself or for a CEO, the only thing that matters is that you have fun with what you do, something that is really your passion. Stay true to yourself and don't settle for anything less. No matter what you have been through, or what you are going through right now, you deserve the best.
Lots of love,
Lecy Lau
Check out her clothing line at http://lecylau.com/
---
"Diversify your interests, study anything and everything, and most importantly, never compare yourself to anyone else. There will always be someone more intelligent, more talented, more beautiful, more connected, etc., but that doesn't mean there's not a place for you at the table. You are enough; it's a matter of working hard for yourself, striving to become the best version of yourself, and believing that you have something that is worthy of contributing."
25-year-old actress, screenwriter, and film director Castille Landon is making history and paving the way for young women who are pursuing their dreams and careers. Born in Florida, she moved to Los Angeles when she was fifteen to pursue a career in acting. She graduated from Harvard University with a B.A. in English, and is currently a student at Oxford, working on her creative writing major as the only screenwriter accepted into the class. "I think it helps as a filmmaker to be exposed to as many subjects as possible so as to create work that more broadly reflects humanity. I'd rather tell the stories of humans (especially women) throughout time, or be inspired by big ideas in science and medicine or great minds than become insular and just tell stories I relate to personally, or make films about filmmakers or writers," said Landon, when asked why she decided to pursue a college education instead of only going straight to a career in the film industry.
She has appeared in numerous television shows and films such as Criminal Minds, Wind Walkers, Land of Leopold, and Among Ravens, and played a major supporting role in the comedy Sex Ed opposite Haley Joel Osment and Glen Powell. Now she writes, produces, and directs films such as Apple of My Eye, starring Burt Reynolds and Amy Smart, and I Believe in Unicorns, which premiered at SXSW and was screened in more than 40 film festivals worldwide. Her latest film, Albion: The Enchanted Stallion, was just released on Pay Per View on April 2, and will be available on DVD at Walmart on May 2.
The story follows a thirteen-year-old girl, tasked with the responsibility of caring for her disabled father, who is transported by a magical black stallion to the mystical world of Albion, where she discovers that she is the key to saving an entire race of people. It stars Oscar-nominee John Cleese (Monty Python), Jennifer Morrison (Once Upon A Time), and Debra Messing (Will and Grace). "The film was a blast to direct," said Landon. "I couldn't have asked for a better group of actors. Everyone really nailed their characters, and [the cast] and I became very close during the whole shooting process." The film earned a 93% audience approval rating when it was previewed at the Bentonville Film Festival, and received both the IFP Director's Lab Selection award and Grand Jury Award for Best Feature Film at the Equus Film Festival in New York.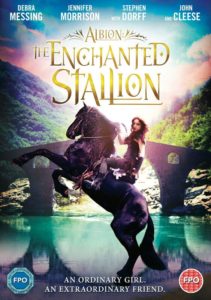 In her free time, Castille enjoys hot power yoga, horseback riding, and reading. She is also a very strong supporter of women in film, gender equality, inclusion of girls in STEM (science, technology, engineering, mathematics) fields, and de-stigmatizing mental illness. This is what she had to say on the subject:
"Gender equality is something that needs to happen, and that I'm constantly shocked to see is not even close to our present conditions. As far as STEM fields, I think it's important to empower girls through school and teach them that their contributions in those fields can be great. I personally really struggle with understanding detailed science and math, but I'm obsessed with learning about them in the general sense. I love learning about neurology, epigenetics, and cognitive and behavioral psychology— how the brain works, why we do what we do, etc. Perhaps my brain really doesn't grasp on to the intricacies of it, but it could also be that if I had been encouraged to study those subjects as a younger person, I might have been able to train my brain to function in those fields. Too often, young girls are told that they are meant to be studying subjects in the humanities, that we're the 'emotional' gender, and so we turn the logical, mathematical sides of our brains off. Do we really lack those talents, or are they muscles that we weren't encouraged to strengthen and have atrophied without use? Geena Davis's Institute is doing great work and putting forth the idea that young people need to see themselves reflected on screen, so we, as creatives, need to show women doing these things to inspire the younger generation to pursue them.
"All of that being said, de-stigmatizing mental illness and promoting mental wellness is one of my greatest passions in life. There's a long history of mental illness in my family, particularly in the women, up the maternal line for several generations. I was raised to understand that and so it didn't even occur to me that discussing one's struggles in that area was taboo until fairly recently. It dawned on me that many people turned to suicide not only because they were struggling with mental illness, but because they felt too ashamed of their condition to speak up and get help. That's unacceptable. No one would be ashamed to say they had asthma so they needed to take a break from exercise. Society doesn't judge those who get cancer. Why do we not regard mental illness in the same manner? It's really nonsensical to me. And furthermore, positive psychology should be taught alongside any other subject. We should promote positive thinking instead of perpetuating the culture of fear and anger that the media seems intent on spreading."
You can learn more about Geena Davis's Institute here: https://seejane.org/
Also, check out the trailer for Albion: The Enchanted Stallion, like the Facebook page, and go follow Castille on Instagram and Twitter to stay up to date on her upcoming projects!
By Anna Tallarico
---