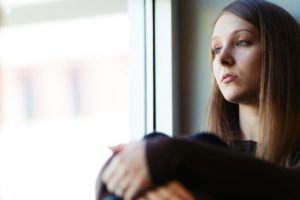 In the first few months of a relationship, couples go through the honeymoon phase. There are actual physiological changes in the brain that intensify favorable feelings towards a new partner. Even if something seems slightly off, it's easy to overlook when you're wearing rose-colored glasses. But as you begin to settle into the relationship and you both let your guard down, you may begin to see things you didn't notice before.
This is often the case when a person has an alcohol or drug addiction. Many addicts are ashamed of their addiction and will go to great lengths to hide it from a new partner. They may even keep entire segments of their life secret to prevent a new partner from catching on to their addiction.
When you're out of the honeymoon phase, you're less likely to convince yourself that everything is fine when it isn't. For some the natural instinct is to cut ties before there's more emotional investment. But what if you're willing to help your new partner get past their addiction? How can a couple cope with addiction without the relationship falling apart?
Carefully Consider Rehab
Rehab isn't always the first step, but the health experts at Sandysplace.com note that it is an important one on the road to recovery. Their facility specializes in helping women overcome addiction by offering a variety of in-patient and out-patient programs.
Often people need professional help getting over an addiction. The extent of their addiction and how it's impacting their quality of life should help guide you towards the best rehab program. Another factor is the person's living and working environments. Getting over an addiction is much harder if a person is around drugs and alcohol on a regular basis.
Have an Open, Honest Conversation While They're Sober
Addiction is something that will make many people leave a relationship because it's not an easy problem to fix. However, most couples try to work through it together before coming to that conclusion.
The first thing you should do if you suspect your new partner may have a drug and/or alcohol addiction is to talk to them. Wait until they are sober to have the conversation, or it could end up being more destructive than productive.
Discuss your concerns and feelings, but avoid passing judgment, which may make your partner defensive. Let your partner know that your main priority is helping them get past addiction and on the road to recovery. Ask them how you can help and show initiative to live up to your promise right away.
Keep in mind that addiction isn't something that's easy for people to talk about. Often it's connected to psychological distress that could be the result of a traumatizing event in their past.
Set Boundaries
If your partner is receptive and open to addressing their addiction, you'll need to set boundaries. Setting boundaries is beneficial for several reasons:
It provides a consequence for your partner.

It prevents you from being taken advantage of.

It helps you avoid being an enabler.

It helps you maintain your self-respect.

You'll avoid compromising your principles and prior decisions.
Boundaries are your way of gaining a bit of control over the situation. Make the boundaries directly related to their drug and alcohol use. For example, one boundary can be if your partner has been drinking or using drugs they can't come to your house. These consequences may be hard to bear yourself, but healthy boundaries help people curb addiction and protect relationships.
Enlist the Help of Other Loved Ones
Since your relationship is new it may be beneficial to enlist the help of other loved ones that your significant other is close to and respects. Talk to the other loved ones about your concerns and the behavior you've observed. If they've had the same thoughts and concerns see how you can work together to help your partner.
Friends can help steer your partner to healthier activities and keep them out of trouble. Parents can agree to help get your partner professional help and set boundaries of their own so they don't become enablers.
The main objective is to coordinate your efforts so your partner has a strong support system all around.