by Veronica Williams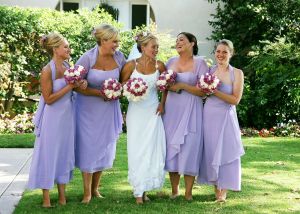 Don't you find it interesting that when we put on new clothes how good it makes us feel inside?  It's as if putting on new things makes us feel clean, shiny and refreshed.  Some might compare this with the feeling we get when we accept the Lord Jesus as our personal savior.
What other things make us feel good inside? A healthy and positive relationship with God as well as the basic things we need in life to nurture our bodies.  Our physical bodies need to be sustained and once this has been achieved we can then consider our spiritual and emotional life.  It might also be argued that in order to have a good and healthy self-esteem we need to feel loved, appreciated and encouraged.  Can we buy the things we need to have a positive self-esteem? I personally don't think so, thus going shopping for clothes, while it has a 'feel good factor' will not enhance our self-esteem for very long.
I like to look and feel good as well as the next person, but have realized that my physical appearance is only a small piece of the picture and I also need to have a spiritually healthy outlook and attitude.  Essentially I am arguing that God needs to be at the center of my life.  I need to be able to praise and communicate with him on a daily basis, and I need to know that he answers and directs my footsteps.
The thought of shopping for my sister's impending wedding was somewhat daunting.  She had asked her future sister-in-law and our two cousins along with myself to be bridesmaids and we were having a meeting to look at materials and styles for the bridesmaid's dresses. I believe the fact that we were having a meeting to communicate our individual views and ideas would also offer an opportunity for us to feel included and a sense of being valued in the coming event.  I was loved enough by my sister for her to wish me to be included in her wedding party, I was appreciated and my views would be taken into consideration when we looked at the style and material for the dresses and I was encouraged to understand the importance and significance of marriage in a spiritual context.
In our discussions we considered a variety of factors, not least of which was our body shapes and sizes.  If we think about it, we are all individuals with our own special requirements and physical shape. How we look and how others view our bodies may affect our self-esteem.  If we receive many complements and positive comments about our looks, then we would probably not focus on anything negative in our appearance.  On the other hand, if others are inclined to pointing out our negative qualities this could in time have a detrimental effect on our self-confidence.
I personally believe that we are all attractive and all have certain good qualities. Some people, especially teenagers with changing hormones and body changes, may tend to see the negative in their physical appearance.  I reiterate our hormones may make us moody and even temperamental.  However, if we have the correct moral barometer in place we will be able to accurately assess our individual needs and have an understanding of our internal and external beauty.  There is a chapter in the scriptures (Psalm 45:9) which refers to girls as being daughters of the King.  It says that young woman are essentially princesses with all the connotations that the word implies.
As the bridesmaid meeting progressed we discussed in depth the material which we thought would suit each of our skin color and hair.  We also gained an insight into each others views and preferences.  We agreed on material and color, however we varied in tastes and the length and style of the dresses.  Finally, we decided that all the dresses should be long but we could choose different styles for the bodice. Each of our differing tastes were accommodated!
We all have different tastes and its okay to select or prefer one thing above another.  It reflects that we, in caring about each other's preferences,  are also showing that we love and care for one another. In having an open discussion we learned more about ourselves and each other and most importantly Christ was at the center of this pre-shopping expedition.