There is something captivating about the Hollywood stars. Need a daily fix? Get the latest on celebrities who are doing great things. We don't give false gossip and rumors–we talk about the good in celebrities. You know, the awesome things that everyone else ignores…
Written by:  Jill Sheets
Recently I had the honor of interviewing up and coming actress Sarah Grey.  This talented young actress is in the movie "Power Rangers," which opens on March 24th. Continue to read on about her, what people may not know about her and her hidden talent.
R: Tell us a little bit about yourself and how you got into acting?
S: Well, I grew up on Vancouver Island B.C and initially wanted to be a singer! I didn't really comprehend that acting could be a job when I was young, so it wasn't on my radar. I fell into an acting class by a random series of events, and immediately fell in love with it. I have always had a strong curiosity for people. I think my love of performing and interest in people is the mix that got me hooked!
R:  Tell us about your TV movie "Story of a Girl" and about your character Caitlin Spinelli?
S: This film is based on Sara Zarr's award winning novel "Story of a Girl". It's a powerful coming of age story, following the character "Deanna" who, at 16 is still dealing with the ramifications of a video with her and an older boy, that was leaked when she was only 13 years old. My character, Caitlin, is a popular cheerleader at school who takes pleasure in insulting Deanna, and receiving attention. Our director, Kyra Sedgwick, was absolutely lovely, as well as the rest of the cast. It was always good vibes on set! It made it challenging to play such a mean girl.
R: You are also in "Power Rangers" and "Last Night in Suburbia."  Tell us the movies and your character.
S: "Last night in Suburbia" is an ensemble comedy about a group of friends spending their last fun night together, before they jet off to their various cities for College. All the while being followed around by a hilariously terrible undercover cop. I play "Hailey" who is dating "Spencer".. another member of the friend group. They are kind of like the married couple of the group because they've been together since the beginning of highschool. They all get into a bunch of shenanigans but the movie can be quite touching and relatable at times. 
I also appear in "Power Rangers" which hits theatres this month (March 24th)! This film is based on the Power Rangers franchise that I think many of us have heard of/seen. I play the role of Amanda, another popular cheerleader type. ( I know it seems like a trend but I swear it's just the two, laughs)
R: What was it like being a Power Ranger? Did you have to do your own stunts? What was the hardest part when filming this movie?
S: It was fantastic being in Power Rangers. I was very excited because I would watch the T.V show with my sister when I was young (the odd time I actually woke up early on a school day). I didn't have to worry about any major stunts. I think the hardest part was, again, having to be mean to the sweet Naomi Scott who plays the pink ranger. Playing a mean girl does not come naturally, which is a good thing I guess!
R: Our readers can also catch you on "Legends of Tomorrow."  For those who have not seen then show yet, tell them a little bit about it and your character. 
S:"Legends of Tomorrow" is a DC Comic Series, that follows a team of time-travelling heroes and villains trying to prevent an apocalypse from happening. My character "Stargirl" shows up in season 2 with her " Justice Society of America" squad. The two teams eventually start working together for the sake of good against evil. It is a blast to play a Superhero. The stunts were so much fun, and I can die happy now that I've flown- even if it was on wires. You can catch Stargirl in Episodes 1,2 and 12 of season 2.
R:  What are some of your future goals?
S: I'd love to travel for filming. Everything I've shot has been near or in Vancouver, which is nice and convenient, but I'd really like to see more of the world, and be earning an income while I'm at it! I'd also really like to be a lead on a T.V series. Writing for T.V is better than ever.
R: Do you have any hidden talents?
S: I can do the moonwalk.
R: What has been your favorite memory so far?
S: I have many favorite memories and inside jokes from filming "Last Night In Suburbia". We would crack each other up constantly. Mackenzie Cardwell and I would improv rap songs on set. I'm still friends and keep in touch with many people from that cast.
R: Name five people you would like to work with.
S: Off the top of my head, Meryl Streep, Julianne Moore,  Charlize Theron, Gary Oldman, and Kevin Spacey.
R: Who has been your biggest influence?
S: I would have to go with my entire family. I can't pick just one person! If it weren't for them I don't know if I'd be pursuing this career. They instilled in me the desire to follow my passion. I have an extremely inspiring, supportive family that has led by example.
R: What are five things people may not know about you?
S: I have an extreme love of hot sauce that is teetering on the line between delicious and dangerous. In elementary school, I could do a series of back walk overs that made me look like a slinky, so that's what everyone started calling me, including teachers. Friends and their families still call me slinky to this day.  I play guitar and sing. I went on stage and did an impression of Cher for my moms 50th Birthday. I played Sandy in Grease in my first and only theatre production at the age of 13.
R: It is not easy being a teenager.  What advice would you give them in general?
S: Try to love yourself more and care less about what others think. Knowing who you are is overrated, people are constantly growing and changing anyway. Try new things, do more of what makes you happy, and believe in yourself! 
R: Other than this one, what is the strangest question you have ever been asked?
S: It must be this one because I don't think I have one!
R: Are you on any social networking sites?  If so, which one and what are their addresses?  Do you have an official website and/or youtube page?
S: Yes! 
Instagram @ sarah_grey8
Twitter      @sarah_grey8
R: Is there anything else you would like to add or say to your fans?
S: Thank you for your support and love. I deeply appreciate it. 
R:  Sarah, thank you for the interview.  It was an honor.  Have a great day.
S: Thanks for having me! Xo
---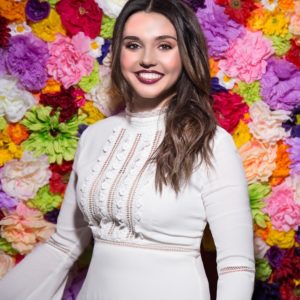 Recently, I interviewed Belmont University senior Kaylee Rutland about her budding career in country music. Keep reading to find out what inspires her to write as well as her plans for the future.
R: Tell us a little about yourself.
K: I'm Kaylee Rutland, a singer, songwriter, and student living in Nashville, Tennessee. I am driven by my faith and am very close to my family. I'm currently a senior at Belmont University majoring in Music Business. I like to write and sing about positive messages with an encouraging vibe even if it's about a tough subject.
R: Who are your biggest inspirations?
K: My biggest musical inspiration is Reba McEntire. Her vocals are incredible and her energy is contagious. She's the queen of country in my books and I've always admired her talents, even when I was really young. I'm also inspired by my mom and my grandparents. They've been a huge part of my journey with endless encouragement and I can go to them about anything.
R: Do you have an album or EP out?
K: Over the last few months, I've been writing a lot of new material with the plan to release a more extensive body of work, whether that's an album or EP, in the future. Both of my latest releases, "Pick Me Up" and "More Of That," will be included on the full-length project. But for now, they are available as singles on iTunes.
R: What is your single "Pick Me Up" about?
K: "Pick Me Up" is about breaking through the everyday routine and enjoying the day that the week ends. It's fun and upbeat and almost a weekend anthem. It serves as a reminder that whatever your week might have been like, it's never a bad day to plan a good time!
R: What are some of your plans for the future?
K: The first plan is to graduate from Belmont University. I will also continue to make and share new music with y'all this year. Then, I plan to work as hard as I can to achieve my dreams, one of which is to play at the Grand Ole Opry one day.
R: What advice would you give to other young singers?
K: Perseverance — if it's something you aspire to do and it's the love of your life, you have to keep doing everything you can. Nothing can stop you. 
Check out Kaylee's official website and her YouTube channel, and go follow her on Instagram, Twitter, and Facebook!
By Anna Tallarico
Photo credits: Kaylee Rutland press photos
---
Meet Lindsay Lamb, a talented  actress who has done it all: horror, comedy, stage productions, even superhero films! You can see her in Emma's Chance, Apple of My Eye, Range 15, and again in Blue Line, which is soon to be released this spring. Read on to learn more about her.
R: When did you first get into acting? How did you get to where you are today in the business?
L: I first starting acting out when my younger sister was born and I was desperate for attention. But professionally, I started acting when I was 10 years old in a theater production of Annie. I performed in Florida theatrically and commercially until I was 18, then decided to move to Boston, Massachusetts for reasons that I'm still unsure of. I didn't know anyone and definitely didn't know what I was doing, but I ended up interning at Boston Casting and working on countless sets. I learned very quickly that I had a lot more to learn! Then I moved to New York where I worked for 3 years and went to Pace University before transferring to the University of Southern California and majoring in theater. I have been in LA ever since. 
R: What kinds of movies have you done in the past? Do you have a favorite film you've done? What is your favorite genre to act in?
L: I've done a variety of films, everything from family films to horror films to superheroine films. I think my favorite film thus far has been Apple Of My Eye because of everything I learned and being able to work with my best friend and favorite director, Castille Landon. My favorite genre in general is psychological thrillers. I love a good murder mystery that keeps you guessing!
R: Tell us about Blue Line. 
L: Blue Line was the first film that I booked after graduating from USC. It was such a great experience and definitely another one of those wow-I-have-so-much-more-to-learn times in my life, which is always very humbling, to say the least. We filmed in Cromwell, Connecticut in the dead of winter and I played Bunny Abbott, a cheerleader who gets held hostage by the two leads. The entire town and entire crew were so incredibly wonderful and it was an experience that I am forever grateful for. I'm so excited to see the final product when it's released this spring!
R: What do you like to do besides acting?
L: I'm actually outrageously boring; there's a rumor going around that I do a lot of fun things, but I really just hang out with my dogs and experiment with different food combinations in my kitchen! I also love a good vanilla latte and going to the Sleep Number bed store with my fellow weirdo Alana to see if my sleep number position has changed.
R: What are your future plans?
L: Career wise, I really want to get into television, so I'll just put that into the universe! Personally, I plan on continuing to travel. As of January 1 of last year, I had never been outside of the US and I decided that that needed to change. So far I've been to six countries and I want to try to double that this year. I definitely caught the travel bug and I'm not mad about it!
R: Are there any charities or causes close to your heart? Tell us about them.
L: I adopted both of my pups, so really any charity having to do with saving animals is close to my heart. But more specifically, Bark n' Bitches, where my family adopted our pup Winnie, and Wylder's Holistic Pet Center and Rescue where I adopted my little girl Jovi (and since I mentioned Jovi, I have to mention my little cub, Scotch. He was found on the streets in downtown LA but now sleeps in a tempedic bed so he's not complaining!), and of course the ASPCA and Best Friends Animal Society.
R: What advice do you have for young aspiring actresses?
L: I think the most important thing that I've learned is to find your "people"— likeminded individuals who are on your team. I think it's so important, especially in this crazy industry, to have a core group of people who you can depend on to be consistent. With that being said, always make sure you are that consistent person for someone else. It goes a long way!
Written by Anna Tallarico
Photo credits: Ryan West
---