There is something captivating about the Hollywood stars. Need a daily fix? Get the latest on celebrities who are doing great things. We don't give false gossip and rumors–we talk about the good in celebrities. You know, the awesome things that everyone else ignores…
Written by Jill Sheets
Recently, I the pleasure of interviewing the talented professional makeup artist Ally McGillicuddy. She has done makeup for movies, TV shows, music videos, print, and much more. Read on and learn more about Allison, find out who she has worked with, and what it takes to be a makeup artist.  
R: Tell us a little bit about yourself and how you got into makeup art.
A: My name is Ally McGillicuddy, I'm twenty-nine years old, and I live in Hollywood, California, but I'm originally from Boston, Massachusetts. I love live music, comedy, art, and makeup, of course! I've always been fascinated with makeup, and trying to emulate characters from movies (like Rocky Horror Picture Show) or people in magazines (like Seventeen or Vogue).
R: You are amazing at what you do. Was this something that you have always wanted to?
A: No, I didn't even realize it was a profession. I honestly wanted to be so many other things, from an actress,to a comedian, a director, a photographer, etc., and then finally a makeup artist.
R: Is there a certain "type" of person that would work best as a makeup artist? 
A: You definitely have to be patient, adaptable, you must be very detail-oriented, and you must be very aware of your client and surroundings. For example, if your client is shy, or is studying their lines, it's best to not talk too much. However, if your client is talkative and bubbly, it would be strange if you didn't talk to them at all.
R: Are there any classes in high school that someone should take if they want to become a makeup artist?
A: Art, hands down. You should take a basic art course. Color theory is very important. I started as a drawer and painter and I've found that has helped me tremendously with my craft. I also have such a love for all things art that it's much easier for me to express an idea or find inspiration through visual references, and communicate it to someone (i.e. the client, or director).
R: What kind of college education do you need and what degree would be the most helpful for it?
A: You technically do not need a college degree–you could start apprenticing today. However, many people go to a makeup school to learn. I myself have a degree in Film Media and Art History from a university. When I came to L.A., I apprenticed under a makeup artist and I still, to this day, continue to take classes and assist well-known artists because I believe you can never be done learning. Always work on your craft!
R: Other than school, what can one do to prepare themselves for becoming a makeup artist?
A: Talk with artists, find yourself a mentor, and don't be afraid to reach out to people you admire. Be respectful of their time, but if you have specific questions, most will answer you or give great advice. Practice, practice, practice. One of my mentors told me when I first started out that, after working on a thousand faces, I will finally become proficient. I've also heard that it takes about seven years to master a craft. If you see a makeup you like, try to recreate it, and make sure you always give credit to whomever you are paying homage to if you post it online.
R: Who are some of the people you have worked with? What are some of the projects you have worked on?
A:  I'm so lucky to have worked with many talented actors, singers, performers, directors, and photographers. It's hard for me to pick out just a few, but if you want to see who I've worked with, my website has an ongoing client list. I work on many different types of projects from film, TV, music videos, print, and commercials. I just wrapped up a dark comedy assisting Jen Grabel, and right now I am prepping for another metal music video where I will be doing special effects makeup.
R: What has been the biggest issue you have ever had when you are doing someone's makeup?
A: A big issue is miscommunication. I try to let my clients know to be vocal about something they like or dislike, because I don't read minds and I would rather fix something than hear about it later. It doesn't hurt my feelings, because every one has different ideas and opinions of what they want to look like. My biggest pet peeves are talking on the phone when in my chair, eating, or being late.
R: What are some of the best things about your job?
A: I love seeing the reaction people get when I am done. Either they are so happy with the way that they look, or if it's a SPFX makeup, they are totally grossed out or think something is real. One time I did an injury makeup and I walked outside with the actor (on the street) and someone asked him if he was ok and needed an ambulance!
R: Are you allowed to tell about some of the upcoming projects that you are working on?
A: There are some projects I am not allowed to talk about until they are released (most make you sign an NDA). But there are some that I can; I work with Super Deluxe a lot, and they usually let me share behind-the-scenes photos to promote the videos.
R: What advice would you give a teenager who wanted to become a makeup artist?
A: Being a makeup artist is not just about doing makeup, which is why so many people quit. Ask yourself, do I want to do makeup on all types of people, all skin colors and textures, all ages? Would I get up at 3 am to be on set at 4 am and work a 12 hour day minimum (sometimes 14 + hours)? Am I willing to carry bags and bags of makeup in the desert or out in the rain? Will I make cold calls, network, and take low-paying jobs to get my foot in the door? Being a makeup artist seems glamorous, especially because of the YouTube MUA's, but the reality is that there is so much more work that goes into it, so are you prepared?
R: What is your favorite memory so far?
A: My favorite memory so far is working on a film in Hawaii with my best friend. We both were doing makeup, hair, and SPFX for a Lifetime film and it was just so magical being in Oahu, staying by the beach, doing what we loved. It was very special and I will never forget it.
R: What is your official website? Are you on any social media?
A: My website is www.allydoesmakeup.com and my instagram is @allydoesmakeup. Sometimes I also snapchat BTS videos if I'm allowed @mcgillamuah
R: Is there anything else you would like to add?
A: If anyone would like to book me, please email allydoesmakeup@icloud.com I am also looking to mentor, so if there is anyone who wants some help becoming a makeup artist in the L.A. area, feel free to email me too (serious inquires only, please)
R: Allison, thank you for the interview. Have a great day.
---
"Diversify your interests, study anything and everything, and most importantly, never compare yourself to anyone else. There will always be someone more intelligent, more talented, more beautiful, more connected, etc., but that doesn't mean there's not a place for you at the table. You are enough; it's a matter of working hard for yourself, striving to become the best version of yourself, and believing that you have something that is worthy of contributing."
25-year-old actress, screenwriter, and film director Castille Landon is making history and paving the way for young women who are pursuing their dreams and careers. Born in Florida, she moved to Los Angeles when she was fifteen to pursue a career in acting. She graduated from Harvard University with a B.A. in English, and is currently a student at Oxford, working on her creative writing major as the only screenwriter accepted into the class. "I think it helps as a filmmaker to be exposed to as many subjects as possible so as to create work that more broadly reflects humanity. I'd rather tell the stories of humans (especially women) throughout time, or be inspired by big ideas in science and medicine or great minds than become insular and just tell stories I relate to personally, or make films about filmmakers or writers," said Landon, when asked why she decided to pursue a college education instead of only going straight to a career in the film industry.
She has appeared in numerous television shows and films such as Criminal Minds, Wind Walkers, Land of Leopold, and Among Ravens, and played a major supporting role in the comedy Sex Ed opposite Haley Joel Osment and Glen Powell. Now she writes, produces, and directs films such as Apple of My Eye, starring Burt Reynolds and Amy Smart, and I Believe in Unicorns, which premiered at SXSW and was screened in more than 40 film festivals worldwide. Her latest film, Albion: The Enchanted Stallion, was just released on Pay Per View on April 2, and will be available on DVD at Walmart on May 2.
The story follows a thirteen-year-old girl, tasked with the responsibility of caring for her disabled father, who is transported by a magical black stallion to the mystical world of Albion, where she discovers that she is the key to saving an entire race of people. It stars Oscar-nominee John Cleese (Monty Python), Jennifer Morrison (Once Upon A Time), and Debra Messing (Will and Grace). "The film was a blast to direct," said Landon. "I couldn't have asked for a better group of actors. Everyone really nailed their characters, and [the cast] and I became very close during the whole shooting process." The film earned a 93% audience approval rating when it was previewed at the Bentonville Film Festival, and received both the IFP Director's Lab Selection award and Grand Jury Award for Best Feature Film at the Equus Film Festival in New York.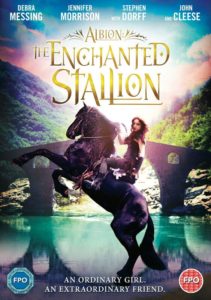 In her free time, Castille enjoys hot power yoga, horseback riding, and reading. She is also a very strong supporter of women in film, gender equality, inclusion of girls in STEM (science, technology, engineering, mathematics) fields, and de-stigmatizing mental illness. This is what she had to say on the subject:
"Gender equality is something that needs to happen, and that I'm constantly shocked to see is not even close to our present conditions. As far as STEM fields, I think it's important to empower girls through school and teach them that their contributions in those fields can be great. I personally really struggle with understanding detailed science and math, but I'm obsessed with learning about them in the general sense. I love learning about neurology, epigenetics, and cognitive and behavioral psychology— how the brain works, why we do what we do, etc. Perhaps my brain really doesn't grasp on to the intricacies of it, but it could also be that if I had been encouraged to study those subjects as a younger person, I might have been able to train my brain to function in those fields. Too often, young girls are told that they are meant to be studying subjects in the humanities, that we're the 'emotional' gender, and so we turn the logical, mathematical sides of our brains off. Do we really lack those talents, or are they muscles that we weren't encouraged to strengthen and have atrophied without use? Geena Davis's Institute is doing great work and putting forth the idea that young people need to see themselves reflected on screen, so we, as creatives, need to show women doing these things to inspire the younger generation to pursue them.
"All of that being said, de-stigmatizing mental illness and promoting mental wellness is one of my greatest passions in life. There's a long history of mental illness in my family, particularly in the women, up the maternal line for several generations. I was raised to understand that and so it didn't even occur to me that discussing one's struggles in that area was taboo until fairly recently. It dawned on me that many people turned to suicide not only because they were struggling with mental illness, but because they felt too ashamed of their condition to speak up and get help. That's unacceptable. No one would be ashamed to say they had asthma so they needed to take a break from exercise. Society doesn't judge those who get cancer. Why do we not regard mental illness in the same manner? It's really nonsensical to me. And furthermore, positive psychology should be taught alongside any other subject. We should promote positive thinking instead of perpetuating the culture of fear and anger that the media seems intent on spreading."
You can learn more about Geena Davis's Institute here: https://seejane.org/
Also, check out the trailer for Albion: The Enchanted Stallion, like the Facebook page, and go follow Castille on Instagram and Twitter to stay up to date on her upcoming projects!
By Anna Tallarico
---
If you used to watch Disney Channel's show Jessie, you might have heard of Bunk'd, a spinoff starring Karan Brar and Nathan Arenas, who plays Ravi's spirited best friend Jorge. Nathan is a natural comedian–his energy and dedication to his role leaves a lasting impression on his audience. Besides acting, he enjoys drawing; playing piano, drums, and guitar; and performing magic tricks. Read on to learn more about him!
R: Tell us how you got into acting.
N: Well for me it started with music. Ever since I learned how to walk and talk (I learned both around the same time) I would ask my mom to film me either singing and dancing or playing my toy guitar to The Rolling Stones or The Strokes. Then my love for seeing myself on camera came along!
R: You play Jorge on Bunk'd. Can you tell us what the show is about and about your character? What is it like working with Karan Brar and the rest of the cast?
N: Bunk'd is a spinoff of Jessie, so basically the Ross kids (Emma, Ravi, and Zuri Ross) end up going to a summer camp in Maine called Camp Kikiwaka, where their parents had met when they were teenagers. There, the kids make friends with head counselor Lou, camp heartthrob Xander, studious Tiffany, and…Jorge. It's a bit difficult to explain what Jorge is like. You'll have to meet him yourself! He is well-known for his exaggerated fibs, being outgoing, and of course being, in his eyes, mature, which comes across as a bit weird. It's really awesome working with the whole cast because I consider them family and they are also role models. They have definitely taught me a lot.
R: What is a normal filming day like for you?
N: A normal filming day for me would be going to school, rehearsal, and eventually filming for a bit, then having dinner and going back home.
R: What is your favorite part of acting?
N: My favorite part would be that you can express yourself in many ways, and also that you're doing what you love by making people feel a certain way each time they watch you. Sometimes we have scenes that make people tear up or laugh, and that's mainly what I like about acting.
R: Are there any charities that are close to your heart?
N: Anti-bullying, animal shelters, foster care, and children hospitals.
R: What are some of your future goals?
N: I definitely want to start with photography. I also do amateur close-up and card magic, and I would definitely like to improve so that I can get more in the "magic" realm.
R: Are you on any social media? What are their addresses? Is there a place where your fans can send you mail?
N: I'm on Twitter, Facebook and Instagram. Fans can send it to my PO Box:
Nathan Arenas, PMB #10910 Long Beach Blvd. STE #103 Lynwood, CA 90262
R: Is there anything else you would like to say to your fans?
N: Thank you for watching guys, I love all of you so much. Dream big!!
By Anna Tallarico
Photo credits: Bobby Quillard
---