There is something captivating about the Hollywood stars. Need a daily fix? Get the latest on celebrities who are doing great things. We don't give false gossip and rumors–we talk about the good in celebrities. You know, the awesome things that everyone else ignores…
By Jill Sheets
I have never gotten the chance to interview anyone who wrote plays before until now. I am absolutely thrilled I got to interview Elizabeth G. Honaker. She started writing plays when she was very young and is still going. Read on and learn more about her, her plays, and her advice for anyone who is interested in becoming a playwright themselves.
R: Tell us a little bit about yourself and how you got your start writing plays.
E: I have always been "dramatic." I bugged my first-grade teacher (a nun) to let me participate in Saint Gabriel's annual Christmas show – and I was allowed! In 8th grade, I wrote science fiction scripts and tried to persuade my friends to rehearse them during recess (it didn't work!). As a young adult living in England with my husband Allen and children James and Christine, I started becoming interested in Christian drama – especially writing three-minute skits; so I wrote them for our church's family service. When our family moved back to the United States, I was asked to take over our church's Easter presentation of The Living Last Supper. It was interesting, but it was a static presentation, so I asked if I could add Mary's testimony regarding the Resurrection of the Lord. The next year, I added more of the Holy Week events, and in 1994, I wrote my first play that focused on one character. I have written somewhere around twenty different full-length Easter scripts, half of which are in print. I intend to publish them all eventually.
R: Tell us about some of your plays and how you got the idea for them.
E: I have long recognized that the ultimate ideas for all of my scripts come from divine inspiration – the work of the Holy Spirit. And I say that in the sense that He gets all the glory for touching lives, and I get all the blame if there are defects in the script. In any case, I most often get ideas that inspire me and get me wanting to write during communion or during a sermon. The Pascal Lamb came from a communion service, as did The Bread of the Servant. I'll admit, though, that I got the idea for Journey to Life while vacuuming the living room! Behind every single script, though, is my own struggle with a particular issue; I think that's why strangers walk up to me after performances and say, "You wrote that play just for me." I share my life problems, and the Lord, in the person of Jesus Christ, provides answers.
R: I found this book and I couldn't help but buy it! Tell us about Mizz Liz's Five Steps to Good Writing.
E: I have been teaching students how to write good papers for decades now. It started when I taught high school English, and continued when I began to tutor students at my home. I boiled down everything I knew about writing into five steps that are not difficult to understand, but they take explaining (for instance, I used to integrate these steps into my high school curriculum over the period of five months). At one point, I wrote them down with bullets for my college classes, and then I started to develop handouts for students who had been absent from one or another lecture. Finally, I decided that a book written at the 8th-grade level would help me to teach my at-home tutees more efficiently. I now use that book with everyone – even my college students.
R: What is your writing process for your plays? How do you come up with the ideas?
E: Well, as I've mentioned before, I attribute all the good ideas to the work of the Holy Spirit. It is funny, though – it's as if the Spirit and I have an annual "appointment" during the Christmas break (which is something all teachers look forward to for relaxation, not for producing a script!). It all starts with a story from a Gospel. I will contemplate a person or group of people and how they might have encountered Jesus – what He would have done for them, how He would have drawn them from the suffering, etc. The concept will "simmer on the back burner" for months, until the day after Christmas. (That is pretty much the "last minute" for producing a workable script for the Disciples to perform for the following Easter.)
When I was teaching high school, I would close the door to the study where the family computer resided and type away all day every day until the play was done. Sometimes, it would reveal itself in three days; sometimes it took a week or ten days. Once I had worked out a story, it seemed that I would see the action of the play, hear the dialog, etc. I would just type it as I saw it. Occasionally, I would write an entire scene and then realize it didn't fit the story. I would just set it aside and move on. I never obsess over "now where did THAT come from?" because the ways of the Spirit are much bigger and more complex than I am. Who knows? Nathaniel Hawthorne's great classic The Scarlet Letter came to him from a short story he had written years before – which didn't even focus on a woman pregnant with an illegitimate child.
Nowadays, my main computer is in my study upstairs. Instead of locking myself away – which doesn't really work because my study is our balcony, not an enclosed room – I now ensconce myself in the family room, and Number One Husband (Allen) pretty much leaves me to do my thing however long it takes. Of course, he stills feeds and waters me, and nags me about going to bed when it gets to be one a.m. But without little ones running around, it is easier to "rule the roost" this way. I still get the script ready for the Wesley Grove Disciples (in Maryland – they still present my plays each year at Easter) by their first scheduled read-through in January.
R: Do you have a favorite play or book?
E:  Gosh, that one's tough! I love Dorothy Sayer's The Man Born to be King, which started as radio plays about the life of Christ over the BBC during WWII. I love all of C.S. Lewis' works, especially The Chronicles of Narnia. I have read Tolkien's The Lord of the Rings trilogy in its entirety at least three separate times in my life. I love teaching T.S. Eliot, especially the works he produced after he became a Christian. I am a fan of Calvin Miller and Ravi Zacharias. I love well-written biographies of the founding fathers (and I have David Barton to thank for getting me hooked on those). I…now how long do you want me to go on?
R: What is your favorite Bible verse?
E: My favorite verse is whatever connects me to the mind of the Lord each time I read the Bible. When I read with a willing mind and an open heart, the Holy Spirit makes the Word live to me. I have to say, though, that the very first verse I memorized when I became a real Christian at the age of twenty-one was Romans 8:28. And I remind all my students that Philippians 4:8 does not mention God or Jesus, and yet it is the best advice for anyone seeking reality.
R: What advice would you give someone who wants to write plays?
E: Study how to tell a story with actions, and as few words as possible (a la Saint Francis of Assisi: "Preach the Gospel, and – if necessary – use words"). Study Shakespeare and how he packaged his messages, including comedy in the middle of his tragedies, to focus the groundlings' attention on what was to come next. Reflect on modern plays or episodes that move you and ask yourself, why do they move you? How have the characters impacted you? Then write your action and dialog down and have someone else read them aloud. Make your characters speak like normal human beings; don't give them sermons to preach. Make sure you have a beginning, a middle, and an end to your story. And – of course – you can always email me for advice: efghonaker@gmail.com . I promise I'll respond.
R: Where can people get your plays and other books?
E: Right now, all of my plays and books (beside my book on how to write, I also have an historical novel on the martyrdom of Saint Paul and a thesis on the medieval mystery plays) are all available through Amazon.com.
R: Do you have an official website? What about social media?
E: My husband recently took down our website because of software issues – the software was no longer supported and we found that we couldn't update our site. We are working with a third person to design a better site. The domain will be bolb.org and it will have an online store for our new ebooks on how to start drama groups in your church, make affordable costumes and props, and use inexpensive sound and lighting.
I have a page on Facebook – Bread of Life Books – where I've posted pictures and video excerpts from my last three plays. The plays are all presented by amateur actors (by that, I mean they are not professionals) but they really put their hearts into the production each year. I am humbled just to watch how they bring each script to life!
I also have a Linkedin page under Elizabeth Golibart Honaker.
R: Is there anything else you would like to add?
E: Once upon a time, a gentleman whose opinion I valued very much told me that drama was sinful – no matter whether it had a Christian motive or not, the actors were sinning in pretending to be their characters. I respectfully disagreed with him, but then felt I had to study the Bible more closely in order to affirm the truth of what I already believed. I discovered that God had commanded several of the Old Testament prophets to depict His messages in dramatic form – and the drama was not at all "warm and fuzzy;" it depicted real judgment and real consequences for Israel. In the New Testament, Christ told parables, which reproduced vivid pictures of heavenly truths in the minds of His listeners. When a pastor preaches from the pulpit, does he not present illustrations from real life? People watch Christian plays and dramas knowing full well that the people who play the parts of characters are not trying to pass themselves off as people they are not. The actors help the audience members "lose" themselves in the story so that the power of the Spirit can have an opening into their hearts. And knowing the impact that Christ-centered drama has had on both audience members, stagecrew, and actors, I cannot help but believe that this is a God-sanctioned phenomenon.
Christian drama is not just for the talented; it is for the taught. We learn the message of the Gospel, and we present it via drama to others. People like me write the words, so that the story flows and engages the audience, but Christian actors can come from every walk of life, and from any age level. I have had police officers and homemakers and school children and babies and retired teachers and Boy Scout members and pastors and – well, you get the picture.
Lastly, I just want to leave people with a reflection: What could be more dramatic than the crucifixion and resurrection of the Lord Jesus Christ? He didn't merely talk about the Plan of Salvation; He enacted it in the flesh! He didn't come to save well-polished "actors" – He came to save those people who find themselves lost, with no Director in their lives. Voila!
---
Who says you need to be an adult to change the world? Hannah Richardson is only sixteen and already she is the face of a successful company and on the verge of releasing an album. Find out more about her music, her company and its inspiring mission, and how you can connect with her on social media.
(Psst! Go follow the company's Instagram page — it already has over 10,000 followers!)
R: Tell us about yourself. How long have you been singing? What made you fall in love with it?
H: Well, hey there! My name is Hannah Richardson, I'm sixteen years old, and I'm a singer and songwriter, as well as the face of an incredible girl power company called Gomee Girl. Looking back, I think I fell in love with music when my parents started playing it in the house! I was extremely blessed that my parents exposed me to all of these incredible artists at such a young age, such as Fleetwood Mac, Allison Krauss, Led Zeppelin, etc. I was definitely influenced by them when I started writing my own music years later. I officially started singing at six years old in my church choir, but got my first solo when I was seven. My pastor was nice enough to offer that the girl singing obnoxiously over all the other kids (that girl being me) get her own song. Quite frankly, I think that it was the solo in particular that really got me fascinated with being in front of people, as it was when I realized that I could force a group of adults to listen to me who otherwise wouldn't have. Ironically, that's kind of still true today.
R: I heard you are about to release an album. That's so exciting! What's your favorite song on it?
H: Totally! The album is called Chasing Rainbows and is set to be released on September 18th, 2017. It has a very pop and country feel with a lil' Irish flair, and showcases all of my favorite instruments, like mandolins, fiddles, and vintage guitars. My favorite songs on the album are generally the musically joyous ones that are tinged with darker lyrics. I'm really obsessed with having that awesome conflict of lyrics and music in my songs, just because it makes people second guess that whole concept of "oh, this is upbeat so it's obviously totally happy!" Spoiler alert, but that's why "Rich Kids" and "Just A Friend" were personally so wonderful for me to write, and why I think people will really connect with those. This probably sounds cliche, but picking your favorite song is liking picking your favorite child. All of the songs are so unique and come from such different places emotionally. However, I will say that "Chasing Rainbows" was definitely my most therapeutic song. What I mean by that is, after writing it, I realized I had finally unlocked this thing that had been hurting me for a long time, and could let all of my feelings out every time I sang the song. For me, that's the whole beauty of songwriting. It's taking incredibly complex emotions and situations that nobody but you understands and somehow translating them into something our actual language hasn't yet figured out how to communicate.
R: Tell us about Gomee Girl. How can we raise awareness?
H: Gomee Girl's main mission is to improve the self-esteem of young girls. Through positive social media campaigns, school assembly events, and their patches with positive images, the organization is focused on letting every woman know that she can love herself exactly the way she is. As the face of the company, some of my jobs include representing the company in a good light, designing exclusive products, and writing epic, girl-power music. However, the most important responsibility I have taken on is giving advice to girls who are followers of myself and/or the company. Despite the time commitment and rather emotional nature of the job, this has become one of the most rewarding experiences in my life. I mean, nothing is more fulfilling than a girl who at one point felt she was "useless," and now messages me pictures of herself at a school dance. Nothing can beat that! One way to raise awareness is simply by following Gomee Girl's social media sites (@gomeegirl). Another way is to let any girl who might need some help know that she can check out http://www.gommegirl.com/getinspiredwithhannah for advice on everything from basketball to boy trouble and also just to connect with other girls who've had similar struggles in life!
R: What do you like to do besides singing?
H: I'm a Music & Diversions division writer for Metiza Magazine, so I am super obsessed with interviewing artists. I also read a lot (shoutout to Harry Potter), and love watching TV shows like Stranger Things, Game of Thrones, and Gilmore Girls.
R: What advice do you have for young girls who want to pursue a career as a singer or anything in the music industry?
H: NEVER let people say that you can't pursue your dreams due to circumstances beyond your control. There will always be people who are more "gifted" than you, who have prettier hair than you, who have more money than you do, etc. That being said, it's the people who work day and night and totally dedicate themselves to their passion that actually make a mark on the world. No excuses. You can do this!
R: What are your social media addresses?
H: Website – http://www.hannahrichardson.com
Facebook – https://www.facebook.com/hannahrsings1
Twitter – https://www.twitter.com/hannahrsings1
Instagram – https://www.instagram.com/hannahrsings1
YouTube – https://www.youtube.com/user/mlpgrow123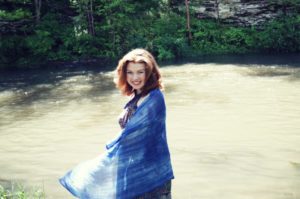 R: Is there anything else you would like to add?
H: This sounds a lot like an Academy Award speech, but I just have to thank my family, friends, and fans for helping me so much on this journey. I also want to personally thank all the people who have ever caused any conflict in my life: hey ya'll, you guys are the ones who inspire the best songs and are part of what motivate me to be better than I was yesterday, so thanks for being you…kind of.
Photo credits: Hannah Richardson
---
Written by Jill Sheets
Many of you may have seen actress Isabella Alexander on the show Fresh off the Boat. Her character, Alison, is the girlfriend of Eddie, played by Hudson Yang. Read on and find out more about her, her character Alison and five things people may not know about her. Also, be on the lookout for her upcoming projects! You won't want to miss them.
R: Tell our readers a little bit about yourself and how you got your start in acting.
I: I am 14 years old, and I am pretty much a normal teenager who happens to get to work on television shows and in commercials. My start in acting came from what I thought was a devastating setback. I have always loved any type of performing arts, but I used to concentrate on competitive dancing. A few years ago, I had a really bad injury that put me in a full length leg cast. My inability to dance led me to focus on acting, and I found out that I loved it more than anything.
R: Tell us about your show Fresh Off the Boat and your character, Alison.
I: Fresh Off the Boat is a very funny comedy (on ABC) about a Taiwanese family who comes to live in Orlando in the 1990s. I play the girlfriend of the eldest son, Eddie. Alison is a smart, sweet student, but she bonds with Eddie through their love of rap music. She can even play "Ain't Nothin but a G Thang" on the piccolo!
R: What was the audition process for the show?
I: It was a very quick audition process for the role. I think I had one audition and boom, the role was mine! It usually doesn't happen that fast.
R: What is it like working with the cast and what has been your favorite memory so far?
I: The cast has become like my family and working with them is so much fun! Some days I shoot with the characters in Eddie's family, and other days the story is more about school and Eddie's posse of friends. I have also learned so much as an actress from Randall Park and Constance Wu, who play his parents.
I have lots of great memories, but the episode about the Janet Jackson concert was my favorite. I got to dress up like Janet Jackson from her Rhythm Nation tour and work with some of her backup dancers.
R: You also played May in Gortimer Gibbon's Life on Normal Street. Tell us about the show and your character.
I: Gortimer Gibbons is a great show about two best friends who live on Normal Street, expect Normal Street has something a little magical going on. May is a fun character because she is a bubbly cheerleader who gets into funny situations with the other characters.
R: Do you have any other upcoming projects?
I: There are a couple of projects in the works, but like most things in Hollywood, I can't say much just yet.
R: How do you balance school and your career?
I: I make sure that every day I count my many blessings and remind myself that in difficult and stressful times, I am a very, very fortunate girl. I try to stay very organized and prioritize my time. It isn't always easy, and sometimes I have to give up time with friends or certain activities, but it is totally worth it!
R: I read that you sing. Do you have any plans in the future or near future to record music?
I: I love to both sing and dance, and would love to record music if ever given the chance, but right now I am focusing mostly on my acting projects.
R: Who has been your biggest influence?
I: In acting, Jennifer Garner and Angelina Jolie. They both are terrific actors but are also known for "giving back." I think that is really important. In life, my brother is my biggest influence. He is a little older, and the complete opposite of me, but I love him so much.
R: What are five things people may not know about you?
I:
1) I love dogs!
2) I love "old" musicians and almost all types of music
3) I would love to have my own clothing line
4) I really like science and hope to someday be a neurosurgeon
5) I love to travel and hope to study abroad for a year during college
R: It is not easy being a teenager. What advice would you give them?
I: Accept yourself and all of your flaws, and accept them in others as well. Once I did, I became happier than ever before. Also, jealousy will get you nowhere. Be happy for the success of others. There is room for everyone.
R: Tell us about some of the charities that are close to your heart.
I: There are so many great charities and I feel it's important for teens to get involved and give back. Read Across America is an organization that promotes reading for children. This organization has impacted me greatly because all kids should have books and be encouraged to read. I also support Wounded Warrior Project, because I feel we should honor and help those veterans who were injured protecting our freedom.
R: Other than this one, what is the strangest question you have ever been asked?
I: "Do you and Hudson date in real life?'
R: Are you on any social networking sites? If so, which ones and what are their addresses? Do you have an official site and/or YouTube page?
I: Of course, I love keeping in touch with my fans!
Instagram: @isabellaalexander
Twitter/Musical.ly: @itsisabellaalexander
R: Is there anything else you would like to add or say to your fans?
I: I really do love and appreciate my fans so much. They remind me every day how lucky I am!
R: Isabella, thank you for the interview. Have a great day.
I: It was so much fun talking to Relate!
Picture credit: Fresh off the Boat ABC, Sarah Dunlap
---