On the big screen or on your TV screen, we love to watch our favorite celebs. We fill you in on the best new flicks and TV shows that you just gotta tune in to. There's nothing like a night in front of the screen!

"Diversify your interests, study anything and everything, and most importantly, never compare yourself to anyone else. There will always be someone more intelligent, more talented, more beautiful, more connected, etc., but that doesn't mean there's not a place for you at the table. You are enough; it's a matter of working hard for yourself, striving to become the best version of yourself, and believing that you have something that is worthy of contributing."
25-year-old actress, screenwriter, and film director Castille Landon is making history and paving the way for young women who are pursuing their dreams and careers. Born in Florida, she moved to Los Angeles when she was fifteen to pursue a career in acting. She graduated from Harvard University with a B.A. in English, and is currently a student at Oxford, working on her creative writing major as the only screenwriter accepted into the class. "I think it helps as a filmmaker to be exposed to as many subjects as possible so as to create work that more broadly reflects humanity. I'd rather tell the stories of humans (especially women) throughout time, or be inspired by big ideas in science and medicine or great minds than become insular and just tell stories I relate to personally, or make films about filmmakers or writers," said Landon, when asked why she decided to pursue a college education instead of only going straight to a career in the film industry.
She has appeared in numerous television shows and films such as Criminal Minds, Wind Walkers, Land of Leopold, and Among Ravens, and played a major supporting role in the comedy Sex Ed opposite Haley Joel Osment and Glen Powell. Now she writes, produces, and directs films such as Apple of My Eye, starring Burt Reynolds and Amy Smart, and I Believe in Unicorns, which premiered at SXSW and was screened in more than 40 film festivals worldwide. Her latest film, Albion: The Enchanted Stallion, was just released on Pay Per View on April 2, and will be available on DVD at Walmart on May 2.
The story follows a thirteen-year-old girl, tasked with the responsibility of caring for her disabled father, who is transported by a magical black stallion to the mystical world of Albion, where she discovers that she is the key to saving an entire race of people. It stars Oscar-nominee John Cleese (Monty Python), Jennifer Morrison (Once Upon A Time), and Debra Messing (Will and Grace). "The film was a blast to direct," said Landon. "I couldn't have asked for a better group of actors. Everyone really nailed their characters, and [the cast] and I became very close during the whole shooting process." The film earned a 93% audience approval rating when it was previewed at the Bentonville Film Festival, and received both the IFP Director's Lab Selection award and Grand Jury Award for Best Feature Film at the Equus Film Festival in New York.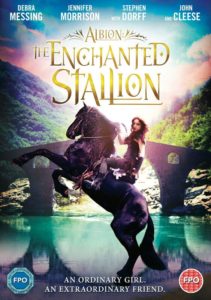 In her free time, Castille enjoys hot power yoga, horseback riding, and reading. She is also a very strong supporter of women in film, gender equality, inclusion of girls in STEM (science, technology, engineering, mathematics) fields, and de-stigmatizing mental illness. This is what she had to say on the subject:
"Gender equality is something that needs to happen, and that I'm constantly shocked to see is not even close to our present conditions. As far as STEM fields, I think it's important to empower girls through school and teach them that their contributions in those fields can be great. I personally really struggle with understanding detailed science and math, but I'm obsessed with learning about them in the general sense. I love learning about neurology, epigenetics, and cognitive and behavioral psychology— how the brain works, why we do what we do, etc. Perhaps my brain really doesn't grasp on to the intricacies of it, but it could also be that if I had been encouraged to study those subjects as a younger person, I might have been able to train my brain to function in those fields. Too often, young girls are told that they are meant to be studying subjects in the humanities, that we're the 'emotional' gender, and so we turn the logical, mathematical sides of our brains off. Do we really lack those talents, or are they muscles that we weren't encouraged to strengthen and have atrophied without use? Geena Davis's Institute is doing great work and putting forth the idea that young people need to see themselves reflected on screen, so we, as creatives, need to show women doing these things to inspire the younger generation to pursue them.
"All of that being said, de-stigmatizing mental illness and promoting mental wellness is one of my greatest passions in life. There's a long history of mental illness in my family, particularly in the women, up the maternal line for several generations. I was raised to understand that and so it didn't even occur to me that discussing one's struggles in that area was taboo until fairly recently. It dawned on me that many people turned to suicide not only because they were struggling with mental illness, but because they felt too ashamed of their condition to speak up and get help. That's unacceptable. No one would be ashamed to say they had asthma so they needed to take a break from exercise. Society doesn't judge those who get cancer. Why do we not regard mental illness in the same manner? It's really nonsensical to me. And furthermore, positive psychology should be taught alongside any other subject. We should promote positive thinking instead of perpetuating the culture of fear and anger that the media seems intent on spreading."
You can learn more about Geena Davis's Institute here: https://seejane.org/
Also, check out the trailer for Albion: The Enchanted Stallion, like the Facebook page, and go follow Castille on Instagram and Twitter to stay up to date on her upcoming projects!
By Anna Tallarico
---
Written by Jill Sheets
Recently, I was blessed to be able to interview up-and-coming star Jillian Shea Spaeder. Read on as she talks about the TV shows she has been in, her love of singing, and where you can find her on social media.
R: Tell our readers a little bit about yourself and how you got into acting. 
J: When I was in elementary school, I had some small roles in concerts and musicals. That's how I caught the bug! I started with a private acting coach in fifth grade, and that holiday season I was cast in my first equity theater production. I was the only child in a cast of twelve. The following summer, I met my manager while in a performing arts competition in Hollywood. She was teaching a seminar the day before the competition began and told my mom after the seminar that she wanted me to come see her. I went to her office and did a cold read, and she offered to represent me. Because we live on the East Coast, we weren't sure about living in California, so she encouraged us to come out for pilot season to test the waters. We came for two months, and at the very end of the trip, I had my first audition for Walk the Prank.
R: Tell us about your show Walk the Prank and about your character Bailey.
J: Walk the Prank is about four kids who have a popular online hidden camera show. The characters pull the pranks on real-life people, though, which gives the show a unique blend of reality and scripted comedy. Bailey is the only female of the foursome, and she's the techie who uploads all of the videos onto the group's channel. She is sassy, sarcastic, and one of the guys, but she's also like every other girl fawning over the cute new guy.
R: What was the audition process like? Where were you when you found out you got the part?
J: The audition for Walk the Prank came up just as we were getting ready to leave California to return home to Philadelphia. We actually had the audition three hours before our flight was set to leave. The casting director told me she was sending me in to see producers the next day, so we canceled our flight. After I saw producers the following day, my manager called to say I would test for the role but it would be another two weeks or so. We stayed in California, and about three weeks later we had chemistry reads. Four girls read for the role of Bailey, and that evening I learned that it was down to another girl and me. We flew home and waited another month before the call finally came. The producers called while we were out to dinner with friends, saying the role was mine, and that we would be shooting the pilot just a few days later. I was jumping up and down with excitement!
R: What is your favorite part of the show?
J: On Walk the Prank, I not only play the role of Bailey, but I get to play all the roles Bailey plays when pranking. I have so much fun with all the different characters, especially when I get to be scary. I've always wanted to be in a horror film, so this gives me a little taste of that.
R: Do you have any upcoming projects that we can look forward to?
J: We are in the middle of shooting our second season of Walk the Prank, but I hope to do some movie auditions in the spring. I'd love to get into some films.
R: If they were to make your favorite book into a movie, what book and what part would you like to play?
J: I would love to play the main girl in one of the stories in A Tale Dark and Grimm. I love that series of books!
R: What advice would you give someone who wants to be an actress?
J: Being an actor is a lot harder than it looks! It's easy to see someone on TV and say, "I could do that," but actors work very hard. For teens like me, we work nine and a half hours a day and also have to do school during that time (and finish at night if we fall behind). We sometimes have school on Saturdays, as well. Private coaching and acting classes are important, too.
R: I read that you sing. Is that true? If so, do you have any plans on release an album?
J: I love to sing. I have been singing my whole life, even with my parents' band at age nine. I started playing guitar and ukulele the past year, so now I've been practicing to improve them and work on some new cover tunes for my YouTube channel. I wrote and recorded my first original song in the studio this past summer, and I hope to release an album at some point.
R: Tell us about Children International.
J: Children International is a non-profit organization where you can sponsor impoverished children, sending in a small monthly amount that provides them with medical care, educational needs, or anything else to help them improve their quality of life. We learned about the organization from my aunt, who has sponsored many kids through the organization. My parents then began sponsoring three children when I was little (to match my brother, sister, and me). As a teen, my sister Emma ran a neighborhood camp for five years and donated twenty percent of her profits to CI, which made an impression on me. I hope to follow in her footsteps in some way. A few years ago, my aunt, mom, sister, and I had the opportunity to visit Ecuador to spend the day with two of our sponsored kids and learn more about the wonderful work CI is doing in that and other underprivileged areas of the world. It was truly a humbling experience.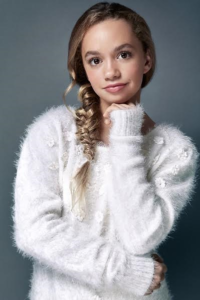 R: It is not easy growing up these days. What advice would you give teenagers in general?
J: Be kind, be generous, and be a friend to someone who needs it. People who bully or say mean things probably do that because they don't feel good about themselves. Don't let them bring you down with them!
R: What is it like to communicate with your fans? What is the nicest thing a fan has said or done for you?
J: I love communicating with my fans, especially on Live.ly, where they can post their questions and I can answer them live. I'm not sure if this is one of the nicest things a fan ever said to me, but it was definitely memorable. She said she was being bullied and had become very depressed, but when she watched me on Walk the Prank, she felt like something clicked, and she decided to get into acting. She says she has gotten a few leads in school shows and is much more confident about herself now.
R: What are your future goals?
J: In the near future, I hope to be shooting a third (and even fourth!) season of Walk the Prank, appear in a film or two, and release an album!
R: Other than this one, what is the strangest question you have ever been asked?
J: Someone actually asked if I was the girl from Stranger Things (Millie Bobby Brown)!
R: Are you on any social networking sites? If so, which ones and what are their addresses? Do you have an official website and/or YouTube page?
J:  My official website is jilliansheaspaeder.com and my social media links are:
Instagram:          @JillianSheaSpaeder
Twitter:               @JillianSpaeder
Facebook:           Jillian Shea Spaeder
Snapchat:           Jillbean1982
Musical.ly:         Jillian.Spaeder
Live.ly:                Jillian.Spaeder
R: Is there anything else you would like to add or say to your fans?
J: Yes…pranks a lot for watching the show!
R: Jillian, thank you for the interview. Have a great day.
J: Thank YOU!
Photo credits: Ryan West Photo
---
Written by Jill Sheets
Recently, I had the honor of interviewing multi-talented actress Grace Kaufman. She plays Kate on the TV show Man with a Plan, a  popular CBS comedy about a contractor who starts spending more time with his crazy kids, who he has to wrangle all by himself while his wife is at work. Read on to learn more about Grace, her love of singing, what people may not know about her, and why she loves to act.
R: Tell us a little about yourself and how you got into acting.
G: I've always had a vibrant passion for acting. Both of my parents are actors, so I guess you could say it runs in the family! I used to put on plays as Dorothy from The Wizard of Oz for my friends and family. I started in my mom's acting classes when I was two years old, and began auditioning when I was six. I landed my first role playing Tootie in a production of Meet Me in St. Louis at the Carpenter Center in Long Beach. From there, it began!
R: Tell us about your show Man with A Plan and about your character Kate.
G: Man With A Plan is about a family in which our mom, Andi (Liza Schneider), goes back to work after staying home for thirteen years raising my younger siblings and I. Now, our dad (Matt LeBlanc) must really step up to the plate and become our "warden." The show focuses around our crazy adventures and shenanigans. My character Kate is a blast to play because she has a little sass and rebelliousness in her, but she loves her family too, which is where I feel I can relate to her.
R: What was the audition process like? Where were you when you found out you got the part?
G: I received the audition script from my agents, and instantly fell in love with the character Kate. I went in and auditioned, then got a callback. When I came in for the callback, I got to read with Matt for the first time. I was so excited to meet him and even more excited to get to read the scene with him. I found out I got the part as I was getting picked up from school. I hopped into my mom's car, and she filmed me as she told me the news. I was absolutely over the moon!
R: What is it like working with Kali Rocha and Matt LeBlanc? Have they given you any advice so far?
G: They are awesome, and I have learned so much from both Kali and Matt. It is an honor to get to work with such talented actors. Matt has given me lots of good advice, specifically in comedic timing, and that the funniest moments are always the most honest and real moments. I love watching both of them perform. They are brilliant, and have really helped me grow in my work.
R: What is a normal taping day for you?
G: Well, I normally get to set around noon, and we rehearse/camera block for a few hours. Then, after I go to set school, I go to get my hair and makeup done and get some food. After eating dinner, I change into my wardrobe and head down to the hair and makeup trailer again to do a speedy run-through of our lines with the rest of the cast. Then we go out and tape the show for the live audience.
R: Tell us about your film Sister and about your character.
G: Sister is a film that revolves around a family and their dark troubles. I play Nikki, a girl who suffers from ADHD, who is adopted into the Presser family. She struggles to cope with her new life, living with her older adopted brother Billy and fitting into a new environment. In the end, however, she realizes that she loves her brother and that family is everything.
R: What do you love most about acting?
G: I love that when I am acting, I forget about everything else happening in the world. I just get to live in the moment as someone that is not Grace Kaufman. As an actress I get to explore other people and different lives through the roles I play. It is one of the most magical and magnificent feelings in the world.
R: Not only do you act, but you sing and dance. Do you have any plans are releasing any music?
G: I love singing so much, and I think it would be amazing to get to release music. I have been writing some songs, and I can't wait to see what happens!
R: Who has been your biggest influence in your life and why?
G: My mom and dad have been the biggest influences in my life. They love me and are always there for me in everything I do. They also push me to constantly try my hardest. I would not be where I am today without them.
R: Are there any charities or causes that are close to your heart? If so, which ones?
G: I strongly support the Autoimmune Disease Awareness charity. Every year there is a walk to help raise money and awareness for the disease and cause. I know many people, including my mom, who struggle with some form of the disease. It is wonderful to help out with this cause.
R: What are five things people may not know about you?
G:
1. I have two dogs and a kitten.
2. I play piano.
3. I could eat pizza all day every day.
4. I flew to Hawaii alone for the first time this summer to visit my friend.
5. I have a little brother.
R: Other than this one, what is the strangest question you have ever been asked?
G: "If you were a tree, what tree would you be?"
R: What advice would you give teenagers these days?
G: Being a teenager myself, I totally know that it can be annoying and mess with your confidence. Believe me, I struggle with my self-esteem all the time. I just want you all to know that it will be all right. I think it is very important to surround yourself with people who constantly support you and what you love. Believe in yourself and never be afraid to follow your heart. They always know the way in achieving your greatest hopes and dreams.
R: Are you on any social networking sites? If so, which ones and what are their addresses? Do you have an official website and/or YouTube page?
G: You can find me on all social media at: @imgracekaufman (Instagram, Twitter, Facebook). I am planning to make a YouTube, so stay tuned!
R: Is there anything else you would like to add or say to your fans?
G: Thank you for all of the constant support and love I receive! I am so grateful to have such dedicated and awesome fans. I love you all so much, and would not be where I am today without you guys.
Photo credits: RYAN WEST PHOTO
---