On the big screen or on your TV screen, we love to watch our favorite celebs. We fill you in on the best new flicks and TV shows that you just gotta tune in to. There's nothing like a night in front of the screen!

Written by Jill Sheets
Many of you may have seen actress Isabella Alexander on the show Fresh off the Boat. Her character, Alison, is the girlfriend of Eddie, played by Hudson Yang. Read on and find out more about her, her character Alison and five things people may not know about her. Also, be on the lookout for her upcoming projects! You won't want to miss them.
R: Tell our readers a little bit about yourself and how you got your start in acting.
I: I am 14 years old, and I am pretty much a normal teenager who happens to get to work on television shows and in commercials. My start in acting came from what I thought was a devastating setback. I have always loved any type of performing arts, but I used to concentrate on competitive dancing. A few years ago, I had a really bad injury that put me in a full length leg cast. My inability to dance led me to focus on acting, and I found out that I loved it more than anything.
R: Tell us about your show Fresh Off the Boat and your character, Alison.
I: Fresh Off the Boat is a very funny comedy (on ABC) about a Taiwanese family who comes to live in Orlando in the 1990s. I play the girlfriend of the eldest son, Eddie. Alison is a smart, sweet student, but she bonds with Eddie through their love of rap music. She can even play "Ain't Nothin but a G Thang" on the piccolo!
R: What was the audition process for the show?
I: It was a very quick audition process for the role. I think I had one audition and boom, the role was mine! It usually doesn't happen that fast.
R: What is it like working with the cast and what has been your favorite memory so far?
I: The cast has become like my family and working with them is so much fun! Some days I shoot with the characters in Eddie's family, and other days the story is more about school and Eddie's posse of friends. I have also learned so much as an actress from Randall Park and Constance Wu, who play his parents.
I have lots of great memories, but the episode about the Janet Jackson concert was my favorite. I got to dress up like Janet Jackson from her Rhythm Nation tour and work with some of her backup dancers.
R: You also played May in Gortimer Gibbon's Life on Normal Street. Tell us about the show and your character.
I: Gortimer Gibbons is a great show about two best friends who live on Normal Street, expect Normal Street has something a little magical going on. May is a fun character because she is a bubbly cheerleader who gets into funny situations with the other characters.
R: Do you have any other upcoming projects?
I: There are a couple of projects in the works, but like most things in Hollywood, I can't say much just yet.
R: How do you balance school and your career?
I: I make sure that every day I count my many blessings and remind myself that in difficult and stressful times, I am a very, very fortunate girl. I try to stay very organized and prioritize my time. It isn't always easy, and sometimes I have to give up time with friends or certain activities, but it is totally worth it!
R: I read that you sing. Do you have any plans in the future or near future to record music?
I: I love to both sing and dance, and would love to record music if ever given the chance, but right now I am focusing mostly on my acting projects.
R: Who has been your biggest influence?
I: In acting, Jennifer Garner and Angelina Jolie. They both are terrific actors but are also known for "giving back." I think that is really important. In life, my brother is my biggest influence. He is a little older, and the complete opposite of me, but I love him so much.
R: What are five things people may not know about you?
I:
1) I love dogs!
2) I love "old" musicians and almost all types of music
3) I would love to have my own clothing line
4) I really like science and hope to someday be a neurosurgeon
5) I love to travel and hope to study abroad for a year during college
R: It is not easy being a teenager. What advice would you give them?
I: Accept yourself and all of your flaws, and accept them in others as well. Once I did, I became happier than ever before. Also, jealousy will get you nowhere. Be happy for the success of others. There is room for everyone.
R: Tell us about some of the charities that are close to your heart.
I: There are so many great charities and I feel it's important for teens to get involved and give back. Read Across America is an organization that promotes reading for children. This organization has impacted me greatly because all kids should have books and be encouraged to read. I also support Wounded Warrior Project, because I feel we should honor and help those veterans who were injured protecting our freedom.
R: Other than this one, what is the strangest question you have ever been asked?
I: "Do you and Hudson date in real life?'
R: Are you on any social networking sites? If so, which ones and what are their addresses? Do you have an official site and/or YouTube page?
I: Of course, I love keeping in touch with my fans!
Instagram: @isabellaalexander
Twitter/Musical.ly: @itsisabellaalexander
R: Is there anything else you would like to add or say to your fans?
I: I really do love and appreciate my fans so much. They remind me every day how lucky I am!
R: Isabella, thank you for the interview. Have a great day.
I: It was so much fun talking to Relate!
Picture credit: Fresh off the Boat ABC, Sarah Dunlap
---
Written by Jill Sheets
When Ethan, played by Wesley Elder, gets fired from his job, he is offered money by the parents of a girl whose boyfriend they do not approve of. They hire Ethan to break the young couple up, and soon, by word of mouth more parents who don't approve of their child's relationships contact him to break them up. Things get a little sticky when he falls in love with a client, Emily, played by the late singer Christina Grimmie. How is he going to keep his secret job away from the girl that he is falling for? What will happen if she finds out?
The cover was the first thing that I noticed about the movie. I kept flipping through films on Netflix, and as I kept coming across The Matchbreaker cover, I kept thinking, "that looks like Christina Grimmie!" But I kept telling myself that there was no way that it was her.  As I continued to flip through the movies, however, I finally decided to look and see what the film information was and who was in the movie. I was excited to see that it was her and I could not wait to watch it. So at first, I watched the movie because of her, but I am glad that I did because it was a great film. Christina Grimmie delivered an excellent performance not only when she sang, but when she was acting. This movie was well done and will keep your interest from the start. The acting from the entire cast was fantastic, along with the writing for the film. I do not usually laugh out loud when it comes to funny movies, but with The Matchbreaker, I did. Even if you are not a Christina Grimmie fan, you will love this touching romantic comedy.
---
"Diversify your interests, study anything and everything, and most importantly, never compare yourself to anyone else. There will always be someone more intelligent, more talented, more beautiful, more connected, etc., but that doesn't mean there's not a place for you at the table. You are enough; it's a matter of working hard for yourself, striving to become the best version of yourself, and believing that you have something that is worthy of contributing."
25-year-old actress, screenwriter, and film director Castille Landon is making history and paving the way for young women who are pursuing their dreams and careers. Born in Florida, she moved to Los Angeles when she was fifteen to pursue a career in acting. She graduated from Harvard University with a B.A. in English, and is currently a student at Oxford, working on her creative writing major as the only screenwriter accepted into the class. "I think it helps as a filmmaker to be exposed to as many subjects as possible so as to create work that more broadly reflects humanity. I'd rather tell the stories of humans (especially women) throughout time, or be inspired by big ideas in science and medicine or great minds than become insular and just tell stories I relate to personally, or make films about filmmakers or writers," said Landon, when asked why she decided to pursue a college education instead of only going straight to a career in the film industry.
She has appeared in numerous television shows and films such as Criminal Minds, Wind Walkers, Land of Leopold, and Among Ravens, and played a major supporting role in the comedy Sex Ed opposite Haley Joel Osment and Glen Powell. Now she writes, produces, and directs films such as Apple of My Eye, starring Burt Reynolds and Amy Smart, and I Believe in Unicorns, which premiered at SXSW and was screened in more than 40 film festivals worldwide. Her latest film, Albion: The Enchanted Stallion, was just released on Pay Per View on April 2, and will be available on DVD at Walmart on May 2.
The story follows a thirteen-year-old girl, tasked with the responsibility of caring for her disabled father, who is transported by a magical black stallion to the mystical world of Albion, where she discovers that she is the key to saving an entire race of people. It stars Oscar-nominee John Cleese (Monty Python), Jennifer Morrison (Once Upon A Time), and Debra Messing (Will and Grace). "The film was a blast to direct," said Landon. "I couldn't have asked for a better group of actors. Everyone really nailed their characters, and [the cast] and I became very close during the whole shooting process." The film earned a 93% audience approval rating when it was previewed at the Bentonville Film Festival, and received both the IFP Director's Lab Selection award and Grand Jury Award for Best Feature Film at the Equus Film Festival in New York.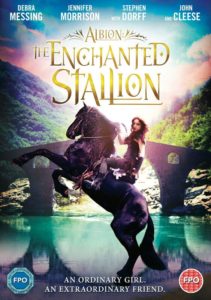 In her free time, Castille enjoys hot power yoga, horseback riding, and reading. She is also a very strong supporter of women in film, gender equality, inclusion of girls in STEM (science, technology, engineering, mathematics) fields, and de-stigmatizing mental illness. This is what she had to say on the subject:
"Gender equality is something that needs to happen, and that I'm constantly shocked to see is not even close to our present conditions. As far as STEM fields, I think it's important to empower girls through school and teach them that their contributions in those fields can be great. I personally really struggle with understanding detailed science and math, but I'm obsessed with learning about them in the general sense. I love learning about neurology, epigenetics, and cognitive and behavioral psychology— how the brain works, why we do what we do, etc. Perhaps my brain really doesn't grasp on to the intricacies of it, but it could also be that if I had been encouraged to study those subjects as a younger person, I might have been able to train my brain to function in those fields. Too often, young girls are told that they are meant to be studying subjects in the humanities, that we're the 'emotional' gender, and so we turn the logical, mathematical sides of our brains off. Do we really lack those talents, or are they muscles that we weren't encouraged to strengthen and have atrophied without use? Geena Davis's Institute is doing great work and putting forth the idea that young people need to see themselves reflected on screen, so we, as creatives, need to show women doing these things to inspire the younger generation to pursue them.
"All of that being said, de-stigmatizing mental illness and promoting mental wellness is one of my greatest passions in life. There's a long history of mental illness in my family, particularly in the women, up the maternal line for several generations. I was raised to understand that and so it didn't even occur to me that discussing one's struggles in that area was taboo until fairly recently. It dawned on me that many people turned to suicide not only because they were struggling with mental illness, but because they felt too ashamed of their condition to speak up and get help. That's unacceptable. No one would be ashamed to say they had asthma so they needed to take a break from exercise. Society doesn't judge those who get cancer. Why do we not regard mental illness in the same manner? It's really nonsensical to me. And furthermore, positive psychology should be taught alongside any other subject. We should promote positive thinking instead of perpetuating the culture of fear and anger that the media seems intent on spreading."
You can learn more about Geena Davis's Institute here: https://seejane.org/
Also, check out the trailer for Albion: The Enchanted Stallion, like the Facebook page, and go follow Castille on Instagram and Twitter to stay up to date on her upcoming projects!
By Anna Tallarico
---