Get reviews on the newest books and authors. Tell us what you think of these latest reads. Are they sure to make it big or are they a total bust?
Written by Jill Sheets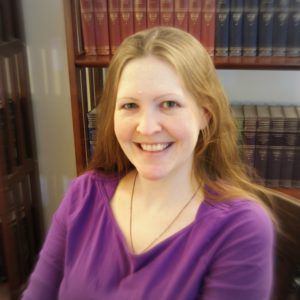 In my opinion, author B. Kristin McMichael is one of the greatest young adult authors out there. Her books are so hard to put down! When I got the chance to interview her, I was so excited. Read on and learn more about her books, including a new one which will be coming out this fall. Also, find out where her ideas come from and hear what advice she has about writing.
R: Tell us a little bit about yourself. How did you get your start writing and what was your first book about?
B: I think I've been writing since I figured out how to write words on paper. I've loved reading from a very young age and it just continued as I grew older. The first novel I wrote is the second one I published. It was a vampire novel that came from a dream I had. A few months later, Twilight hit the bookstores and the vampire craze began. I figured no one would want to read my book and just left it on my computer for years. In 2013, my hubby asked if he could take it and publish it. I wasn't sure about it, but I let him anyway. Seventeen novels later and he is still publishing them! Right now we have twelve books in the same vampire world, which I call the Night Human World.
I spent ten years as a molecular biologist, so it is hard to believe that I have five completed series and one stand-alone book right now. One common thing in my books is that they are clean teen books. There is no sex and very little violence, and the violence in the books isn't super graphic. I write books that I won't be worried about my children reading when they are teens.
R: Tell us about the Blue Eyes Trilogy?
B: The Legend of the Blue Eyes is a coming-of-age novel where instead of facing normal teen issues, Arianna has to face the fact that she turns into a monster on her sixteenth birthday. She has to learn how not only to grow up, but to grow up in a world filled with monsters that drink blood. In the trilogy, we meet many of the people who will show up in later books, and when I finished Arianna's story, I couldn't help but continue their stories.
A cool side note on this book was that it was recently translated into Italian, so I have my first foreign edition published now.
R: You also wrote the Day Human Trilogy. Please tell us about those books.
B: The Day Human Trilogy is a spin-off from the Blue Eyes Trilogy. Sometimes when you finish a novel, you wonder what happens to other people. This series focuses on one of the main characters from the Blue Eyes Trilogy as he goes into the Appalachian Mountains to return a sidhe, a fairy-like blood-drinking night human, home to be rid of her. Instead, he finds that maybe his place isn't where he thought it should be and there is a whole different life waiting for him. I love the idea of fate and people meeting that should be together, even if they don't agree because they don't see it like they should. It is so fun to see characters grow and change.
R: Tell our readers about the Skinwalkers Witchling Trilogy.
B: The Skinwalkers Witchling Trilogy is a whole new trilogy set in the same night human world as the Blue Eyes and Day Human trilogies. The main character, Cassie, is introduced in the third book of the Day Human Trilogy, but there isn't much told of her. This trilogy focuses on her adventure and place in the night human world. She is a witch but never knew about the night humans that live beside the witches, and she certainly doesn't know about the war going on with the night humans in her town. She is quickly caught in the middle of it.
R: Tell us about the Chalcedony Chronicles. How many books will be in this series?
B: The Chalcedony Chronicles is a four part series. I've had fans asking me to write more, but right now I've been focusing on the night human world series. This is a college time travel romance series that reads like a contemporary for the first half the novel before things take a turn to the bizarre for the main character. Mari is set to have freedom and be a normal college freshman, until she meets a guy that is from the past. He, along with his friends, take her on an adventure to ancient times where she finds there is much more to her story and life than she ever knew was possible.
R: Tell us about the Merworld Trilogy.
B: The Merworld Trilogy is the latest series in the night human world. Whitney was a night human, but had that part of her taken from her. As a normal person that knows about the blood sucking monsters in the world, she was not prepared to meet Sam, since merpeople were supposed to be eradicated over a hundred years earlier. The Merworld Trilogy follows Whitney as she finds a new place in the night human world and a life that she didn't even know she could have.
R: If they were going to make movies out of your books, who would your dream cast be?
B: I think my Night Human World series could make a great TV show. As to casting, I'd have no idea. The main character of Arianna is only fifteen going on sixteen. I would almost think with such a young cast, you'd have to have unknowns because by the time the show was made, they would be too old! The only book I could see as a movie is my stand alone novel, To Stand Beside Her, but even that I wouldn't know who to cast.
R: What is your writing process? How do you come up with the ideas for your books?
B: I know where the book starts and where it is going, but in between I tend to just write. I have discovered more than one character I grew to love as the story progressed and even a few more that I didn't even know would be involved. I can remember talking to my husband after writing one of the Chalcedony Chronicle books and telling him, "Crap, I think I just made a really important person. He's going to have to fit into the whole story now!"
As for ideas, I have a ten page document that keeps growing with ideas. My ideas come mostly from my dreams. For as long as I can remember, I've had very long and vivid dreams that I remember the next day or week or longer. This works great for story ideas, but not so great when you have one of those really terrifying dreams.
R: You book covers are beautiful. Do you get to pick them out or have any say on them?
B: I've worked with a few different designers that I've liked the art work of before I even hire them to make the covers. I give them a basic idea of what the story is about and who I want on the cover, but I let them do the rest. I found them because they do great art, so I don't want to put too many restrictions on them. I've been lucky to get some really great ones from them and feel so fortunate to work with the artists I have.
R: Where can people get your books?
B: Amazon, Barnes and Noble, Kobo, iTunes, Smashwords, and Audible.
R: What are you currently working on?
B: I have a new book that will be out on September 4th called The Night Human Hunter. It is set in my Night Human world and follows a hunter that leaves a matriarchal hunter society to find his dad and discover the secrets that come with him. I'm also writing a prequel to the Merworld Trilogy that will be in a box set called Sirens and Scales in January. Twenty authors are coming together to write an anthology all about mermaids and dragons.
R: What advice would you give someone who wants to be a writer, but who always second guesses themselves?
B: Just forget everything and write. Half the battle of being an author is getting the book done. There are always doubts when you write. Is this the right direction for the book? Will people like this? Will anyone want to read this? Will it be good enough? You will never get the answers if you don't try. And surprisingly you will find that there are people out there always looking for a new book. You just have to have the confidence (and thick enough skin) to put yourself out there. Don't worry about reviews or people who don't like your work. You will get people that love your books and make up for every person that doesn't.
R: Other than this one, what is the strangest question you have ever been asked?
B: I once did a blog post about the characters from The Legend of the Blue Eyes favorite foods. That was a hard one. I know many of my characters well, but to decide if they were a cherry or apple pie type of person was hard.
R: Are you on any social networking sites? If so, which ones and what are their addresses? Do you have an official website and/or YouTube page?
B: Website: www.bkristinmcmichael.com
Facebook: https://www.facebook.com/bkristinmcmichael
Twitter: https://twitter.com/bkmcmichael
Instagram: https://www.instagram.com/bkristinmcmichael/
YouTube: https://www.youtube.com/user/BKristinMcMichael
R: Is there anything else you would like to add or say to your readers?
B: Thanks so much for having me! For the book lovers and fans of my books, it's been fun writing all these different stories and even more fun to share it with everyone. Thank you for giving a new author a chance. For the aspiring writers, keep at it. Don't get discouraged and be brave enough to put yourself out there.
Picture sources: Her husband (first picture), Jessica Allain (book covers)
---
Ellen Langas is the author of the Girls Know How series of books that encourage tween readers to explore and pursue the careers of their dreams. Check out her website at www.girlsknowhow.com
R: How did Girls Know How get started? What gave you the idea for it?
E: When I was young, there were few female role models who held career leadership positions. I had trouble imagining myself in a variety of roles. Even though I was an honors student, my parents and teachers didn't encourage me to explore careers.  Fortunately, a teacher saw my potential and encouraged me to consider career options and develop skills and attitudes that would serve me well in the workplace. As my career in marketing unfolded, I wanted to pay that encouragement forward. I realized how encouragement by just one person could change a life. When my daughters Stephanie and Veronica were young, they loved chapter books, and that's when I realized that books would be an ideal way to introduce a variety of career opportunities in a fun way, creating characters and situations that girls could identify with.
R: Can you tell us about your books and/or give an example or summary of one of them in particular? What is the purpose of them? How do they inspire young girls?
E: The Girls Know How series encourages girls to explore and pursue the careers of their dreams. My latest book, Super Science Girls! explores the exciting world of science through the eyes of Sylvia and her best friend Kristen, who dream of winning the middle school science fair competition together. That is until Indra, the new "it" girl at school, tries to win Kristen's friendship and undermine their plans. Sylvia finds herself on the outside looking in as Kristen gets swept up into Indra's cool world of fashion and friends. She discovers that sometimes things aren't what they seem, as she learns the rewards of perseverance, the meaning of friendship and that being true to oneself is more important than winning. In addition, the book introduces experiments, the scientific method, women in science, plus activities and Girls Want to Know interviews. Each book includes a character based on a real-life role model. In Super Science Girls, one of the characters is based on a young science enthusiast who started an online maker show at the age of eight! Other books in the series introduce journalism, construction, and teaching. Books can be ordered, and free activity sheets can be downloaded, at girlsknowhow.com.
R: What did you do prior to starting your company?
E: I've spent my entire career in the marketing and communications field, and am an entrepreneur at heart. I had the good fortune of working at QVC, Inc. during its start-up. I began as an on-air program host and later became an officer of the company. It was exciting to have a hand in building a company with a team. My experience there was the perfect springboard to start my own company, NouSoma Communications, a public relations and branding company. Among our wide variety of clients, we have attracted many companies and brands that share our philosophy of supporting girls and women to pursue their unique goals. Having my own company has given me the flexibility to develop Girls Know How, which is my passion.
R: What are some of your future goals?
E: Through my company and book series, I hope to continue to provide inspiration, encouragement, and opportunity for girls and women to realize their dreams. For Girls Know How, I hope to expand our relationships with schools and organizations by providing career adventure workshops. I look forward to expanding my role as a youth career education advocate and writing more books for the series. I love to hear from girls to learn what careers they want to read and learn about next. I also hope to produce Girls Know How stories for video, TV or Internet. In my career, I look forward to learning more about digital technology innovations, and personally, I'd like to carve out a little more time for exercise and playing the piano.
R: When you were young, what did you want to be when you grew up?
E: I remember playing very creatively, setting up pretend restaurants, shops, and offices. I'm sure my mother cringed at the mess I would make, but I loved creating elaborate settings with whatever I could find. I could play for hours. I'm sure that was the beginning of my entrepreneurial spirit. I also loved to perform and organize home-spun shows. I think play is a wonderful way to spark imagination.
R: What advice do you have for the girls that are reading this article?
E: It's never too early to consider what you want to pursue as a career. I recommend exploring whatever interests you.  Some tips include:
Read about fields that interest you. Interview or job-shadow people who work in the field and absorb as much as you can.
It's important to start developing the skills that you will eventually need in the workplace. Good time management, communication, teamwork, leadership, and organizational skills will help you on the job and in every-day life.
There are plenty of ways you can develop skills at any age such as working at a part-time job, volunteering with a non-profit organization, taking a leadership role in a club, joining a sports team, helping with household chores, job-shadowing, and even starting your own entrepreneurial venture.
I want all girls to know that with hard work, perseverance and passion, they can achieve anything to which they set their minds.
---
Written by Jill Sheets
I was excited when I got Shana Schutte's new book Two Minutes in the Bible for Women. Even with a busy schedule, I knew even I could take two minutes out of my day to go over a Bible lesson. Whenever I read it, it seems liked Shana is talking to me–not like someone who has a degree in civil engineering, but in a language that is not over my head. Read on and learn more about Shana's new book, why it is important to give God thanks, and what her favorite verse is.
R: Tell us a little bit about yourself and about your new book Two Minutes in the Bible for Women.
S: If anyone reading this feels like they are unqualified for a particular task, I hope my life is an encouragement. I come from a little town in Southern Idaho. I have no formal education in journalism. I just learned how to write by practicing. I had a little dream in my heart to write books and when I started to move in that direction, God met my desires with circumstances that validated that was what He had for me to do.
The book is designed to encourage readers to get into God's Word. One thing about it is that you can just read the devotional. Or, you can also look up extra scriptures at the end that are listed for reading and you can also think about the devotional by reflecting on how it applies to you.
All the topics are those for the feminine heart: faith, relationships, and purpose. I have written about waiting on God, trusting Him when life falls apart, and everything in between. It's really just a book about dealing with life.
R: How did you come up with the idea for the book? How long did it take you to write this book?
S: That's a common question. I wish I had an incredible story about how I was lying in bed one night and got the revelation to write a Two Minutes in the Bible book, but I didn't come up with this wonderful idea. The Two Minute brand was actually developed by Boyd Bailey, who is the president of Wisdom Hunters. Boyd had already written several books under the Two Minute brand for Harvest House publishers, and he asked if I would be willing to write another for women. I immediately said, "Yes!" I love Wisdom Hunters and I highly respect Boyd, so it was an easy decision.
I didn't sit down and focus on writing the book in a short period. I feel that devotionals are best written as one experiences life. That way, the words I share come from real-time lessons I am learning with Christ. So, all together, it took about a couple years to write the book.
R: Why is it important to give God thanks?
S: Many people see gratitude as being kind of a fluffy thing, sort of like cotton candy. They think it's a feel-good practice that is nice to do if you want to be a nice Christian. But gratitude is a whole lot more than that. It's actually protection for the human heart. When you're feeling down about life and the enemy of your soul starts to beat you up with negative thoughts, gratitude raises you above the trouble to His perspective. It guards your heart against despair.
R: This is hard for me to do, but how can one let go of fear and worry by trusting God?
S:  This is a moment-by-moment thing, but I believe one powerful thing to do is to look forward to what God is going to do with anticipation. When you look forward with anticipation and faith, then the worry of the moment vanishes. If we are focused on what bad could happen, worry overtakes us. But when we choose belief, even though our emotions might be saying otherwise, it makes life a whole lot easier.
R: How can one practice gratitude?
S: You can practice gratitude by telling God out loud what you are grateful for. You can practice gratitude by telling others that you thankful for them. You can make it a daily habit to notice the beauty around you. And, when things don't go the way you'd like them to, you can "reframe" what happened to you by asking yourself, "What good has come out of this situation? How have I learned? How have I grown? How can God change me for good because of what happened to me?"
R: What can one do to achieve their calling? How does one know what their calling is?
S: Sometimes people think of a calling as one thing they do in their life. And they think that a calling is something that only happens at one particular point in time. However, a calling is like a journey. If you aren't doing what you believe is your calling right now, a good thing to remember is that there is preparation time before you will complete a particular task. And the preparation is as important as the actual calling. God is always at work in our lives. I think remembering this is good because it will prevent you from experiencing sadness or despair if you feel like you haven't "arrived."
We can have multiple callings in our lives: to be a good friend, to serve at church in the choir, to be a teacher. We may do those all at once, or at different seasons.
All of God's kids can use their gifts to glorify God. One way to know what God has called you to do is to look at the intersection of your passions and your talents or God-given abilities. If you like to do something and you are pretty good at it (or at least you have the seeds of the gift that you can grow), then you might have a calling in a particular area.
R: What do you want people to take away from this book?
S: My hope is that women and young women who read the book will become more encouraged to spend time in the Bible. Sometimes, we feel like we have to spend lots of time in the Bible, and then when we can't we feel guilty. But no one has to spend an hour in the Bible every day. If you can, great. But God isn't grading us. It's nice to take the pressure off and spend just two minutes a day with Jesus. God can speak to our hearts in a second.
R: What is Beyond Imagination?
S: Beyond Imagination is an organization I founded in 2008 that is dedicated to helping people with everyday life through biblical truths. Through Beyond Imagination, I do speaking, I write blogs and devotionals, and I have had a nationwide radio platform.
R: Tell us about Blueprint for Life and Wisdom Hunters.
S: Blueprint for Life is an organization based in Atlanta that helps people discover and live out their calling. It was founded by Mike Kendrick, and I wrote devotionals for them for a couple years. Wisdom Hunters is dedicated to improving biblical literacy. I have been writing for them for a couple years as well. Both organizations publish daily devotionals and can be found online at blueprintforlife.com and wisdomhunters.com.
R: What is your favorite verse and why?
S: I don't really have a favorite verse, as so many of them have been so impactful to me over the years, but I particularly love Isaiah 61:1-3.
The Spirit of the Sovereign Lord is on me,
    because the Lord has anointed me
    to proclaim good news to the poor.
He has sent me to bind up the brokenhearted,
    to proclaim freedom for the captives
    and release from darkness for the prisoners,
2 to proclaim the year of the Lord's favor
    and the day of vengeance of our God,
to comfort all who mourn,
3     and provide for those who grieve in Zion—
to bestow on them a crown of beauty
    instead of ashes,
the oil of joy
    instead of mourning,
and a garment of praise
    instead of a spirit of despair.
They will be called oaks of righteousness,
    a planting of the Lord
    for the display of his splendor.
When I was in my early twenties on the way back from a young adult retreat, the Lord gave this passage to me while on a bus. I sensed that He was revealing to me that I would spend my life working with Him to bind up the brokenhearted. For a long time that didn't make sense to me, but a few years ago, I looked back and realized that's exactly what I have spent my adult life doing—and continue to do through the words He gives me.
R: Tell us about your blog and about some of the topics you talk about.
S: I have been blogging and writing devotionals regularly for five years. I didn't sit down and decide ahead of time that I would write about particular topics. However, the topics I write about are generally about faith, purpose, and relationships.
I usually write from the things that God is teaching me through life, or what I am learning through the Bible. I have always thought that the most powerful lessons we can share with others are those that we have experienced ourselves. So, I try to be a funnel and be pretty transparent.
R: Tell us a little bit about you other book.
S: I have written several other books: Betrayed by God? Making Sense of Your Expectations. It's about dealing with the disappointment we all face when life doesn't turn out how we would like. I've written 30 Days of Hope, which is another devotional inspired from the blogs on my website. I've also contributed to several God Hearts Me devotionals for tweens and have ghost-written a couple books for a good friend who lives in Georgia. One was self-published, The Fulfillment Factor, which is about finding fulfillment through discovering and living out a calling God has for your life, and also Blueprint for Life, which is the same idea, published with Harper Collins.
R: What are you currently working on?
S: I actually just started creating new content for singles over age thirty. I am working on an online course for that group as well as a new website. We will see where God takes me. There are over fifty percent single adults in the U.S. for the first time in history, and many of them want to marry and are hurting. I didn't marry until I was forty-six, so I understand that pain of being an older single, so I want to encourage that group.
R: Where can people get your books?
S: They can get them at shanaschutte.com.
R: Shana, thank you for the interview. Have a great day.
S: You are so welcome. It was my pleasure.
---