Looking for that perfect after-school job or planning for a part-time summer job? Or maybe you are lucky enough that you don't have to get a job until you are an adult living on your own. No matter your situation, finding the right job is tough, especially in today's competitive market. Stay on top of everything you need to know to land the right job for you!
And find great advice from inspirational, driven girls just like you who have succeeded in their job or career dreams or have started their own business! When you hear their stories, we're sure you will keep working toward your own goals!
Caring for people or earning big. It feels like we're conditioned to see our career potential as one or the other. Either we go for the big bucks in the corporate world, or we accept lower wages in order to feel like we're making a difference. But it doesn't have to be that way. There are careers out there that offer job satisfaction in spades along with great rates of pay. Take a look…
Police Chief
Traditionally a male job, over the last few decades more and more women have been going into police work. There's a huge variety of roles on offer, from desk based administration support to apprehending criminal suspects. Caring skills are also required to deal tactfully with delicate situations and support victims of abuse. It's a position that can bring an enormous amount of satisfaction for the social justice advocates out there. Starting salaries are good but become a department chief and you're looking at big money plus a healthy dose of job satisfaction through making the world a safer place. A police foundations course can help you decide if it's the right environment for you.
Veterinary Surgeon
Caring for animals is a strong draw for some of us, so getting to work with them everyday and improve their lives is not only a fulfilling career but one that pays well. Full time degrees usually take 5 years to complete and you will also be required to undertake practical work experience. Many vets end up running their own practices, where they have the opportunity to grow their salaries and some become consultant specialists. It's a job that can be physically demanding at times but is a great occupation for those who love to deal with animals.
Dermatologist
It may seem niche, but becoming a dermatologist is actually one of the best paying medical specialisms after surgery. Dermatologists study for many years to become skin experts, and find themselves helping patients with a variety of complex conditions- the results of this treatment can be life-changing for patients, including the treatment of skin cancer. Strong exam results in biology and chemistry can help with selection for a place at medical school, with a graduate specialty requiring further years of study and on placement learning surgical skills particular to skin, including excursions, biopsies and cryotherapy.
Speech Therapist
Supporting patients with communication problems is an area that's highly rewarding as it involves a time investment and tangible evidence of progress. A degree in speech and language therapy is a requirement, but if you've taken a science or language based subject there are 2 year fast track courses available plus some funding for courses. The job is creatively skilled – working with children to turn therapy into a game and you'll need to be motivating and good at quickly establishing relationships. Developing a treatment plan and seeing a patient progress  is an activity that can really give job satisfaction, plus pay scales will put you in the high earners bracket. If you like a challenge and have patience, this could be the ideal career.
---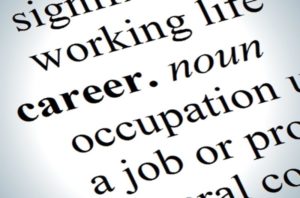 There's a lot of pressure as you grow up in education to know exactly where you're heading in your future and what career path you want to be on. It can be quite distressing when everyone else you know seems to have a plan, but when they ask you the dreaded question, your mind goes blank. Here are some smart moves, whether you're still in education or not, to help you decide which career path you want to travel down.
If You're Still In Compulsory Education:
First off, focus on the core subjects that will give you a good knowledge base for any career journey: Maths, English, and Science. These three are the basics needed for any entry-level job, and if you do decide to go onto further education, they will specifically look at the grades you achieved for these subjects. These subjects tend to have a lot of overlap with each other, and the computational and analytical skills learned, will be relevant to almost any subject or skill you wish to study further. You may also want to consider learning a language. Being fluent in another dialect could open a lot of doors with any career you may decide to go into. You could use it to increase your employability in various fields (marketing, engineering, the list goes on), or you could find work as a translator. As soon as you are legally able to work, be sure that you do. This will enable you to gain both experience and good references about your work ethic. This will show that you are driven, hard-working and up for a challenge.
If You've Finished Compulsory Education:
If you have finished compulsory education and are looking for your next step, there are quite a few options that won't tie you down to a career that you aren't fully invested in. First, you will need to analyze your skills, strengths, and what you enjoy doing. Typically, nine times out of ten, there will be a career opportunity in what you enjoy – it just might be a tricky path to go down. It could be that having thought about your skills and interests you now know what you want to do, but are not qualified enough to gain a position. At this point, you should look into increasing the relevant qualifications to your chosen career. A foundation degree is a great way of gaining further education without being out of work for too long, as they only take a year. You could even work part-time alongside your study. However, if leaving full-time work is not an option for you, you may want to consider studying in the evening or in your spare time. An online MBA program in marketing could be one of a huge selection of options to help raise your profile in a competitive field and secure you a job in your dream career.
Hopefully, this has eased your worries about not knowing what path to go down, and given you some tips and ideas that will help you to come to a decision in the not so distant future. If not, keep doing what you're doing, and striving for success, you may find that you land on your dream path without even realizing that's where you wanted to be until you got there.
---
No one should expect a young person with little professional experience to know exactly how things go down in the professional world. Sooner or later, you will learn the ropes but it can definitely help to have your horizons broadened before you delve in and start working hard.
You're about to learn about some of the things you really should know about working and gaining experience as an employee. Each of the points raised will help you navigate the work world easier and faster, so carry on reading.
A Big Part of Career Progression Will be About Personal Relationships
You're probably already thinking about how you can expand your career horizons and move onto bigger and better things in the years ahead. First of all, it's important to realize that personal relationships can matter as much as the work you do. As they say, it's not what you know but who you know in the world of business so focus on cultivating strong relationships.
You Have Rights and You Might Have to Defend Them
Every worker has employment rights that must be upheld by the company that employs them. Sadly, this is something that not all new professionals are informed about when they start working. You should get to know your rights and if you ever feel that they're being infringed, contact people like Anderson Gray lawyers. Sometimes, you will have to defend those rights.
A Company's Culture Won't Bend to Accommodate You
Every company has its own way of doing things and its own way of interacting internally. Generally, this is referred to as the company culture; it's all about how the company operates on the ground level each day. As a new person, you will need to slot into place and find your place within the existing culture and structure because it's not going to bend or change to accommodate you.
You Will Learn as You Work
If you're stepping into your first job worried about the gaps in your knowledge, you should calm down and not worry so much. The truth is no one arrives at their first job as a fully formed professional and no one would expect that from you. As you do the job, you will learn new things and develop new skills you previously never thought you'd have.
Not Everyone Who's Your Senior Will be Superior
You will get used to working with people who have been doing their jobs for much longer than you have been doing yours. As you do this, you will probably assume that these wise and experienced people have much more to contribute than you, and in certain ways that can be true. But you should also remember that not everyone who's your senior is also your superior in terms of talent.
Navigating the world of work when you're a young person just entering it for the first time always presents you with challenges but now you know these things, you'll be in a much better position to succeed early on.
---