Looking for that perfect after-school job or planning for a part-time summer job? Or maybe you are lucky enough that you don't have to get a job until you are an adult living on your own. No matter your situation, finding the right job is tough, especially in today's competitive market. Stay on top of everything you need to know to land the right job for you!
And find great advice from inspirational, driven girls just like you who have succeeded in their job or career dreams or have started their own business! When you hear their stories, we're sure you will keep working toward your own goals!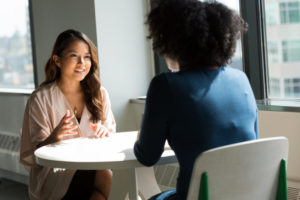 When we think about the future we often think about the job we'll be doing. Let's face it, a working week is made up of at least seven hours work for five days. This is a huge amount of time in our weeks, months, years, in our lives even. When we spend so much of our time at our job it makes sense to do something we love. Of course, to get there you will have to work hard. The reward for all that hard work? Your dream job to wake up to every day.
Step 1: Pinpointing Your Potential Career
The first step to landing your dream job is to find out what it is. This sounds fairly obvious but some people find it more difficult than others. You don't have to rush this step, but it's something to keep in the back of your mind. As you learn about new subjects, cultures, sports, you'll find out what you're passionate about and love doing.
It's also worth keeping in mind that pretty much any hobby can be turned into a career. Painters, sports players, writers, there are even video game testers! So don't worry if your passion isn't educational. It could still be a viable source of income in the future. Take massage therapists, for instance. This career involves a passion for the body, how it works, and for doing a practical hands-on job. You can even work remotely from your own home. Massage SOAP Notes has also meant that therapists can now go paperless. This means more time spent doing what you love and less time filing! However obscure your interests, cherish and nurture them.
Step 2: Figuring Out A Career Path
The best way to do this is to speak to someone who is doing your dream job. Failing that, do some research online to see if there's any advice. You'll need to find out what skills or qualifications you'll need to land your dream job. A careers advisor at school may also be able to give you some helpful pointers. Remember, you won't land your dream job overnight. Work out how long it will take you to gain the necessary experience and qualifications you'll need. Then you can map out a plan for your career path.
Step 3: Getting Some Experience
It goes without saying that you'll need certain qualifications to do your dream job, but real world experience is important too. When it comes to looking for a job, there's fierce competition. Whilst lots of people may have qualifications, it takes a determined and motivated person to seek real experience. So if you love makeup, why don't you arrange to shadow a makeup artist for a week in the holidays? That way you can determine whether or not the career is for you, and pick up some tips. Similarly, if you love writing, why not see if your local newspaper has any work experience opportunities. These kinds of experiences are valued highly by employers.
Step 4: Persevere
Go to as many interviews as you can and don't give up. Most successful people don't land their dream job at the first interview. Learn from any rejections or knockbacks you may have, and use it to fuel your ambition.
---
Biology is a relatively popular pursuit in this country, A lot of people assume that biology majors will probably just go on to go to medical school and become doctors, but this isn't always the case. In fact, there are many people out there who love biology but didn't study it in school – and even they can still pursue certain careers relating to biology!
Here are some job options you may want to consider if you're interested in biology.
Nutrition
A lot of people have misconceptions about professionals in nutrition. They think that they're just people who get paid too much to regurgitate diet tips to people who need to lose weight. But a nutritionist needs to be much more than this. People with any health issue that is affected by their diet should work with a nutritionist to keep themselves healthy and safe. Nutritionists need to know a lot about biology – especially biochemistry.
Blood science
Imagine telling your friends that you're a "blood scientist". Almost sounds like a name for a death metal band. Blood scientists don't all require medical school degrees – they're often technicians and assistants who simply need to take a training course and have a deep knowledge of biology. This is often the case in phlebotomy, where many people who are considering a job in blood science will turn. You should check this site out if you want to know more about starting a career in phlebotomy.
Writing
Science writing can take many forms. You may be a contributor to a science magazine, either for kids or adults. You may write news articles or biology education articles for blogs. You can even look into proofreading and editing of scientific papers, or work as a consultant for others writers. People often forget to consider the world of writing when they're looking into science-related work, and there's a lot more demand for writers with a knowledge of biology than you may think.
Forensics
If you have a degree in biology, you can look into becoming a crime scene examiner or a crime laboratory analyst. Becoming a medical examiner or a forensic pathologist will require time at medical school, but the other options generally just require knowledge of both biology and criminal law as well as some time in a training course. The two I mentioned may even require some time at a police academy, though it won't be quite as intense as what those training to become police should be going through.
Conservation
You've probably already heard it: humans are using up natural resources at such a fast rate that the Earth just can't keep up when it comes to replenishing those resources. To many, this signals that our time on this Earth is more limited than most people think. That's why conservation work is more important – and more in-demand – than ever. People with an interest in biology can certainly get involved. Collecting and analyzing samples – crucial work for conservationists who need to track the effects we're reaping upon the environment so we can better know what to do about it – is perfect work for a biology buff.
---
As a young person, you have the world at your feet and endless time to work out what you want to do with your life, but that doesn't mean that now isn't the perfect time to start thinking about your dream job and the steps you will have to take if you want to get it.
Of course, not everyone knows what they want to do for the rest of their life when they're very young, but if you're one of those people who's always wanted to be a vet or who has dreamed of being an artist since you were four years old, here are some tips that will help you as you chase your dream job. They might not be as simple as the suggestions in the image above, but they'll get you there in the end!
Study Hard
Whatever you want to do in your life, chances are it will not be offered up to you on a silver platter, which means that you will need to work hard. Studying will not only ensure you will be accepted to the college of your choice, but as you can see by looking at this scholarship at Parenting Pod, it will help you to secure scholarships, which will support you during your future studies, and ensure that you graduate with a good degree.
Get Involved in Extracurricular Activities
Whether you're in high school, college or doing an apprenticeship, it never hurts to take up a few extracurricular activities in the field you'd like to be a part of one day. It'll show future employers that you have a genuine interest starting a career in the field, give you lots of experience and, if you start before you go to college, it'll give you a good idea of whether you really do want to work as a nurse/programmer/social worker/, etc. or not.
Become an Intern
Interns give you invaluable learning experience which will look great on your resume, especially if you can find a position with one of the top companies in your chosen field. Ideally, you will probably want to look for a paid internship where you will be able to earn money and learn skills, but in many cases, it is worth taking up a short unpaid position because of the contacts and experience you will build as a result.
Network
Thanks to social media, it has never been simpler to talk to people you'd never have gotten close to in the past. There are hundreds of example of aspirational young people setting up meetings with big company CEOs for help, advice and even interviews, simply by connecting with them online. So, although you don't have to go to the CEO, it will certainly be of some benefit for you to connect with as many people who are currently working your dream job, or who have the power to hire you for it, as you can.
Chase Your Dream
Doing all of the above will certainly help you on your way, but if you really want to secure your dream job, you need to set your resolve and refuse to give up the chase. Persistence often pays off when other methods have failed miserably, so don't give up and never stop chasing your dreams – you'll get there in the end.
---