Lets face it. School is a huge part of your life, whether you want it to be or not. Might as well make the most of it! We help make sure you get the grade, get involved and actually enjoy your busy school days.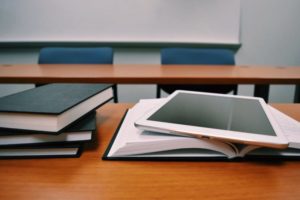 It's a really common assumption that if we are a great student at school, then we should automatically go on to study at college right? Wrong, or at least, not necessarily. There are a huge amount of choices available now after school, that means that college is no longer the only positive next step after graduating from school.
If you are unsure about whether college is going to be right for you or not then consider our following three questions to try and help you figure it all out.
Do You Enjoy Learning?
This might sound a little bit silly, but actually it is the first thing that you should consider. The college life can seem very fun and free to those looking to leave home and become independent, however the different level of learning at college can be a real shock to the system to students who are more focused on the fun and sociable side, than the actual studying side of things. If you love to learn and you are thirsty to really delve into a specialised area of study then that is a very positive sign that you are going to college for the right reason and that you will get a huge amount out of the experience.
Do You Have a Specific Career in Mind?
It is a lot of pressure for young people to start making decisions that will impact their entire future. One of the main problems is knowing what you want to do in the first place. Choosing a career is a big deal and that doesn't come easy to most. So you must be spending time really thinking about the types of careers that you think would best suit you, your interests, passions and skills. There are many careers that you can go into directly from school without having to go to college. If you know that you want to be a doctor or nurse, for example then you know that you are going to have to start looking into medical schools. If you want to become a teacher you know you are going to need to train for that. The same with many different careers. There are just some careers that do need a college degree.
There are also many that don't, however. There are some careers that will certainly benefit from degrees but nowadays sometimes choose work experience over three years of studying. Careers such as Marketing and Journalism, historically all required a degree, and whilst of course they do help there are many companies that will take you on based on raw talent and a real desire to learn. So, as you can see it is important to start working through the types of careers that you are interested and the best path to get a job in that industry.
With so many different options these days other than college, gap years, work experience, apprenticeships and trainee programmes, for example, it's no wonder that the 'college or no college' question is more debated now, than ever before. Consider the two questions above and talk to your friends and family until you come to a decision that makes you feel happy, confident and ready to move forward into this exciting new chapter of your young adult life.
---
What do you do after school? Go round to a friend's house and play Call of Duty? Maybe you like to chill in front of the TV and do nothing? After all, you are a high school student and you don't have any worries in the world. Sorry to be the bearer of bad news, but it is a barefaced lie. You see, even at your young age, it is essential to think about the future. Okay, so working in an office seems years away, plus you just want to focus on getting through high school alive. That's understandable. But, if you don't keep your future in mind, here's what could happen.
You Won't Get Into College
A milestone on every high-schooler's horizon is college. God, you can't wait to leave home and live alone with your friends and peers. And afterwards, you will land a dream job straight after graduation. Well, this scenario might not play out the right way if you are not career focused. Universities are competitive, and they only accept the brightest and the best. Lots of applicants have good grades, which is why colleges use extracurricular activities as a marker. A person with experience in their field is more likely to get accepted as a result.
You Won't Waste Time Or Money
Just because college seems like the right option doesn't mean it is. Let's face it – most people go because they want to please their parents or have no other options. And, there is nothing wrong with that if you are in this particular boat. But, it is worth remembering that higher education is expensive, very much so. The average tuition fees in the US are $22,000 a year. If you don't have Jay-Z money, it is a lot of money. But, by considering your options beforehand, you might not have to go. Then, you'll have an extra few grand to spend on the main things in life, like a sound system for your car.
You'll Be More Competitive
So, you have just read an article on the 4 Best Tattoo Inks that make you a Better Artist and want to be a tattooist? Great – at least you are thinking ahead. Unfortunately, the odds are high that lots of other people have come across the post, too. And, if they have, the competition is bound to be stiffer. So, although it's early, you have to strike now before the ink dries. Otherwise, the proactive geeks will learn more and steal an early lead.
You'll Start A Network
Say you do want to be a tattoo artist, the key is a support system. In fact, contacts are the key to success in any field. Teachers will tell you to work hard and have drive and ambition, and they are sort of right. But, you also need a helping hand from time to time, and this is where your contact book comes in handy. When you are fighting for a place in a tattoo chair, a favour from a friend work wonders.
Ultimately, the earlier you begin, the better your chances of following your dreams. Hey man, don't shoot the messenger!
---
As a student, you have a lot of work to do. Learning a new skill or several complex subjects can be very difficult. You have to attend lectures, classes, study sessions, and loads of other educational activities. With all of this work, you have a lot to store in your head. After weeks of learning and studying, this becomes a struggle. And, so, you need a way to give you mind a break. In most cases, the best way to do this is in the form of notes. To help you out with this, this post will be going through the different tools you can use to get this job done. Now, you just need to get writing.
For speed, a lot of people find that their digital devices are best for their notetaking. In the modern world, typing is much more common than writing with your hands. And, this means that most people are more proficient with a keyboard. The best device for typing at school or college is a laptop. You don't need something very powerful, so a Chromebook or other low-powered laptop could be the best option. Or, for those on a lower budget, you could also get a cheap tablet with a BlueTooth keyboard. Typing gives you the chance to save your files all in the same place, limiting the chance that you will lose them. With modern tools like Google Docs, it's possible to handle nearly all of your work from your computer. But, of course, traditional notetaking still has its place.
To start, you should have a paper notebook along with any digital devices you own. Being able to write on paper is better for your memory than typing. And, a lot of people like to make sketches to help their work. Along with this, it can be very helpful to have paper versions of your textbooks. Digital copies are usually cheaper or even free. But, the real thing will give you the chance to add your own notes and make easy additions. This sort of reference material can be perfect when you're revising. And, most good establishments will even recommend it. When making paper notes, you can learn a clever filing system to make it easier to find the parts you need.
Finally, you won't be able to get very far with your notes without some stationary to go along with it. The items you buy will depend on the way that you like to take notes. Some people will want to have highlighter pens, to make parts of their work extra-visible. And, other people will want to have byros to make their work look professional. You should always buy stationery online, to avoid the steep prices a lot of physical shops will present you with. This will give you the greatest selection of goods. And, it will enable you to look up reviews of the good you like. These resources are essential if you want to get the best products for your money.
Hopefully, this will give you a good idea of what can be done to optimize your note taking abilities. As a student, you need to do everything you can to remember what you're learning. Having a good set of notes can be the very best way to achieve this.
---