Lets face it. School is a huge part of your life, whether you want it to be or not. Might as well make the most of it! We help make sure you get the grade, get involved and actually enjoy your busy school days.
If you are both in higher education and in some kind of work, then you might often find that it can be quite stressful keeping on top of everything. It goes without saying that you don't want either your school nor your work life to be damaged by the busy schedule, but that can be easier said than done. Like many others, you might be stressing out about how to actually make it work as a lifestyle. Fortunately, there are plenty of things you can do to improve the situation and ensure that you stay on top of it as best as you can. In this article, we are going to discuss some of the best ways to do just that, so you can get the most out of both your school life and your work life.
Schedule Your Time
If you are routinely feeling as though you don't have time for anything, you might need to take a step back and look at how you are actually using that time. It might well be possible that you are not properly scheduling your hours in the day. In this case, it's all too likely that neither school nor work are getting the time they need. If you think you might need to schedule your days a little better, there is plenty you can do on this front. Let's take a closer look at this now.
Bear in mind that some parts of your day are inflexible. These include working hours and class hours. Fit those into your schedule first, as they cannot be changed. Then you need to make the rest of your schedule as flexible as you can, while incorporating those other spects as well. This means that you can easily change them around if you need to – this will be useful as studying can change throughout the year, depending on what point of the semester you are in. You need to be ready to adapt to new assignments and so on, so this is vital to work out beforehand. As long as you have a good, flexible schedule, you will find it a lot easier to stay on top of your work and your schoolwork, and neither will suffer as much that way.
Learn To Prioritize
There might be times when you need to accept that you cannot do everything at once. You often just don't have the time to do this, and it means that you need to learn how to prioritize as best as you can. Fortunately, this is an easy skill to learn, even if it is not always simple to put into practice. Learning to prioritize means having a strong understanding of what is important and what can probably be left alone for now. This will take time to develop this skill, but nonetheless it is a vital one which you should work on harboring if you are serious about juggling work and school to your best efforts. You can then work on beating procrastination, which is often caused by a lack of prioritization, by breaking down the important jobs in manageable chunks, before moving onto the less important ones after that. Do this, and you will find it makes a huge difference to your studies and your work.
The Value Of Time Off
If you read through this guide: Tips for Going to School While Working as a Full-Time RN, you will see that one of the major suggestions is to find a way to value your time off. The truth is that time off is not just nice to do – it is actually important. This is because, by giving yourself a break every now and then, you come back to the schoolwork – or the work – refreshed, and often with a better understanding of what you need to do, or a firmer comprehension of the material you have been studying. With enough time off, you will also be able to deal with the many stresses of studying and working, as it will give you a chance to relax properly and fully. If you don't feel that you are getting enough time off, you should find a way to work it into your schedule. Don't be angry at yourself for needing it – it is a perfectly valid human need, and one which will actually help you in the long run much more than not having it at all.
Picking Your Employer
It's likely that you might want to change jobs at some point. You might find that it is no longer serving you very well, or that it has become especially difficult to keep up to date with your schoolwork. In that case, you should allow yourself the freedom to take a different job, as ultimately it is entirely up to you who you work for and why you do it. Go for something that is related to your schoolwork, if you can. If not, then just go for something that is the least hours possible in order to continue comfortably living your life. This way, you can devote as much energy as you need to on your studies, and you won't constantly be tired or stressed out from work. Picking an employer which is likely to be sympathetic to your studying needs is also important. They will be more likely to be flexible with your hours and holiday, and that alone can really help to keep your studies in check in the long run.
The act of juggling work and school can be a notoriously difficult one. However, it is a noble thing to be attempting, and you should be proud for doing it. As long as you learn to prioritize, take time off when necessary, and enjoy the process on the whole, you should find that you get from the experience everything you need to get from it. You will also learn a number of skills which can carry over into your life after this period of time is done with.
---
There is so much pressure on young people to perform well at school these days that finding time to fit everything in and get amazing test scores feels impossible! With the stresses and strains of life pulling you in every direction, what should you be prioritizing to get you to where you want to be? Are you even going to survive school?!
Getting organized now and figuring out what you should be doing will really help you in the long term. Here are a few of the things you could be doing to keep everything under control and achieve the best results you can.
Study and Revise
It's easy to say, but less easy to do. All the information you need to take on board might feel impossible but if you start early enough and you are sensible about the way you work, it should be more manageable.
Don't leave it all to the last minute! Create a study timetable for yourself to figure out what you are going to study and when. Your teachers will be able to help with this if you aren't sure what you should be doing. For each subject, create revision notes. The aim of these notes is to trigger memories rather than learn by rote so don't write absolutely everything down.
If you want to boost your chances even more, SAT tutoring is a good route to success. With professional SAT tutors, you will be able to learn quickly and methodically, all with the intention of scoring a perfect SAT result.
Make Time For Friends
Having a social life at the same time as studying might sound impossible, but it shouldn't be. If you feel guilty when you are with your friends, but also guilty when you aren't, you need to readdress your work/life balance. Try setting up study groups together so that you can help each other out.
Relaxing is just as important as studying, though, and you need time to let all the knowledge you are cramming in settle. Have fun together and go out for long walks or to the movies to clear your mind. Also, make time to tell each other about how your studies are going – your friends are a great source of reassurance and support and you should all make use of each other. Besides they might have study tips you haven't thought of!
Stay Healthy
Unfortunately the high energy foods you crave when you revise aren't always that good for you. Try to eat healthy foods with plenty of vitamins and minerals to keep your brain going through those long hours of study. If you are finding it hard to concentrate, take a run around the block to reenergise yourself and clear your head. Sleep is also really important as it helps you to recall what you have studied later.
SATs are tough and there is a lot of pressure to get perfect scores but the most important this is that you do your best. Don't give up, keep going and good luck!
---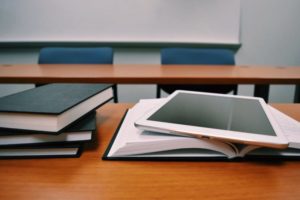 It's a really common assumption that if we are a great student at school, then we should automatically go on to study at college right? Wrong, or at least, not necessarily. There are a huge amount of choices available now after school, that means that college is no longer the only positive next step after graduating from school.
If you are unsure about whether college is going to be right for you or not then consider our following three questions to try and help you figure it all out.
Do You Enjoy Learning?
This might sound a little bit silly, but actually it is the first thing that you should consider. The college life can seem very fun and free to those looking to leave home and become independent, however the different level of learning at college can be a real shock to the system to students who are more focused on the fun and sociable side, than the actual studying side of things. If you love to learn and you are thirsty to really delve into a specialised area of study then that is a very positive sign that you are going to college for the right reason and that you will get a huge amount out of the experience.
Do You Have a Specific Career in Mind?
It is a lot of pressure for young people to start making decisions that will impact their entire future. One of the main problems is knowing what you want to do in the first place. Choosing a career is a big deal and that doesn't come easy to most. So you must be spending time really thinking about the types of careers that you think would best suit you, your interests, passions and skills. There are many careers that you can go into directly from school without having to go to college. If you know that you want to be a doctor or nurse, for example then you know that you are going to have to start looking into medical schools. If you want to become a teacher you know you are going to need to train for that. The same with many different careers. There are just some careers that do need a college degree.
There are also many that don't, however. There are some careers that will certainly benefit from degrees but nowadays sometimes choose work experience over three years of studying. Careers such as Marketing and Journalism, historically all required a degree, and whilst of course they do help there are many companies that will take you on based on raw talent and a real desire to learn. So, as you can see it is important to start working through the types of careers that you are interested and the best path to get a job in that industry.
With so many different options these days other than college, gap years, work experience, apprenticeships and trainee programmes, for example, it's no wonder that the 'college or no college' question is more debated now, than ever before. Consider the two questions above and talk to your friends and family until you come to a decision that makes you feel happy, confident and ready to move forward into this exciting new chapter of your young adult life.
---