It's hard to not be at least a little obsessed with guys. After all, we are wired to fantasize about the perfect guy who will sweep us off our feet. We keep a realistic and appropriate perspective on guys and give you advice that you will actually want to follow. Because it isn't all about sex, we help your guy relationships stay safe and FUN!
It's always a tough one when we are back on the dating pile. After all, as well as having to get over your ex, you are now have to accept you're single again. This can be tricky when friends around you are all loved up. And it can lead girls to feel low that they are on their own. But singledom doesn't have to be the end of the world. In fact, here are some reasons why you should embrace singledom!
You can do things for yourself
When we are in a relationship, a lot of our time is spent with our other half. And rather than doing things for yourself, it tends to be about them. But it means you are not getting to do things you really love. And you might not be getting to make the most of experiences like going out while at college. Also, a lot of girls put their buddies on the backburner while they spend time with their man. Therefore, now you have entered single life, you can start doing things you really want to do again. Join that class you have fancied for ages. And go on nights out with the other freshers to get to know people. You might even want to organize a trip during the summer with your buddies. After all, these is nothing better than getting away in the sun with your friends!
You can go on many dates with different guys
While being loved up in a relationship can be amazing, it means you are stuck with just one guy. And it means you are not getting to meet other dudes who could be the right one for you. While dating can be stressful, it can actually be a lot of fun. After all, not are you only getting to learn about these new men, but you get to go on a wealth of fun dates too. And a lot of the time, you won't have to even pay to enjoy activities like dining in fab restaurants and heading to the movies. And while you feel like you need to call a psychic hotline to see if love is ahead with one of these fellas, you should just embrace the time dating. After all, what is the rush to settle down when you are getting to enjoy a wealth of exciting dates!
You might not be single for long
A lot of us fear that we will be single forever after a relationship ends. But it's most likely that you will meet someone around the corner. And then you will be tied down in a relationship. Therefore, you should embrace singledom as it doesn't come round very often! Therefore, don't spend your time in singledom feeling blue. Go out and enjoy yourself while you are on your own. Spend some quality time with your besties. After all, you might barely see each other now you are all busy with work or college! And spend time with your own family. After all, when you are with someone else, you have to split time between both sets of 'rents. So take the time to enjoy spending time with just your family while you're single!
And a lot of people say being single is the happiest time of their life!
---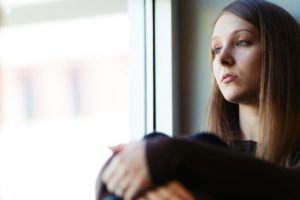 In the first few months of a relationship, couples go through the honeymoon phase. There are actual physiological changes in the brain that intensify favorable feelings towards a new partner. Even if something seems slightly off, it's easy to overlook when you're wearing rose-colored glasses. But as you begin to settle into the relationship and you both let your guard down, you may begin to see things you didn't notice before.
This is often the case when a person has an alcohol or drug addiction. Many addicts are ashamed of their addiction and will go to great lengths to hide it from a new partner. They may even keep entire segments of their life secret to prevent a new partner from catching on to their addiction.
When you're out of the honeymoon phase, you're less likely to convince yourself that everything is fine when it isn't. For some the natural instinct is to cut ties before there's more emotional investment. But what if you're willing to help your new partner get past their addiction? How can a couple cope with addiction without the relationship falling apart?
Carefully Consider Rehab
Rehab isn't always the first step, but the health experts at Sandysplace.com note that it is an important one on the road to recovery. Their facility specializes in helping women overcome addiction by offering a variety of in-patient and out-patient programs.
Often people need professional help getting over an addiction. The extent of their addiction and how it's impacting their quality of life should help guide you towards the best rehab program. Another factor is the person's living and working environments. Getting over an addiction is much harder if a person is around drugs and alcohol on a regular basis.
Have an Open, Honest Conversation While They're Sober
Addiction is something that will make many people leave a relationship because it's not an easy problem to fix. However, most couples try to work through it together before coming to that conclusion.
The first thing you should do if you suspect your new partner may have a drug and/or alcohol addiction is to talk to them. Wait until they are sober to have the conversation, or it could end up being more destructive than productive.
Discuss your concerns and feelings, but avoid passing judgment, which may make your partner defensive. Let your partner know that your main priority is helping them get past addiction and on the road to recovery. Ask them how you can help and show initiative to live up to your promise right away.
Keep in mind that addiction isn't something that's easy for people to talk about. Often it's connected to psychological distress that could be the result of a traumatizing event in their past.
Set Boundaries
If your partner is receptive and open to addressing their addiction, you'll need to set boundaries. Setting boundaries is beneficial for several reasons:
It provides a consequence for your partner.

It prevents you from being taken advantage of.

It helps you avoid being an enabler.

It helps you maintain your self-respect.

You'll avoid compromising your principles and prior decisions.
Boundaries are your way of gaining a bit of control over the situation. Make the boundaries directly related to their drug and alcohol use. For example, one boundary can be if your partner has been drinking or using drugs they can't come to your house. These consequences may be hard to bear yourself, but healthy boundaries help people curb addiction and protect relationships.
Enlist the Help of Other Loved Ones
Since your relationship is new it may be beneficial to enlist the help of other loved ones that your significant other is close to and respects. Talk to the other loved ones about your concerns and the behavior you've observed. If they've had the same thoughts and concerns see how you can work together to help your partner.
Friends can help steer your partner to healthier activities and keep them out of trouble. Parents can agree to help get your partner professional help and set boundaries of their own so they don't become enablers.
The main objective is to coordinate your efforts so your partner has a strong support system all around.
---
So, you're sick and tired of being single, it seems like all of your friends have boyfriends, and then there's you – single and lonely. While there's nothing wrong with being single – you don't need a man to be happy – it can be nice to have that special someone to share things with.
When it comes to dating in the 21st century, it's completely and utterly different to what dating was like 20 years ago. It's incredible that dating has changed so, so much in such a short space of time. 20 years ago, people tended to meet each other at work, at parties, or through friends. There was no internet dating or social media, just good old-fashioned face-to-face meetings.
With every generation, the way that dating works changes, of course, it does. However, there has never been such a big change in such a short period of time, as there has been over the last 20 years, and that's all thanks to technology. So, with that in mind, let's take a look at the role of technology when it comes to dating in the 21st century.
What are the best methods of dating via technology?
First off, let's look at what the best methods of dating are via technology – how do people meet in the 21st century. As well as meeting in the traditional ways, such as at parties and other special occasions, through work or college, or via friends, many people now meet online. There are various methods of online dating, each of which is made for different types of people.
For example, some websites are tailored to professionals looking for a partner who is also career driven, while other sites are freer in terms of who you can meet, such as Tinder. Most dating sites, such as Plenty of Fish and Match.com, match people based on a selection of variables, including age, what they're looking for, and their personalities. Whereas, dating apps like Tinder, allow you to swipe left or right depending on whether you like the look of someone, then if they like the look of you too, you are matched. If you're going to be successful on Tinder, it could be worth getting to grips with some effective Tinder pick up lines, the same goes for Plenty of Fish and Match.com. Christianmingle.com would be a great place to look for a person who shares the same important morals and values as you do.
How has technology made dating easier?
Technology has, in many ways, made dating much easier. You see, instead of having to bump into someone who could be a good match for you while out and about, you can actively search for a date from the comfort of your own home. You don't need to worry about what they are looking for because they will share that in their profile.
Dating online means that you have more options. You're not limited to the people in the gym or at a party; you can see everyone who is available and actively looking for love in your area – anyone who is on a dating site is looking for a partner. So you don't need to worry about misreading the signs.
What's the downside to technology?
Despite all the benefits of online dating, you do have to be careful. You are meeting a stranger, so you need to ensure that you are safe, such as by meeting them in a public place and telling a friend or relative when you are leaving and when you should be back. Online dating is relatively safe, but even so, it pays to be careful and put your safety first.
Another downside to online dating is that you may end up being catfished. If you are catfished, it means that you are talking to someone online who is not who they say they are, meaning that they are tricking you into dating someone who doesn't exist. As a rule of thumb, if someone you're dating via the internet doesn't want to meet in person, talk on the phone or video chat, the chances are they are not who they say they are.
On the whole, online dating is a great way to meet a partner. It's much easier than meeting someone when out and about and gives you more options. However, you do need to make sure that you are careful about who you meet, just in case they are not who they say they are.
---