It's hard to not be at least a little obsessed with guys. After all, we are wired to fantasize about the perfect guy who will sweep us off our feet. We keep a realistic and appropriate perspective on guys and give you advice that you will actually want to follow. Because it isn't all about sex, we help your guy relationships stay safe and FUN!
Marriage is a funny old thing. For some, it's seen as the ultimate goal in a relationship, the true sign that you're meant to be with someone forever. Others don't like the idea and prefer to not put a label on things.
Regardless of what category you fall into, there's no denying that getting married is one of the biggest steps in someone's life. There was some pretty big news in the celeb world last month as Game of Thrones star Sophie Turner announced her engagement to Joe Jonas. Normally, I don't bat an eyelid to stuff like this, but what struck me was that Sophie Turner is only 21! This made me think; can you be too young to get married? Is there an age when you should start thinking about marriage, or is it something you can consider whenever you want?
I feel like this is a big talking point amongst the younger generation, and I'd like to share my thoughts on the matter. So, if you're in a committed relationship and might be thinking about marriage at a young age, have a read of my points to help you think about your situation from all angles.
Sophie Turner is 21 and engaged to Joe Jonas while I'm here with chocolate stains down my shirt trying to work out what to watch on Netflix

— Snowsutti ⛄️ (@danimansuttii) October 16, 2017
Think About Your Financial Situation
For me, the main thing to think about is your financial situation. Take Sophie Turner, for example, she's in a pretty great position, as she earns loads of money from movies and TV shows. Therefore, she knows she can afford all the costs that come with getting married and sharing your life with someone. Likewise, her fiance is also incredibly rich. Is this the case for the average 21-year-old? I mean, if you look at the Tacori engagement rings here, you'll get a rough idea of how much it costs to buy a ring. Then, factor in the cost of the wedding ring, the wedding itself, moving into a house together, etc. Can you financially afford to get married at 21? Some of you might not have a job so it wouldn't be smart to take on such a commitment. If you already have a financially stable life, then it's a different scenario.
Think About Your Relationship
Also, you need to look at your relationship more than anything else. Just because someone your age is getting married, that doesn't automatically mean you're also ready for this step. Especially if you're in a rocky relationship full of break-ups, getting back together, arguing, and just generally being unstable. For me, age doesn't matter as much as the health of your relationship. You could be 30 and still not be in a relationship suited for marriage. It's all about looking at you and your partner and figuring out if you're both moving in the same direction and will be suited to marriage.
So, to answer my own question, no…I don't think you can be too young to be married. I think there are more important things to consider than age. It just so happens that younger people are usually not financially stable or in proper committed relationships, which is why so few people get married at 21. But, if you've got a full-time job, can afford to get married, and your relationship is in the right place, then go for it!
---
Relationships are tough, and breaking up with somebody is even harder. Whether you were the one who 'dumped' the other person, or it was them who broke up with you, you are going to feel a lot of pain. People will come to you with advice. "There is plenty more fish in the sea," they will say, or "Life goes on." While both things are true, it still doesn't help you get over the pain you are feeling inside. Not for a while, at least.

If you are currently trying to get over a relationship break-up, there is only so much we can say. For all we know you are rejoicing that things are over, but chances are the opposite is true. If so, here is some advice that we hope you won't find glib as you try and get over this difficult chapter in your life.


It's okay to grieve

Not only will you miss the person you were with, but you may well miss the life you had built up together. This is natural, so it is understandable that you will grieve the many losses of a breakup. It will take a while to let go fully, and your waking and sleeping moments will be affected by your sorrow. This is why many people ask themselves "why do I keep dreaming about my ex" when getting over a relationship. The pain is deep-rooted, both within the consciousness and unconsciousness. So let your emotions out. Have a good cry, offload to your friends, and give your woes to God. Your life has changed, so don't be afraid to take the time you need to grieve.

Deal with negative emotions

Negative emotions will eat you up inside, so take the time to deal with them. This includes letting go of hate, managing the anger you feel towards yourself or the other person, and overcoming your sadness. This will take time,  but if left to fester inside, negative emotions will make your life difficult to manage and they could lead to depression. So, how do you deal with them? For starters, speak to your friends about how you are feeling. You could also consult your pastor, or somebody else who may be able to offer counselling. Then pick up your Bible. This verse from Colossians may be particularly apt:

Put on then, as God's chosen ones, holy and beloved, compassionate hearts, kindness, humility, meekness, and patience, bearing with one another and, if one has a complaint against another, forgiving each other; as the Lord has forgiven you, so you also must forgive. -Colossians 3:8, 12-13

Overcome negativity through positive thoughts. If you can show kindness to others, and take the time to find activities that will make you happy, you will overcome the darkness welling up inside you.

Find distractions

There is more to your life than being in a relationship, so don't forget the other parts of your life. Spend time with friends, take part in the hobbies you enjoy, and focus on your school or work life. While it's hard to see the positives in a breakup, you will at least have more time on your hands to focus on these other areas of your life that may have been neglected for a while. Ensure you distract yourself from anything that will make you feel worse, such as looking at your ex-partner's social media pages. Find something that will take your mind off your situation, and engage positively with the world.

Going forwards

You may not believe it at the moment, but you will get over the grieving stage eventually.  To help you get over the relationship completely, stay close to God and be with the people who support you in life. There will be a time for a new relationship, but only go there when you are finally over your 'ex.' In the meantime, be thankful for the life you have. God does have a plan for your life, and many new experiences await you.
---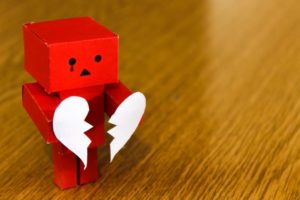 When you're young, you think that love will last forever. And, it does in some cases, but they are the relationship anomalies that prove the rule. Unfortunately, relationships at a young age don't aren't everlasting, which means a breakup in on the cards. If you have never been through one before, you might not know what to say or how to act. Obviously, it's a painful experience that you don't want to make harder by being awkward. So, with that in mind, here are a few universal rules that work for any and every breakup.
Decide Whether It's The Right Decision
You know how it is when you're young. Everything can seem like a big deal, and that can lead to rash decisions. For example, you might see your fella talking to another girl. Although it makes you feel bad, it isn't reason enough to give them their marching orders. Instead, you just need to talk and vocalize your feelings so that they understand your position. According to www.hookupfaq.com, winning back your ex is possible, but it isn't necessary in the first place if the split is purely cosmetic. If it feels right, rip off the band-aid, but only if it isn't fixable.
Don't Backslide
Once you make a final decision, you have to stick with it. Otherwise, the emotions you work so hard to get over will come flooding back. Backsliding is a familiar ritual for almost every newly single couple. After all, it's easy because there are zero surprises. But, it only makes life harder in the long run. Although it's harder and much scarier, you have to break the chain forever and find new people. So, delete their number from your phone and block them on Facebook. It's harsh but necessary.
Don't Be Friends
At least, don't be friends just yet says www.collegetimes.com. There might be a time in the future when you can look back and laugh but not isn't that time. At the moment, you have too much on your plate. You're trying to deal with new emotions and get to a certain place in your life where you feel healthy. Clearly, that is an almost impossible goal to hit if you're trying to be friends. There is no need not to be civil, but going out for coffee is a bit of a stretch.
Focus On Other Things
Relationships take up a huge part of your life, and a breakup can leave a hole. Now, you might want to fill it again with love, yet that isn't always the best option. Sometimes, it is good to give love a wide berth and come back to it further down the line. In the meantime, you can concentrate on things like your social life and your friends. Being in a relationship means that it's hard to maintain all of your friendships, especially the ones that were so strong in the past. Now is the time to go back and cultivate them again. After all, you need a strong support base anytime a relationship ends.
A breakup is never pretty, so good luck.
---