Who says you need to be an adult to change the world? Hannah Richardson is only sixteen and already she is the face of a successful company and on the verge of releasing an album. Find out more about her music, her company and its inspiring mission, and how you can connect with her on social media.
(Psst! Go follow the company's Instagram page — it already has over 10,000 followers!)
R: Tell us about yourself. How long have you been singing? What made you fall in love with it?
H: Well, hey there! My name is Hannah Richardson, I'm sixteen years old, and I'm a singer and songwriter, as well as the face of an incredible girl power company called Gomee Girl. Looking back, I think I fell in love with music when my parents started playing it in the house! I was extremely blessed that my parents exposed me to all of these incredible artists at such a young age, such as Fleetwood Mac, Allison Krauss, Led Zeppelin, etc. I was definitely influenced by them when I started writing my own music years later. I officially started singing at six years old in my church choir, but got my first solo when I was seven. My pastor was nice enough to offer that the girl singing obnoxiously over all the other kids (that girl being me) get her own song. Quite frankly, I think that it was the solo in particular that really got me fascinated with being in front of people, as it was when I realized that I could force a group of adults to listen to me who otherwise wouldn't have. Ironically, that's kind of still true today.
R: I heard you are about to release an album. That's so exciting! What's your favorite song on it?
H: Totally! The album is called Chasing Rainbows and is set to be released on September 18th, 2017. It has a very pop and country feel with a lil' Irish flair, and showcases all of my favorite instruments, like mandolins, fiddles, and vintage guitars. My favorite songs on the album are generally the musically joyous ones that are tinged with darker lyrics. I'm really obsessed with having that awesome conflict of lyrics and music in my songs, just because it makes people second guess that whole concept of "oh, this is upbeat so it's obviously totally happy!" Spoiler alert, but that's why "Rich Kids" and "Just A Friend" were personally so wonderful for me to write, and why I think people will really connect with those. This probably sounds cliche, but picking your favorite song is liking picking your favorite child. All of the songs are so unique and come from such different places emotionally. However, I will say that "Chasing Rainbows" was definitely my most therapeutic song. What I mean by that is, after writing it, I realized I had finally unlocked this thing that had been hurting me for a long time, and could let all of my feelings out every time I sang the song. For me, that's the whole beauty of songwriting. It's taking incredibly complex emotions and situations that nobody but you understands and somehow translating them into something our actual language hasn't yet figured out how to communicate.
R: Tell us about Gomee Girl. How can we raise awareness?
H: Gomee Girl's main mission is to improve the self-esteem of young girls. Through positive social media campaigns, school assembly events, and their patches with positive images, the organization is focused on letting every woman know that she can love herself exactly the way she is. As the face of the company, some of my jobs include representing the company in a good light, designing exclusive products, and writing epic, girl-power music. However, the most important responsibility I have taken on is giving advice to girls who are followers of myself and/or the company. Despite the time commitment and rather emotional nature of the job, this has become one of the most rewarding experiences in my life. I mean, nothing is more fulfilling than a girl who at one point felt she was "useless," and now messages me pictures of herself at a school dance. Nothing can beat that! One way to raise awareness is simply by following Gomee Girl's social media sites (@gomeegirl). Another way is to let any girl who might need some help know that she can check out http://www.gommegirl.com/getinspiredwithhannah for advice on everything from basketball to boy trouble and also just to connect with other girls who've had similar struggles in life!
R: What do you like to do besides singing?
H: I'm a Music & Diversions division writer for Metiza Magazine, so I am super obsessed with interviewing artists. I also read a lot (shoutout to Harry Potter), and love watching TV shows like Stranger Things, Game of Thrones, and Gilmore Girls.
R: What advice do you have for young girls who want to pursue a career as a singer or anything in the music industry?
H: NEVER let people say that you can't pursue your dreams due to circumstances beyond your control. There will always be people who are more "gifted" than you, who have prettier hair than you, who have more money than you do, etc. That being said, it's the people who work day and night and totally dedicate themselves to their passion that actually make a mark on the world. No excuses. You can do this!
R: What are your social media addresses?
H: Website – http://www.hannahrichardson.com
Facebook – https://www.facebook.com/hannahrsings1
Twitter – https://www.twitter.com/hannahrsings1
Instagram – https://www.instagram.com/hannahrsings1
YouTube – https://www.youtube.com/user/mlpgrow123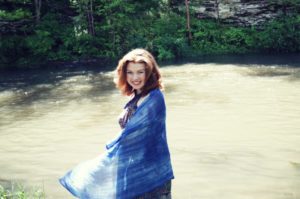 R: Is there anything else you would like to add?
H: This sounds a lot like an Academy Award speech, but I just have to thank my family, friends, and fans for helping me so much on this journey. I also want to personally thank all the people who have ever caused any conflict in my life: hey ya'll, you guys are the ones who inspire the best songs and are part of what motivate me to be better than I was yesterday, so thanks for being you…kind of.
Photo credits: Hannah Richardson