Written by Jill Sheets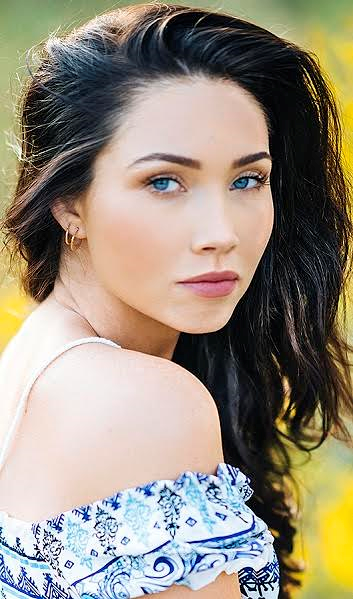 I remember about two years ago sitting down and binge-watching Jessica's debut TV show Lightning Point. Jessica played one of the two teens that came to Earth from another galaxy. Read on and learn more about her, her upcoming projects, and who she would like to work with in the future.
R: Tell us a little bit about yourself and how you got your start in the acting business.
J: I was born and raised in Tasmania with my brother Tyler, but I now live in Queensland Australia. I grew up always performing or doing sports; dancing, singing, rugby, surf lifesaving, and surfing. I kept my parents busy! I am an animal lover and was going to be a vet nurse, but I started modeling at the age of fourteen and from that I also did a few acting classes. It led to an audition for a lead role in the TV show Lightning Point, where I was lucky to land the role of Kiki. That was the beginning of my acting career.
R: Tell us about your film Red Billabong and the role of Rebecca.
J: Red Billabong is an action thriller filmed in the Australian outback. It's the story of two brothers that, when they discover an old secret, their family lies and their friends start to go missing. I played the role of Rebecca, one of those friends that disappeared, only to reappear in a different form. It is a bit of an on-the-edge-of-your-seat thriller! There are great special VFX effects and it was so much fun to film.
R: What was the audition like for this movie?
J: I was living in the United States when the role was offered to me, so I self-taped my audition and then skyped with the director Luke Sparke.
R: You have also worked on TV shows. What are the major differences when filming?
J: There is not a lot of difference except time. Our filming was done over a couple of months for the movie, but a series like Lightning Point we were on set nearly every day for six months. I even had to do schoolwork on set, since I was in my final year of school.
R: Speaking of TV shows, you played Kiki on Lightning Point. Tell us about the show and your character.
J: I had to learn how to ride a horse for the role of Kiki. It was so much fun! I went riding every morning for a month before we started filming. I also had to practice surfing every day.
R: Do you have any tricks on how to remember your lines?
J: Practice, practice! The more you practice, the easier it becomes.
R: Do you have any other projects that you want to tell us about?
J: I have just had a busy few months filming a great short film called Cino with a talented film crew. It will be released in the next few months. I also have done another music film clip as the lead actress. The film clip releases in July. It's called "The Weekend" by Jesse Porsches. I also have two new super exciting TV series which I am currently filming in New Zealand. Both are USA productions; one is a Netflix production, but you will have to keep an eye out as I cannot yet say what they are. Stay tuned!
R: If you could work with any five actors and actresses, who would they be?
J: I would love to work with Leonardo DiCaprio, Ryan Gosling, Jennifer Lawrence, Margot Robbie, and Rachel McAdams.
R: What advice would you give someone who wanted to become an actress?
J: Never give up on your dream. Take as many acting courses as you can. You can always improve on your craft.
R: Who has been the biggest influence in your life?
J: My mum. She is there for me every step of the way, supporting me and encouraging me.
R: What are five things people may not know about you?
J:
1. I am a bit of a tomboy
2. I am terrified of cockroaches
3. I train MMA fighting for fitness
4. I have a Green Cheek Conure Parrot named Pepeeto
5. I have a tattoo that says "thug" on the inside of my bottom lip where no one can see it! I had it done with my best friend when we left school. Since we were massive fans of Tupac, hers says "life."
R: It is not easy being a teenager. What advice would you give them?
J: Be respectful and kind, and try to lead a fit and healthy lifestyle.
R: Are you on any social networking sites? If so, which ones and what are their addresses? Do you have an official website and/or YouTube page?
J: Facebook: https://www.facebook.com/Jessica.Green.Actress.Model
Instagram: https://www.instagram.com/jessicalaurengreen/
YouTube: https://www.youtube.com/channel/UCxZIBHNorEx8u3yHAdcls9g
R: Is there anything else you would like to add or say to your fans?
J: Thank you for the support.
Picture credit: Neil Dixon Picture, Ocean Road Magazine