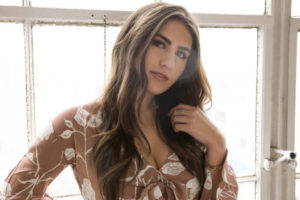 21-year-old California native Natalie Alexander is bursting onto the country music scene with her debut single "Cruel" and self-titled EP. You may have heard her before–another one of her songs, "Don't Want to Catch My Breath," is starting to gain some traction on major country music stations in the US. Be sure to go check out her official website www.nataliealexandermusic.com to stay up to date, and don't forget to go follow her on Twitter and Instagram.
R: When did you fall in love with music? What made you want to pursue it as a career?
N: I grew up in a very musical family, so it was always a big part of my life. I think every kid playing an instrument complains about the practicing and when I would tell my mom I didn't want to practice she'd say "one day you'll be so glad I made you practice." Of course she was right! I love that music is something I'll always have as a way to express myself. I think that makes it really special. Although my love for music started young, it wasn't until about 2 years ago that I started pursuing music professionally. I was really involved in managing my brothers' band and there came a point where I decided it was the right time for me to explore the other side.
R: Tell us about your EP. What's your favorite song on it and why?
N: This EP was such a fun project! I recorded it over a weekend in December and it was my first time ever being in the studio! There are 4 songs, each very different in style but still so me. I wanted to give a sampling of what I'm capable of doing and what I like to sing which is what drove me to recording those 4 songs. My favorite is probably "Cruel" because it's such a fun song and it's message is so important to me. It was also the first song of mine I saw people singing along to so it will always be special for that reason
R: What are some of your future goals?
N: I want to write my next album! Bucket list goal is to perform at the Opry.
R: Besides music, what do you like to do?
N: I love movies and TV, so my idea of a perfect Sunday is either spending all day at a theater to see a bunch of movies in a row, or to binge watch a series on Netflix and Postmates sushi from my bed.
R: Are there any charities close to your heart that you would like to raise awareness for?
N: CCI – Canine Companions for Independence! It's such a great organization. I'm a big lover of dogs and so the fact that this organization uses dogs to help people is so amazing!
R: Is there anything else you would like to add?
N: Thank you to everyone who has supported me and all the people who send me sweet messages and such positive feedback on my music. I appreciate you all so much!