Lift Up Your Eyes
by Kelsia Lynette Barkman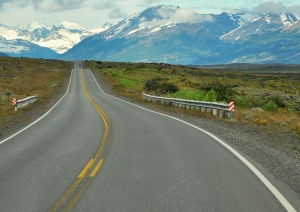 Driving along, watching the yellow lines stretch out in front of me, taking in the deep blue sky without a cloud in sight…lovely surroundings.
My heart should've been singing, my lips smiling and praising God. I should've been excited about life and wanting to embrace it, instead I felt like giving up. My heart was heavy.
Walking along, watching the gravel stones blur beneath my feet as tears run down my cheeks, struggling to be strong…the sun is radiant, the sky is stretched out in blue but my heart is heavy.
Laying in the still of the night with my head down and tears coarsing down and soaking my pillow, wanting to hold on to the things I love and not wanting to give up…I feel the weight of a heavy heart.
At the dusk of eve and sitting outside, clinging tight to the sweetness of today and not wanting to embrace the newness of and challenges of tomorrow…I cry again.
It is in these moments when He speaks, "Lift up your eyes. I am your strength and hope. I see your tears. I feel your pain. I love you with overflowning love."
In these moments, don't give up. Lift up your eyes, you may face challenges, sorrows, tears and trials; but know this, you will never face them alone.