Brad Brooks:  Harmony of Passing Light
Written by Ellen Marie Hawkins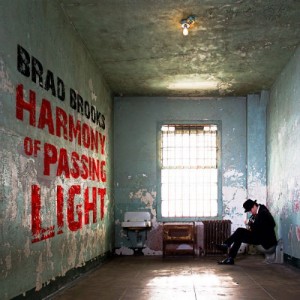 For the first few listens, Harmony of Passing Light is difficult to decipher.  Brad's voice, ranging from Paul McCartney to Mick Jagger to Freddie Mercury, is quite an instrument in itself, so much so that it's hard to focus on what he's saying.  The faster tempo tracks like the opening "Calling Everyone" and "Spinner & the Spun" begs the question, who really cares what he's singing about, sounding like that?  The piano, littered throughout like leaves disturbed by the wind, is even more of a distraction.  There's a lot of soul in this, a little rock, and a lot of musical variety, which really makes for a lot to love.
But when it comes down to it, I always care what an artist is leaving up to my interpretation.   What I discovered was that there's a lot of sadness here.  "Will It Be Enough?" leaves little to the imagination; it is indeed a song about drug abuse ("If all that you propose/Gets lost upside your nose"… "So fall against the grain till someone hits that vein").  "Bumbelina," too, follows that same misery of watching someone self destruct ("All the things you didn't wanna stop, tumbling down a mountaintop).
The one moment of clarity and a peak of happiness appear on track nine, the song "Hope is That I Got You." When he mentions the word faith in this song, it's the one time that I get the impression that it's something he wants to have rather than something he's afraid is nothing more than emptiness.  "Grand Manner" is similar, but while he mentions faith, he is just as concerned that it is a disillusion ("But I can't tell if it's just rain/Or some kind of truth that I can tell").
And it was indeed that amount of uncertainty that detracted, for me, at least, from the brilliance of the music.  While for several listens, I wondered if it was just me who was unable to untangle Brad's lyrics, I came to the conclusion that it was his own sadness and loss that threw me off balance.   Some comfort may be found for the listener who has experienced similar life struggles for the simple fact that it's sometimes enough to know we are not alone, the album in its entirety reflects a heartbreak that leads to mistrust, in not just people, but life's beauty as well.  As a musician, he excels at expressing himself, but as a listener who would rather cling to hope, I must ask for so much more from the music I lose myself in.
Visit www.bradbrooksmusic.com for more information.