The Land of the Gems
Written by:  Jill Sheets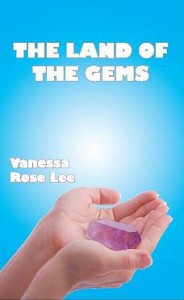 "The Land of the Gems" written by Vanessa Rose Lee is a Young Adult fantasy/adventure book.  The book is about a teenage girl named Kate and the adventure  she has during her summer break at camp.  One day Kate and her friends set out for a walk and while they were walking in the woods they found this treasure case full of gems. The gems then took them on a wonderful adventure, one that Kate will remember for a lifetime.
Not only is this a good book for Young Adults, but for adults also especially if you like fantasy/adventure books.  "The Land of Gems" had me hooked from the beginning and that is something that is hard to do.  I quickly related to Kate and her self-esteem issues. The story is well written and the characters believable. Something else that I thought that made the book even better is the message that it had.
So give "The Land of the Gems" By Vanessa Rose Lee a try.  It is a good read no matter who you are. Also, check out my recent interview with the author about this book and some of her others.